These Blueberry Bliss Fat Bombs are full of delicious berry flavor and are a power-packed source of nutrient-dense ingredients!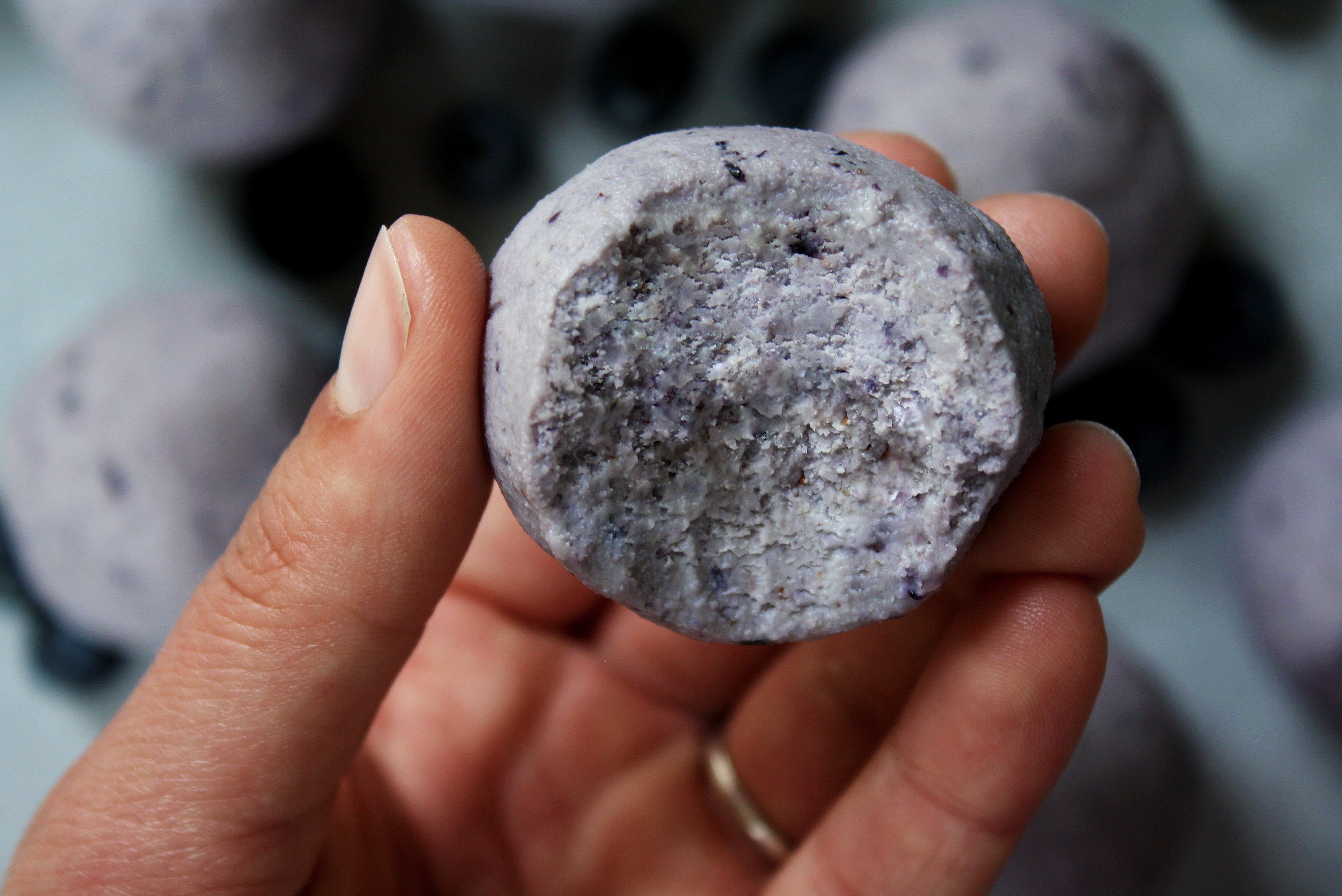 When the seasons change, I always have one thing on my mind: FRESH PRODUCE. Purchasing produce while it's in-season, aside from the obvious price reduction, is usually much fresher and higher in nutrients as it likely didn't have to travel as far to show up at your local grocery store. Plus, it just tastes better! Now that summer has arrived, berries are finaaaaally in-season (and no longer cost $300 + your first born child per 1/2 pint)!
After fully stocking up on enough blueberries to feed our entire neighborhood, I figured that I needed to put them to good use and develop some fun, new summer recipes. Well, since I'm on a fat bomb kick, the answer was simple: Blueberry Bliss Fat Bombs! The final result is SO GOOD. The texture is perfect and is similar to that of my Lemon Bar Fat Bombs. These fat bombs taste amazing, plus their nutritional value is spot on!
The Benefits Of Blueberries In This Fat Bombs Recipe
Blueberries are considered to be one of the most nutrient-dense foods available to us. They are loaded with vitamin K, vitamin C, manganese, and fiber, all of which are critical components in a healthy, balanced diet. The antioxidant power of blueberries make them incredibly important in reducing inflammation, boosting brain power, promoting heart health, and supporting digestion.
Blueberry Bliss Fat Bombs Are Low-Carb Keto Dessert
With less than 5g net carbs per serving, this recipe serves as a delicious dessert for all of my fellow low-carbers and ketogenic dieters. I especially love the addition of blueberries in these as fruit is typically much too high in carbohydrates for a low-carb lifestyle.
For me, personally, eliminating high-carb fruits but maintaining a diet that includes berries has provided me with really positive results. With the inclusion of berries in this recipe, these fat bombs give me a great boost of energy and satisfy my craving for sweets! Win, win!
Blueberry Bliss Fat Bombs Are Paleo (& what I would consider a SWYPO Whole30) Dessert
These fat bombs are perfect for those who follow a paleo lifestyle. Plus, Ryan made an interesting comment that these fat bombs taste very similar to a Blueberry Muffin Larabar. Larabars are enjoyed by many during or after their Whole30 diets. However, Blueberry Muffin Larabars are non-compliant due to the vanilla extract. So, these Blueberry Bliss Fat Bombs would be a great option if you find yourself craving some in-season blueberries!
Nutrition Info Of Blueberry Bliss Fat Bombs
You can find a nutrition label including macros of this recipe near the ingredients and directions of the recipe below.
(As a note, I like to make my fat bombs rather large. You can half the recipe and make them much smaller than I did. That's half the calories, net carbs, etc. If you have any questions on this, please don't hesitate to leave a comment below!)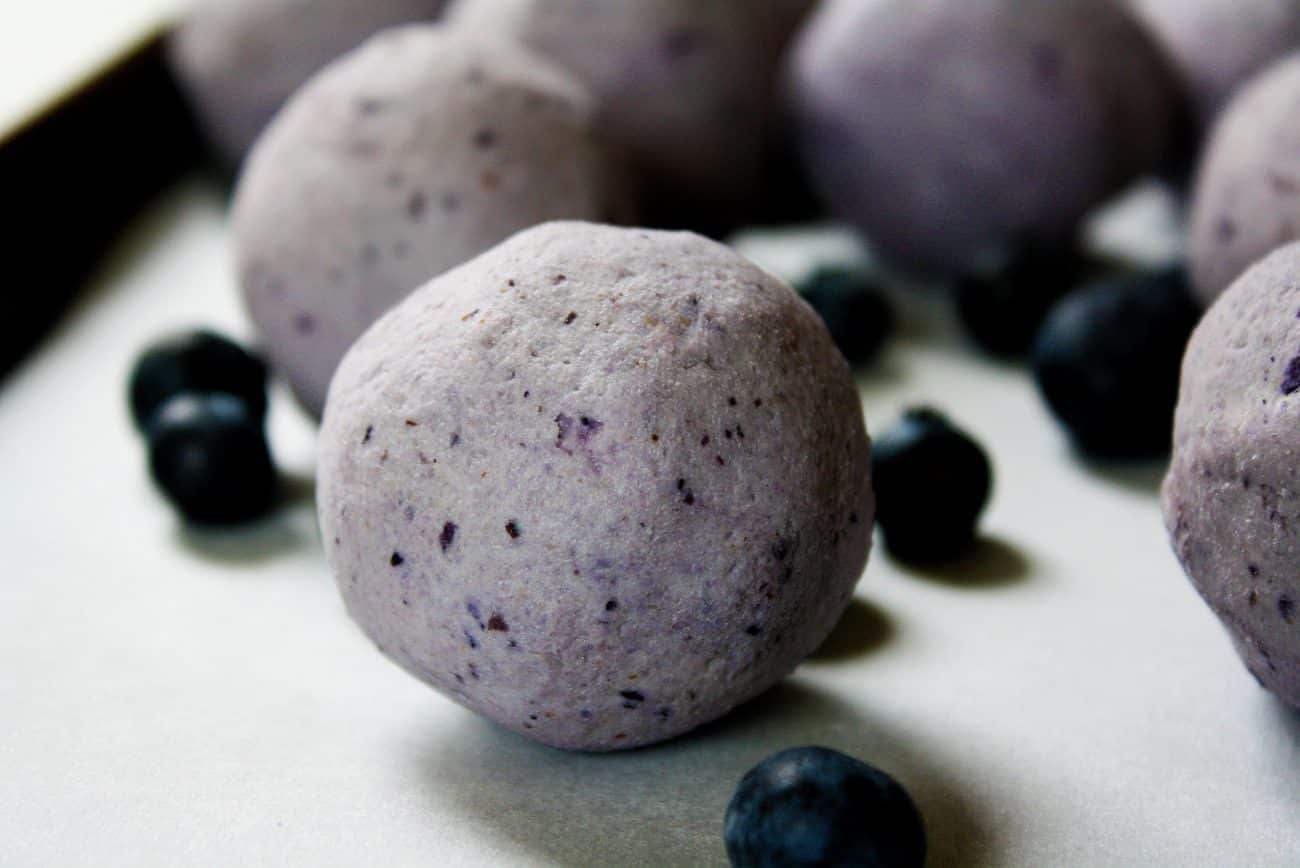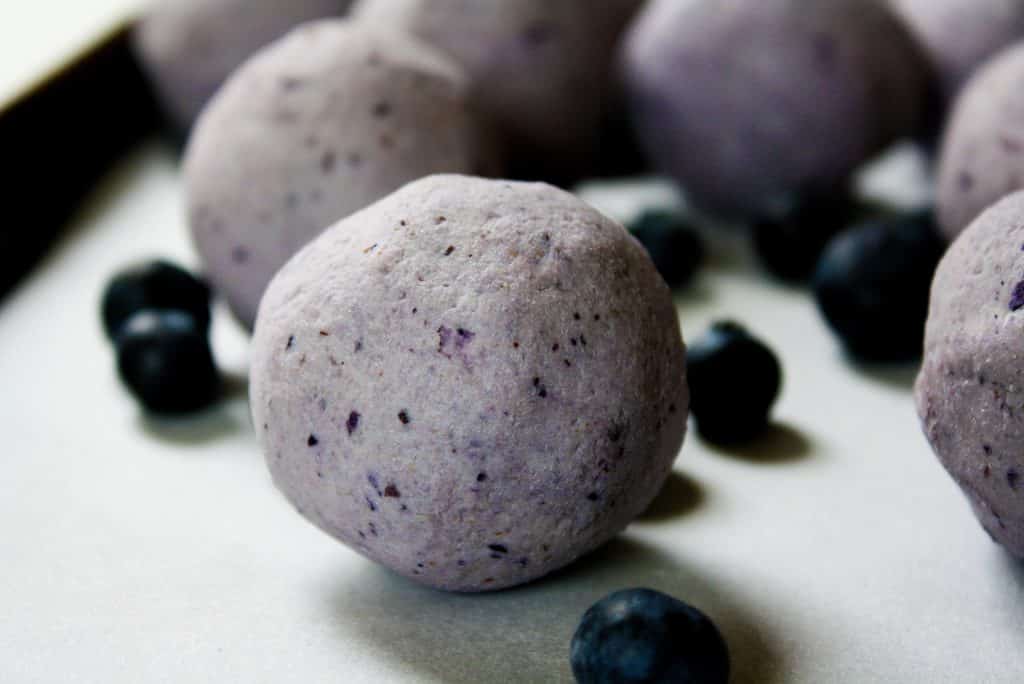 Diets This Blueberry Bliss Fat Bombs Recipe Is Compliant With
This recipe is keto, low-carb, paleo, gluten-free, grain-free, dairy-free, vegetarian, vegan, and refined-sugar-free.
MORE FAT BOMBS RECIPES TO TRY

ORDER YOUR COPY OF "FAT BOMB FAVORITES"
Take a look inside and place your order for "Fat Bomb Favorites," a digital cookbook including 50 keto-friendly and low-carb fat bomb recipes!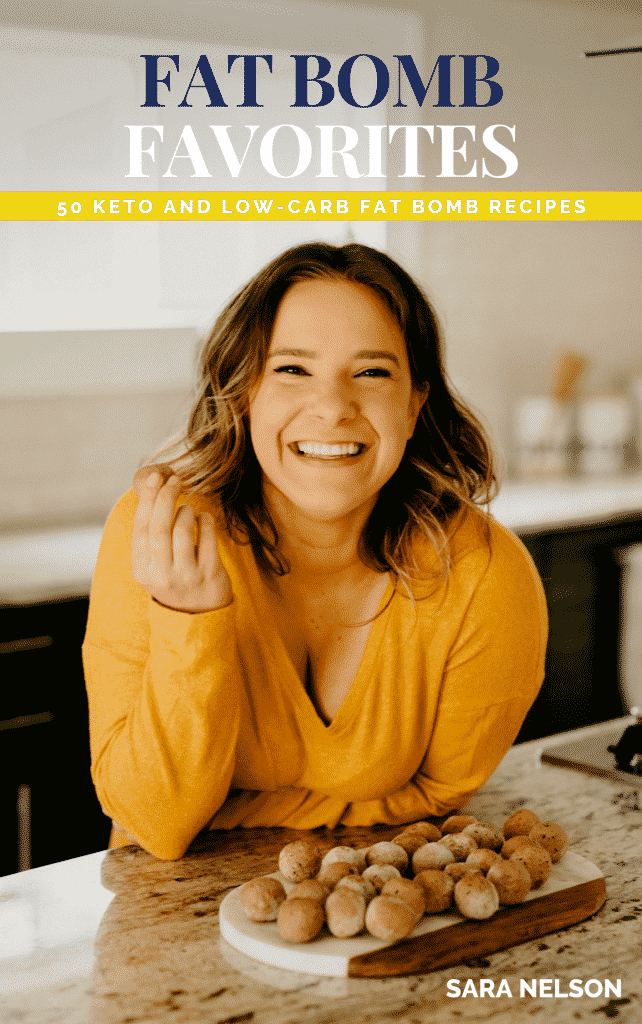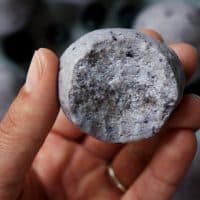 Blueberry Bliss Fat Bombs
---
Author: Sara Nelson
Prep Time: 10 minutes
Total Time: 1 hour
Yield: Approximately 30 fat bombs, depending on size 1x
Category: Dessert
Method: Freeze
Cuisine: American
Description
These Blueberry Bliss Fat Bombs are a delicious dairy-free keto dessert option to satisfy your sweet cravings! This recipe is keto, low-carb, paleo, gluten-free, grain-free, dairy-free, vegetarian, vegan, and refined-sugar-free!
---
---
Instructions
In a microwave-safe bowl, heat frozen blueberries for about 1 minute, until just slightly warmed. If using fresh blueberries, heat in the microwave for about 20 seconds, until just slightly warm.
Combine all ingredients in the food processor and blend until well-combined. Transfer mixture to medium bowl and place in freezer for 30 minutes.
Remove bowl from the freezer and, using your hands, form mixture into small balls. Place balls on pan or plate and return to freezer for 30-40 minutes. (I recommend putting them on a cookie sheet lined with parchment paper to avoid the bottoms sticking to a plate or pan.)
Remove from freezer and enjoy!
Keywords: fat bomb, keto fat bomb, fat bombs, berry fat bomb, low-carb dessert, keto dessert, vegan keto, paleo keto, dairy-free keto
Reader Interactions