If you've been looking for the best keto air fryer recipes to make this week, then you're in luck! We've got 12 easy low carb recipes that you can cook in your air fryer without breaking a sweat. Enjoy fried food in it's crunchy and crispy glory, without going overboard on the oil!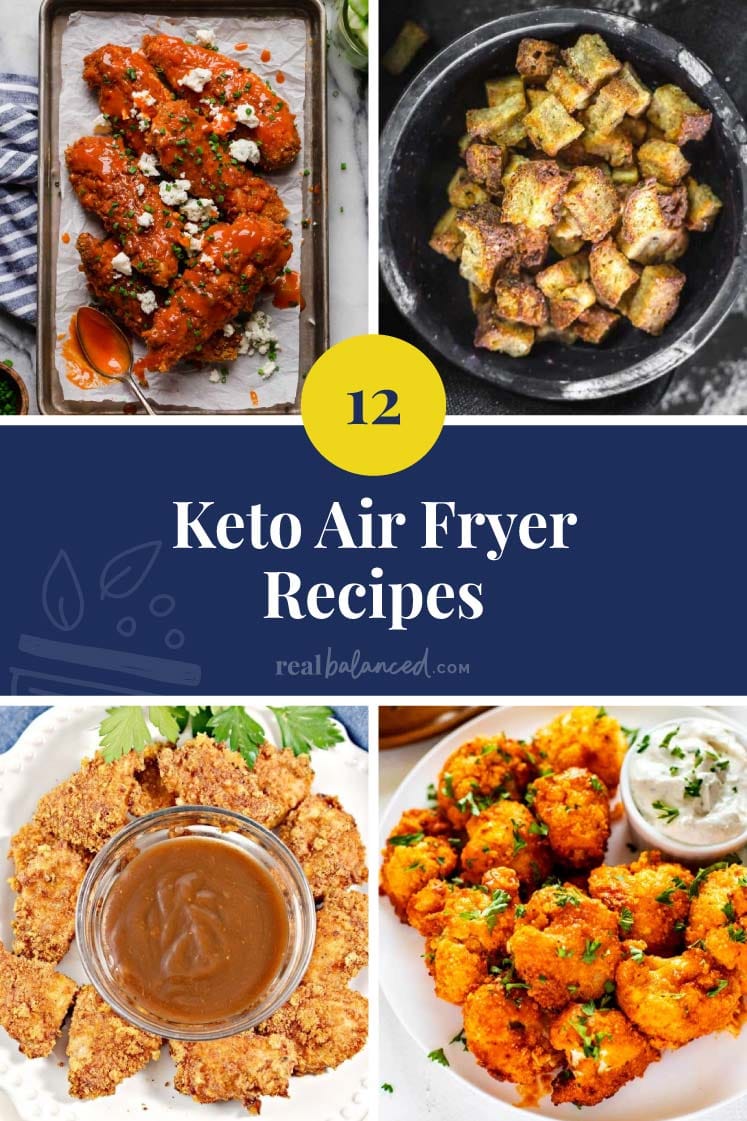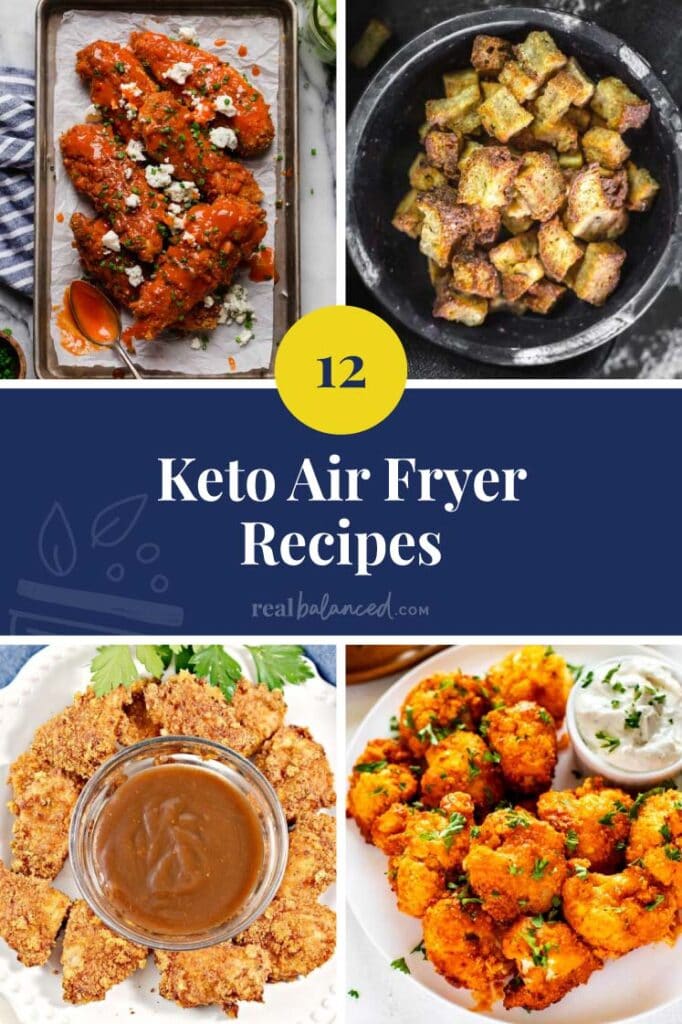 Can I cook low carb keto recipes in my air fryer?
Cooking on keto doesn't have to be overly complicated. In fact, it can be really easy if you have the right tools in your kitchen. Using an air fryer not only cooks your meals fast, but it also improves its nutritional value since your food won't be swimming in so much oil the way traditional fryers would.
---
Photo & Recipe Courtesy of Kicking Carbs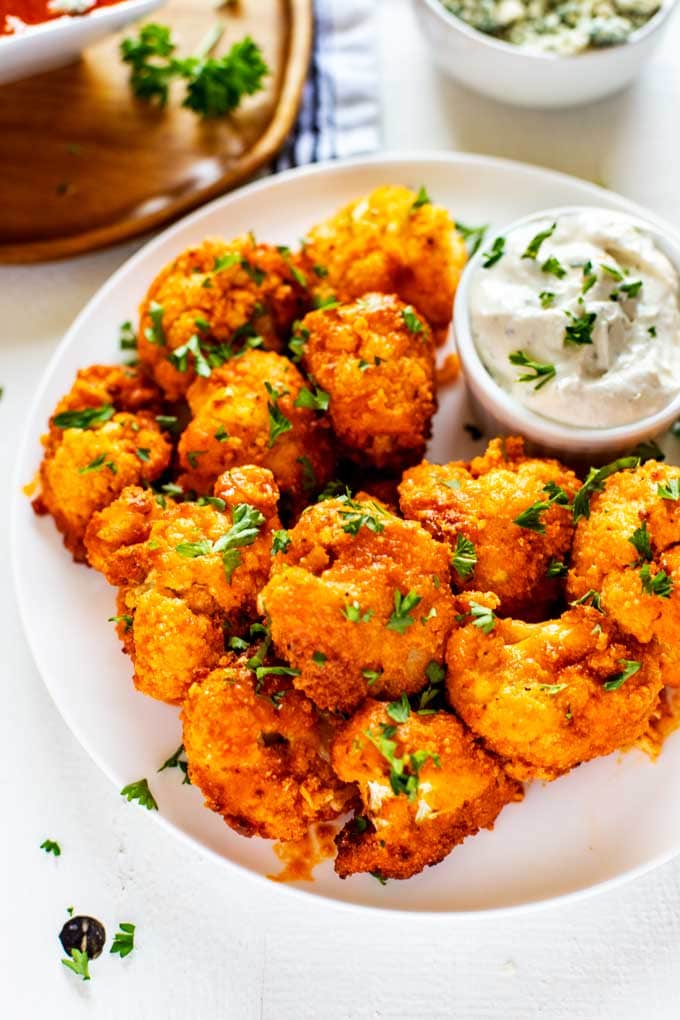 These air fried Keto Cauliflower "Wings" are a mouthwatering option for when you are craving for a crunchy appetizer. It's tender on the inside, and perfectly crisp on the outside. This is recipe would also make for a light snack during your usual movie marathon.
Takes 30 minutes total to make, from start to finish, and only requires 8 simple ingredients!
---
Photo & Recipe Courtesy of Joy Filled Eats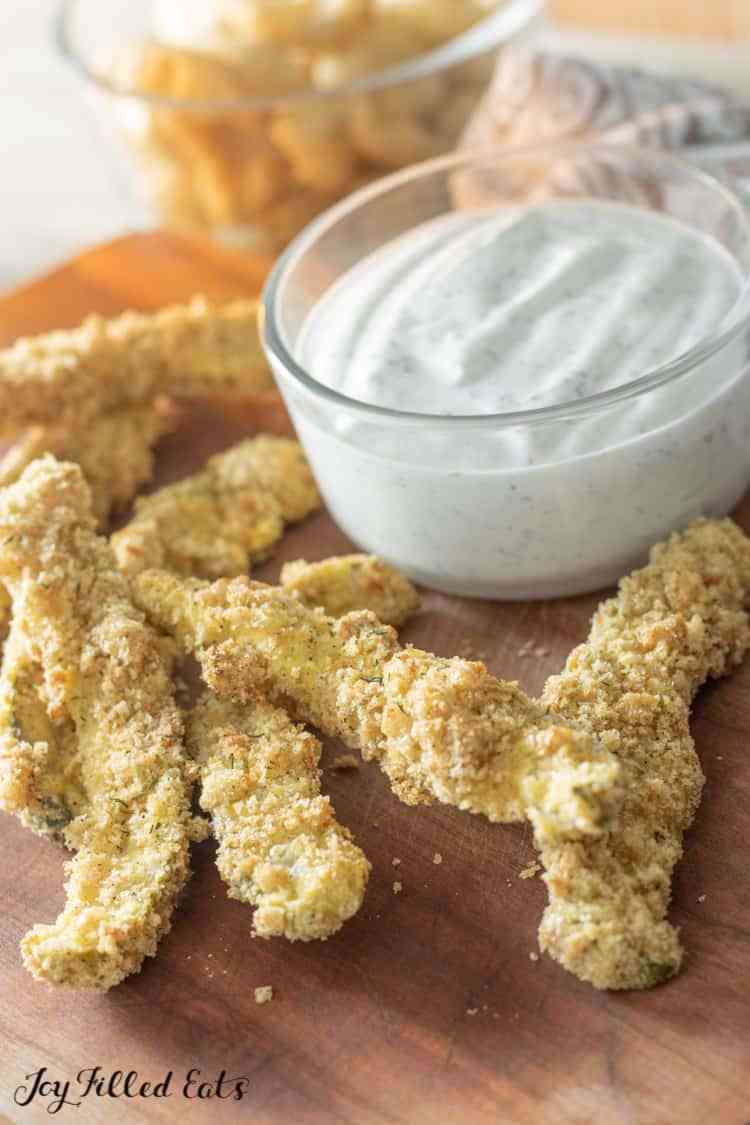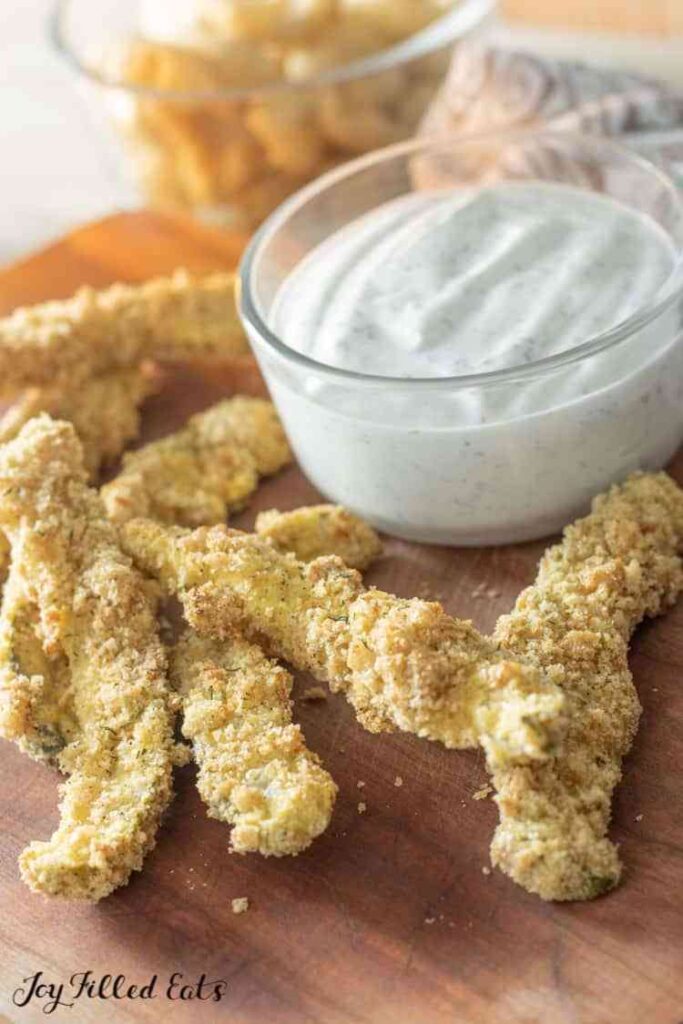 I seriously love pickles. They're crunchy, savory, and is pretty much a keto dieter's best friend. If you love pickles just as much as I do, then these air fried keto-friendly pickles will knock your socks off!
This recipe only takes 10 minutes to prep and 7 minutes to cook, making it super convenient when you need a tasty low carb snack. The net carbs of each serving aren't half bad either at only 4g per pickle spear + dip.
---
Photo & Recipe Courtesy of Keto Cooking Christian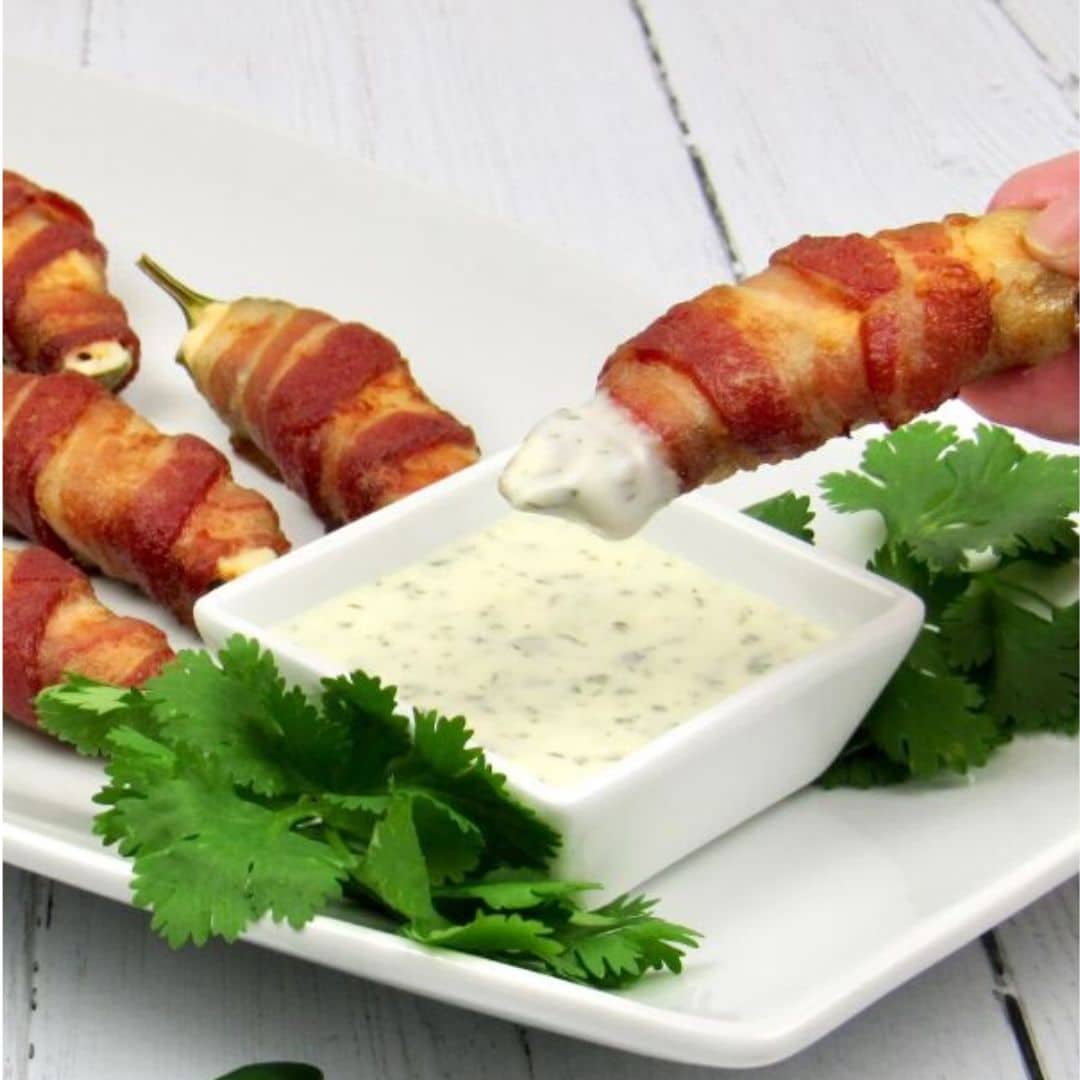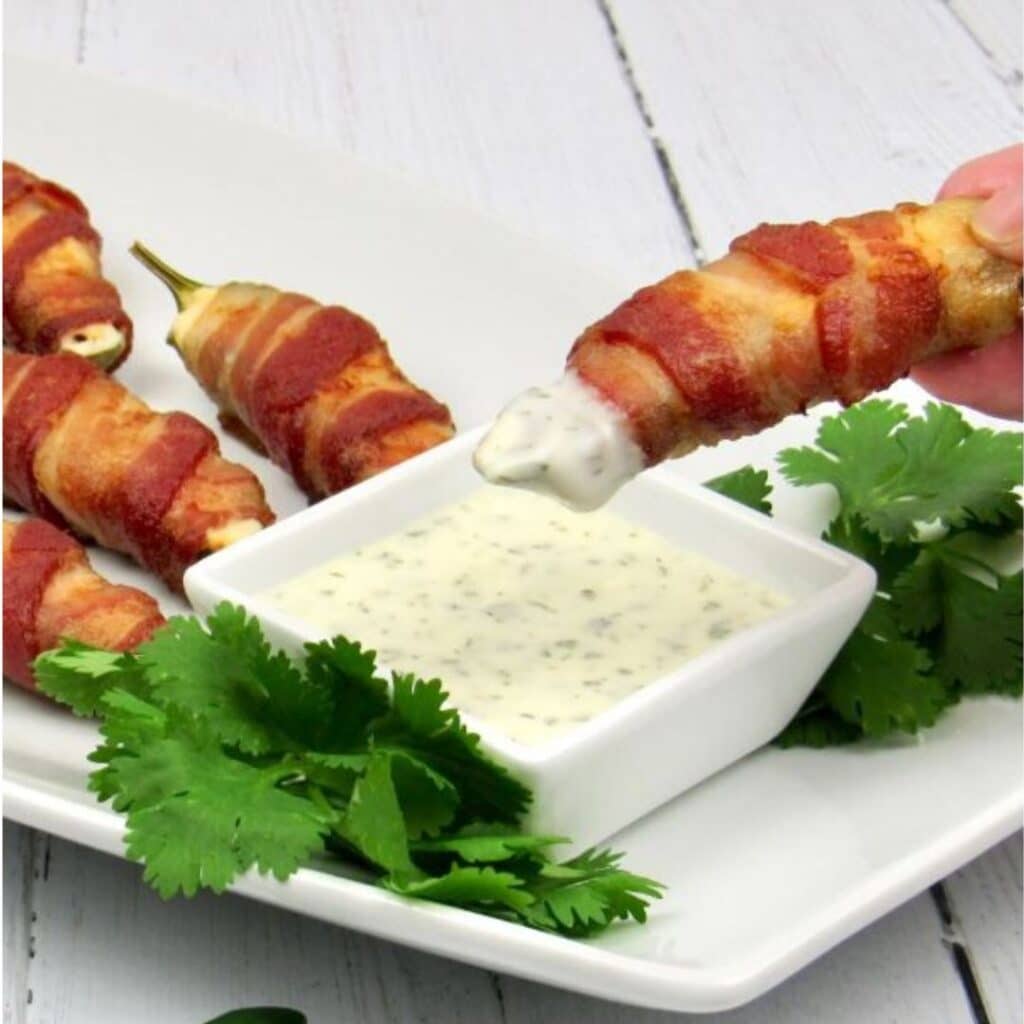 Okay, so maybe you enjoy your low carb appetizers best when they have a little kick to it. We've got the best keto air fryer recipe recommendation for you!
This jalapeño poppers recipe is a dish that's gaining popularity in these days. Seriously, who can resist bacon-wrapped anything?
Oh! And did we mention that these are super easy to make?! In under 30 minutes, you'll have 6 delicious 2g net carb poppers.
---
Photo & Recipe Courtesy of Lowcarb-Nocarb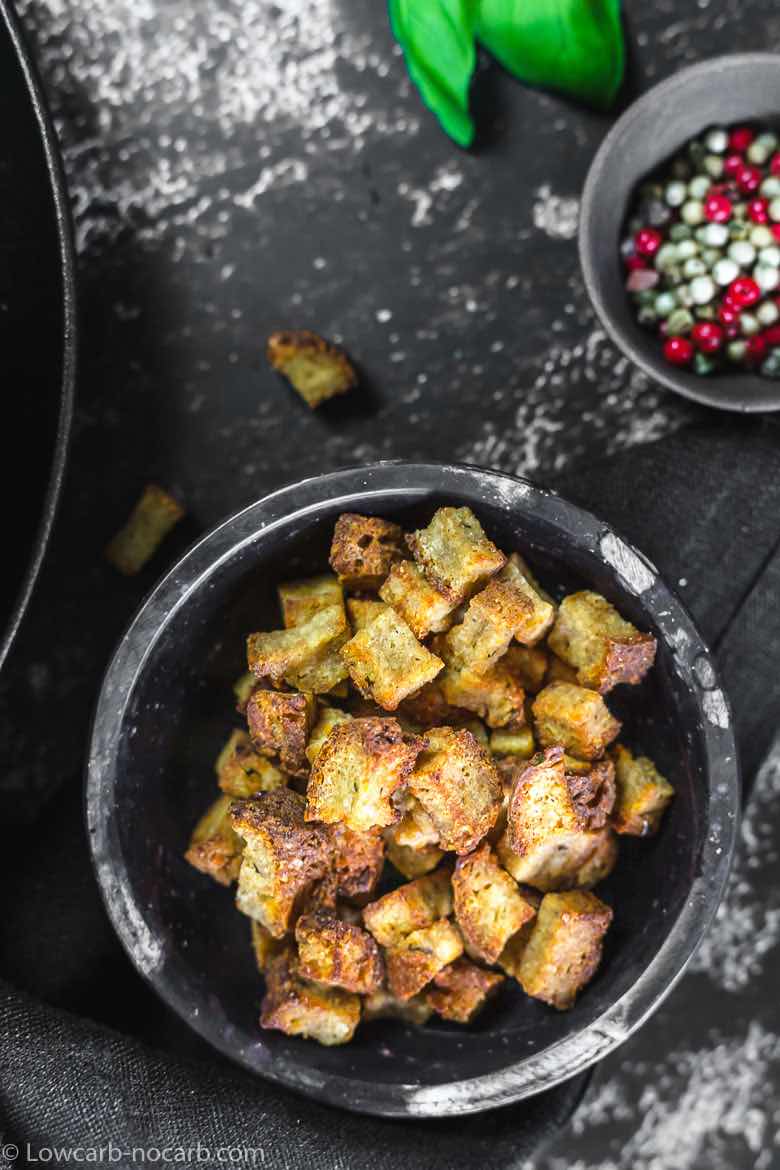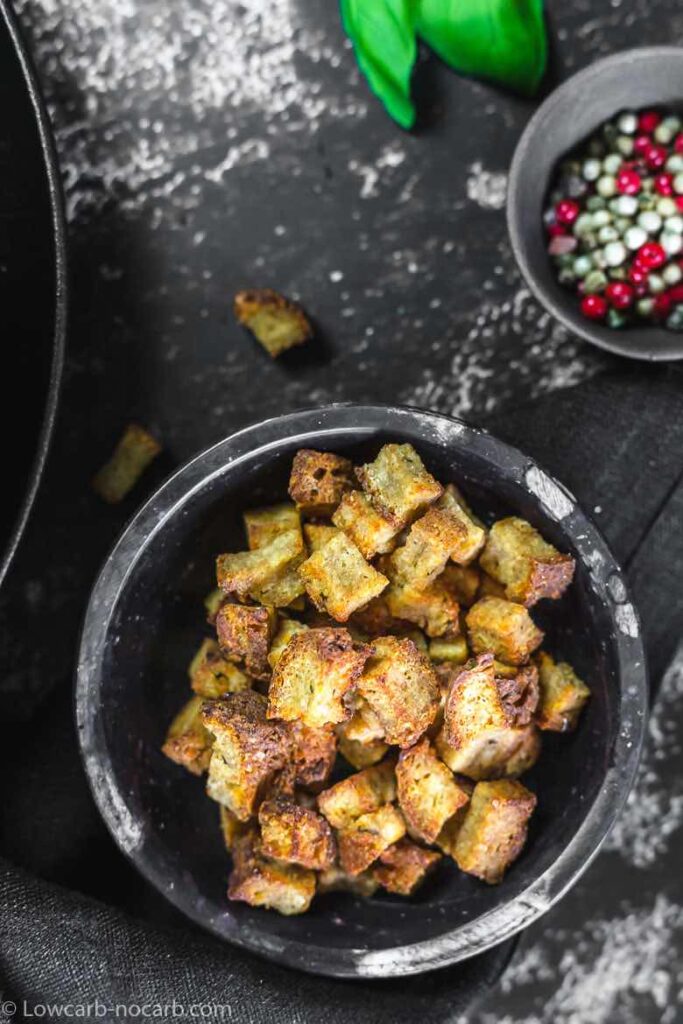 Is your salad getting a little boring? Do you miss having those tiny croutons on your salad the same way you used to pre-keto diet? Make these crispy garlic keto croutons yourself and you'll never miss out on your favorite salad addition again.
This is a simple recipe that won't take you longer than 20 minutes to make. It also only needs just 4 ingredients – most of which you probably already have in your pantry!
---
Photo & Recipe Courtesy of Resolution Eats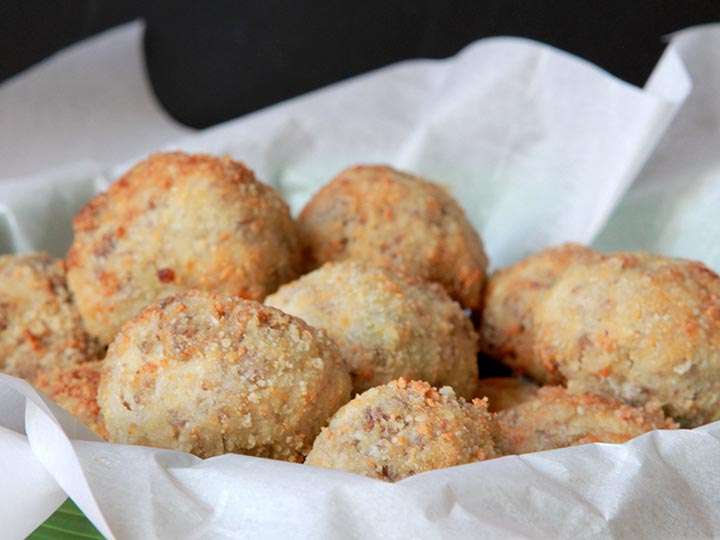 Pairing tangy and savory ingredients is brilliant, don't you think? These low carb keto sauerkraut and sausage balls, for example, have what can only be described as a wonderful balance of sour and salty, from the fermented cabbage and the juicy sausage. Plus, cheese. Because cheese makes everything 100x better!
This recipe takes under an hour to make and bring you 20 flavor-packed servings.
---
Photo & Recipe Courtesy of Twosleevers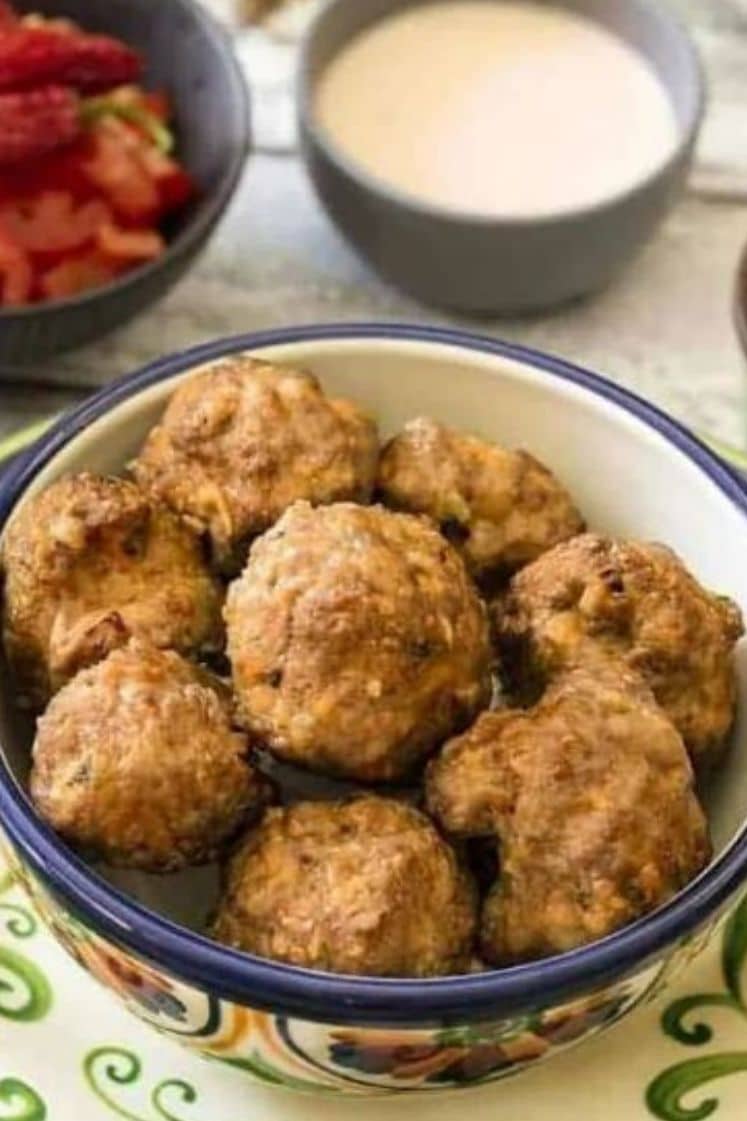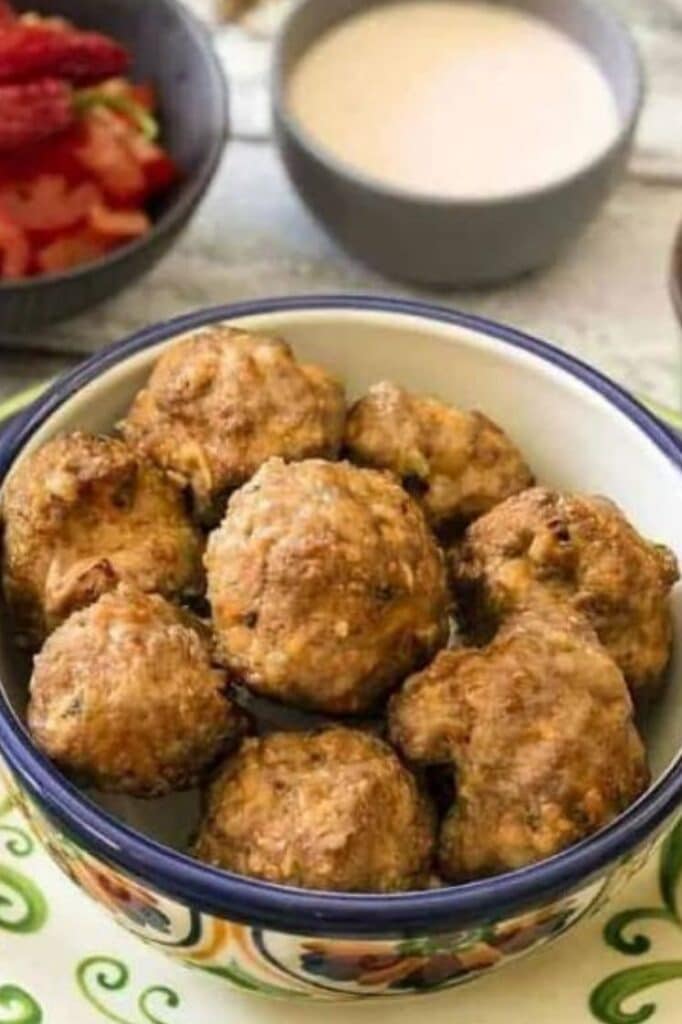 Looking for an easier way to enjoy tacos? How about making these taco meatballs! It doesn't cost a fortune to make, has simple steps that anyone can follow, AND is family-friendly… now, that sounds like a winning combo!!
This recipe takes a total of 25 minutes to make and is compliant with several diets such as the low carb, gluten-free, and egg-free diet.
---
---
Photo & Recipe Courtesy of Real Balanced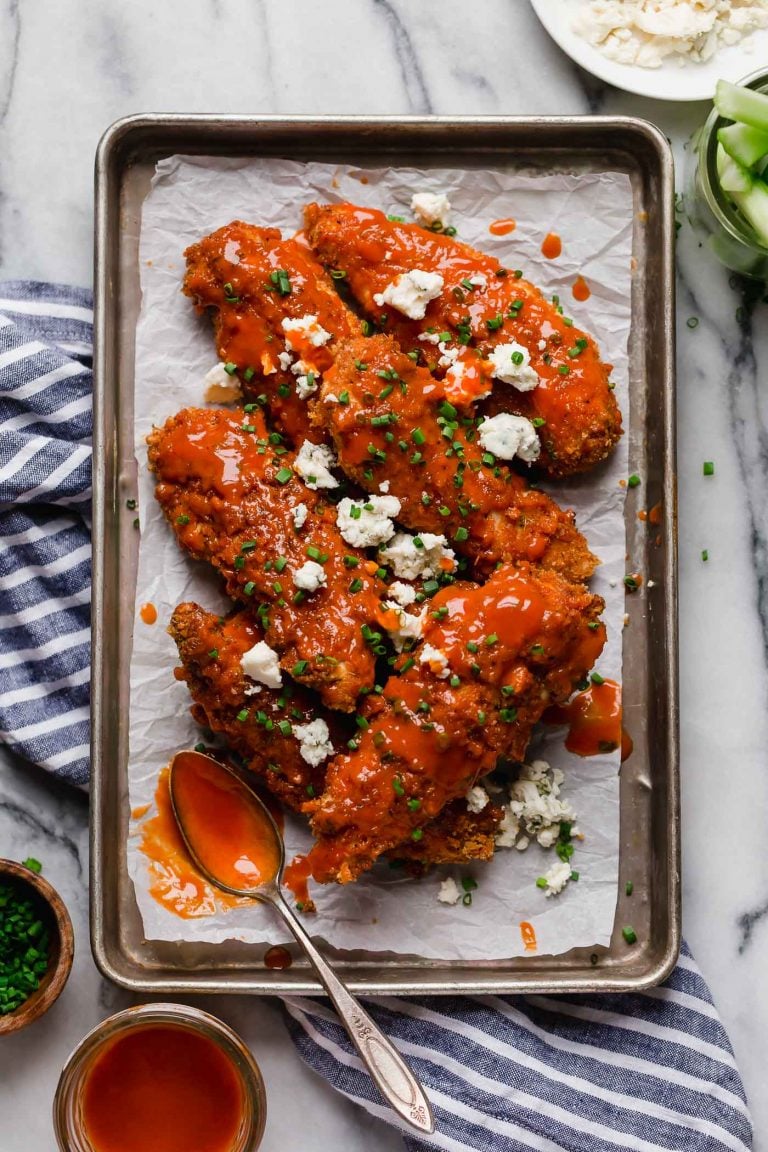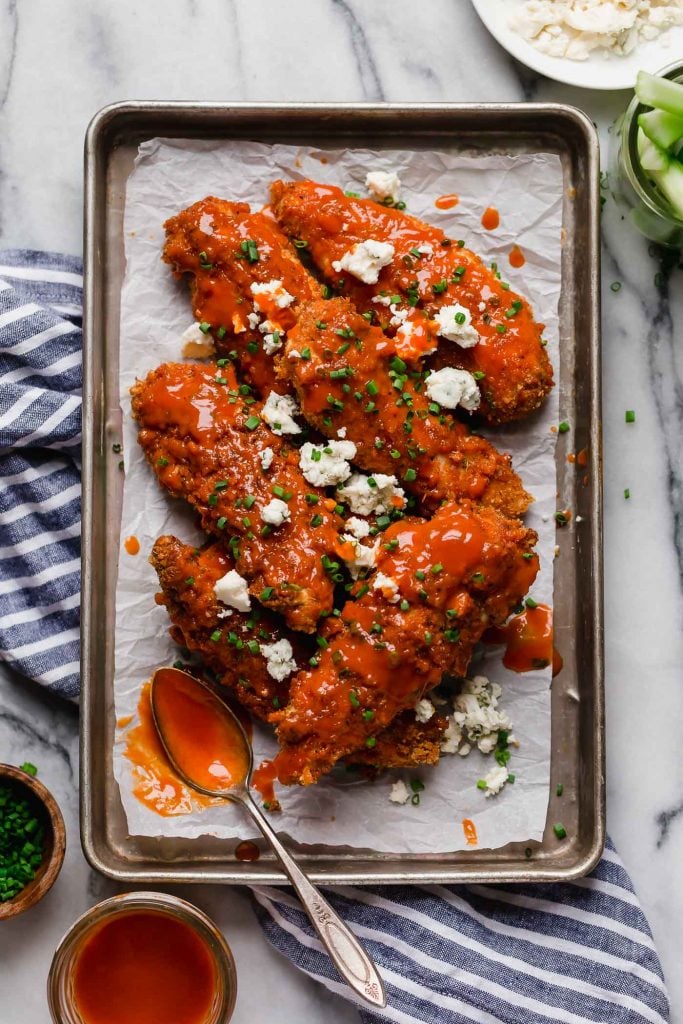 At home, we're really big on keto appetizers because they are easy to prepare and can be served for almost any occasion. These buffalo chicken tenders, for instance, is one of our all-time favorite go-to recipes since its flavor is unparalleled and would pass as an easy dinner option during those busy weeknights. Like, seriously… we think you'll love these!
Takes 40 minutes to prep and cook. Makes 8 satisfying servings.
---
Photo & Recipe Courtesy of Butter Together Kitchen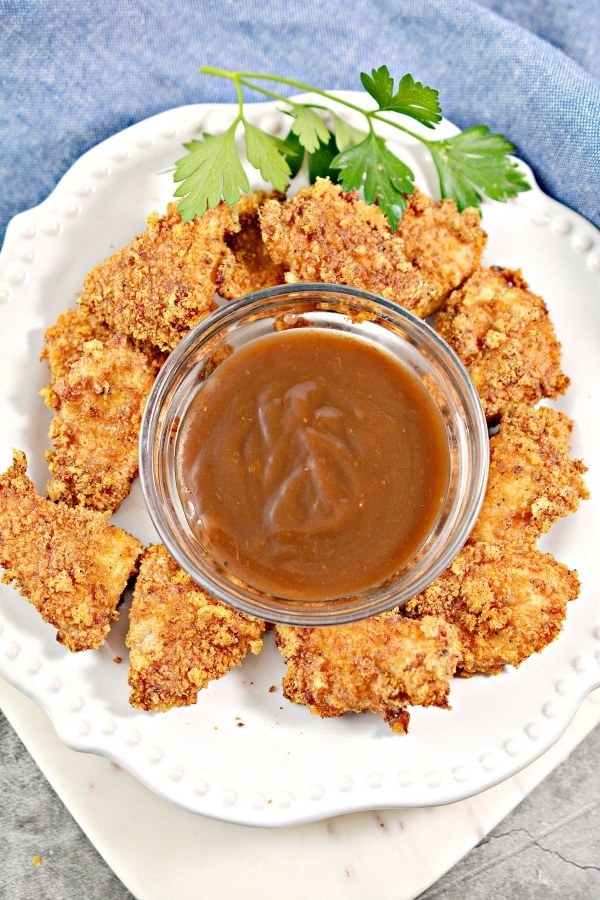 I miss chicken nuggs. Do you miss chicken nuggs? Well, now, we don't have to miss out on those tasty little morsels! You can have these as a healthier alternative to soothe your fast food cravings and pair it with your favorite keto-friendly dip (or dips, you can have more than one… because, why not?!)
This recipe calls for a pound of chicken breast and would take about 10 minutes to prep and 10 minutes to cook.
---
Photo & Recipe Courtesy of Low Carb Africa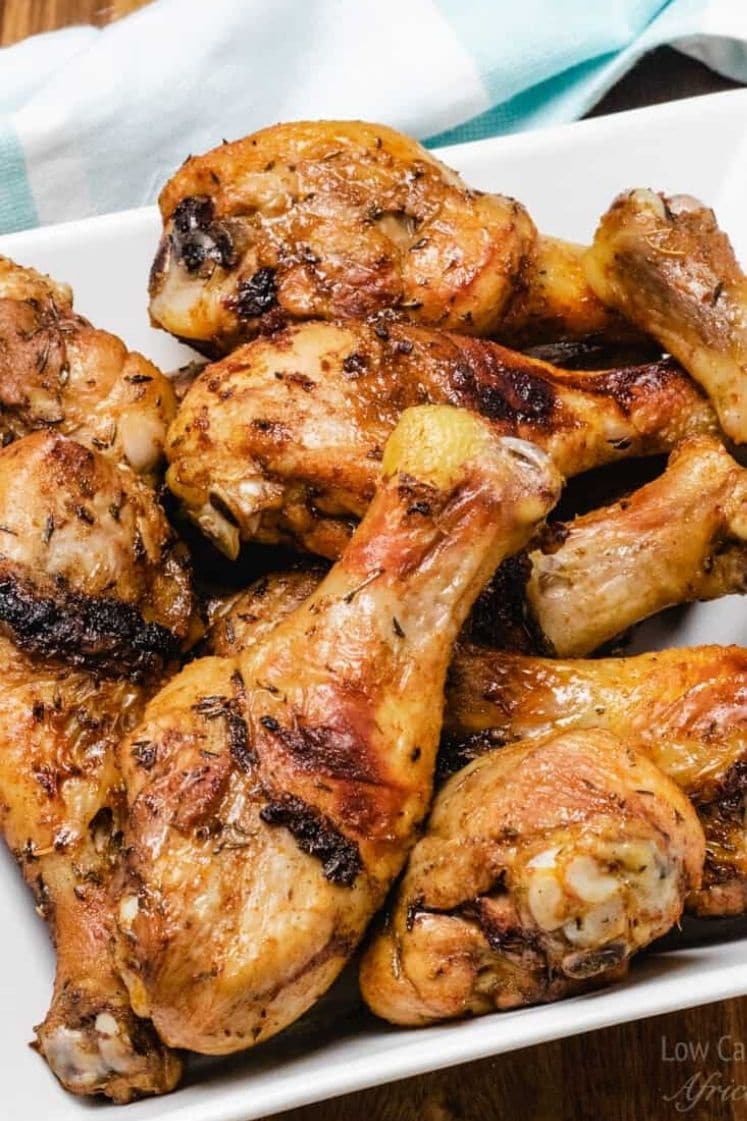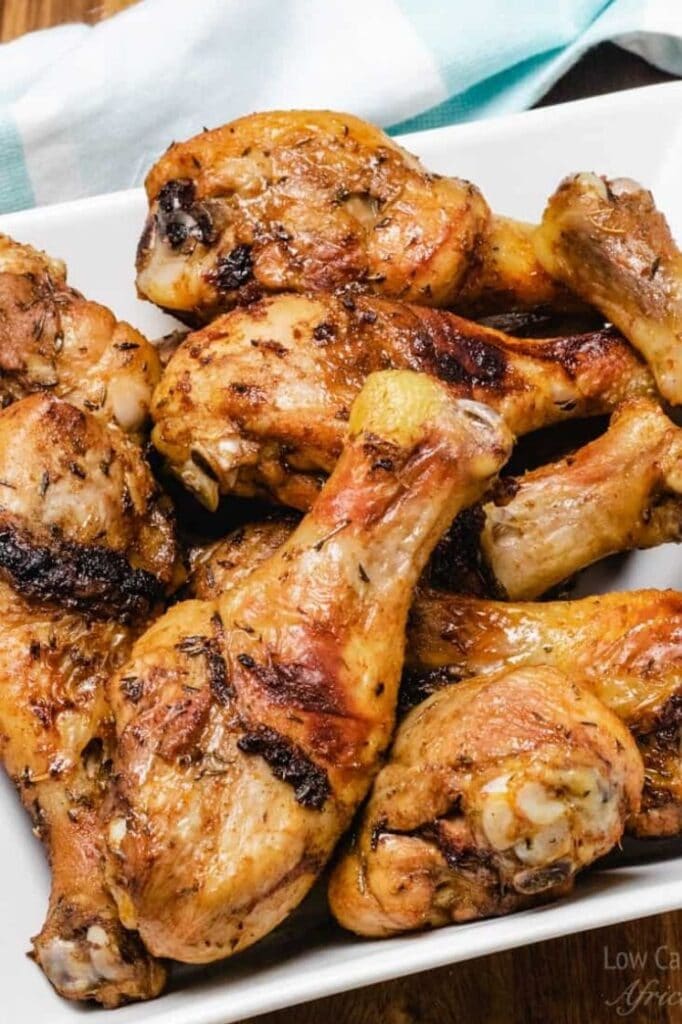 The closer the meat is to the bone, the more flavorful it's going to be!
Enter: The juiciest chicken drumsticks ever with skin baked to crispy perfection.
This dish is seasoned with 8 ingredients that just amplifies the gastronomic experience even more. Each bite brings you a mix of salty and herby with just a hint of spiciness.
This one takes an hour and 10 minutes to make, but it is SOOOO worth it!
---
Photo & Recipe Courtesy of My Life Cookbook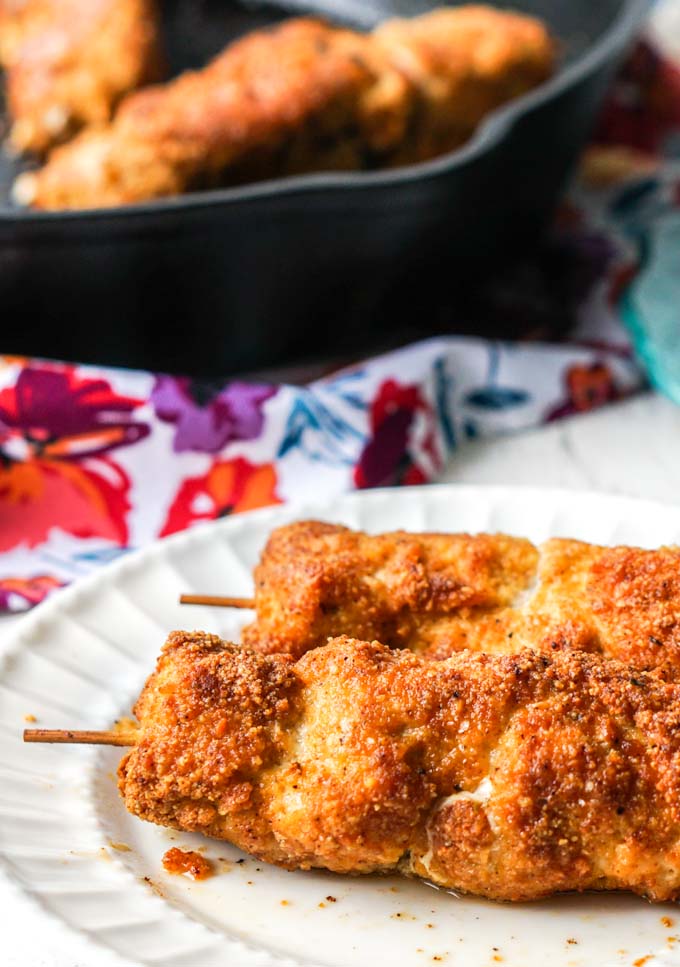 Don't be fooled by this recipe's name, it's actually made of pork loin ribs that have been deboned and cut to kebab-sized pieces.
One of the best things about this dish is that you can cook it in your air fryer OR bake it in the oven – whichever one you prefer (or have sitting in the kitchen).
Takes 10 minutes to prepare and 12 minutes to cook. Makes 6 servings. Each serving only has 2.7g net carbs.
---
Photo & Recipe Courtesy of Low Carb Yum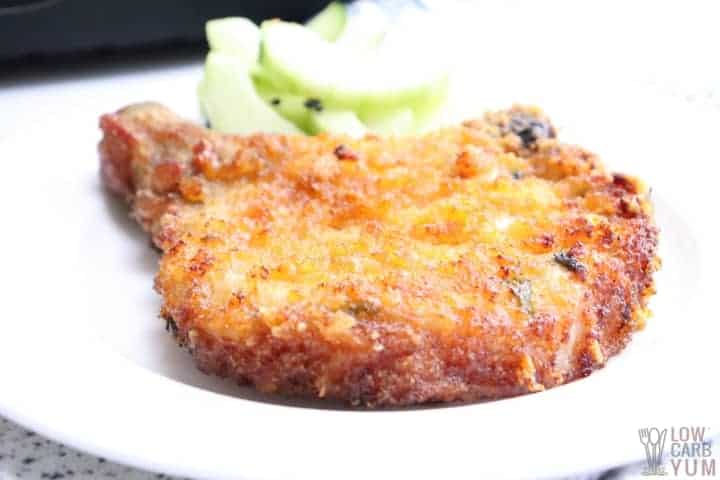 There's nothing like a tasty pork chop recipe to make dinner extra special! You wanna know the secret to this keto air fryer pork chop recipe? PORK RINDS. Yep, it makes the pork chop even tastier when you coat it with crushed pork rinds. Who knew, right?!
But wait, there's more! Since we're not using any kind of flour to 'bread' this chop, this dish is also super low carb – perfect for when you've already used up most of your daily carb budget.
---
Photo & Recipe Courtesy of KimspiredDYI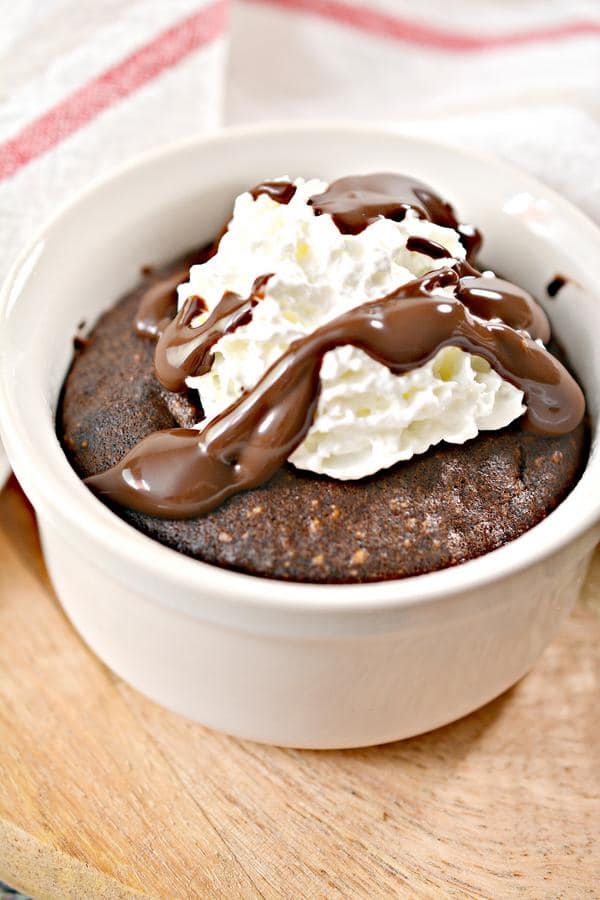 Can you make keto dessert in an air fryer? ALSO YES! This low carb brownie cake is easy and would even be a fun recipe to make with your kids. It's a beginner-friendly recipe that will impress and satisfy those with the biggest sweet tooth.
Looking for more delicious keto recipes?
Reader Interactions