Do you love keto seafood recipes and are looking to add more variety to your usual menu? I've compiled 20 of the best low carb seafood recipes the keto community has to offer. From crunchy tuna cakes to shrimp cocktails, salmon curry to clam chowder, whatever you're up for there's bound to be a dish you'll enjoy.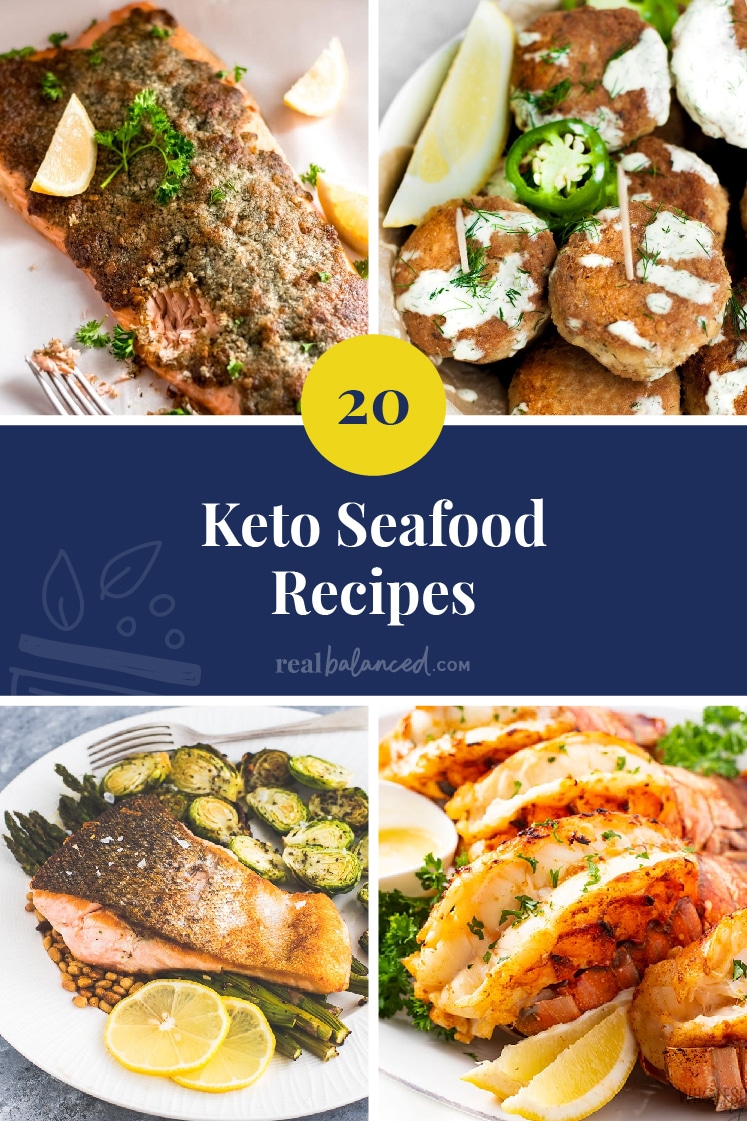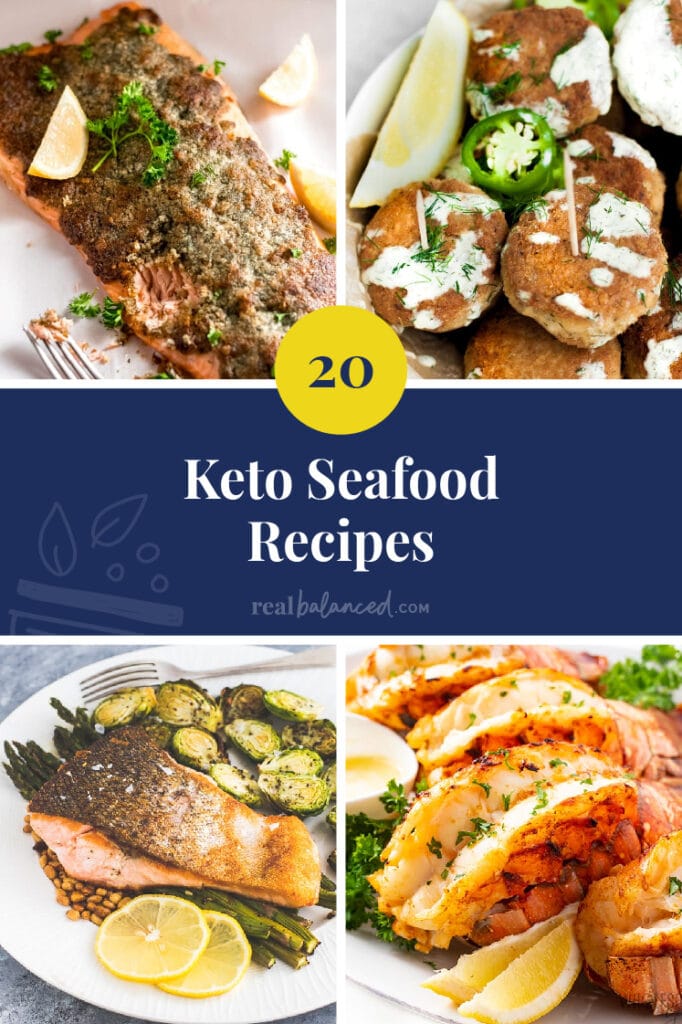 Keto Seafood Recipe 101
Cooking on keto isn't as hard as you think! Here's some key information on how to incorporate seafood into your keto-friendly menu, why it's good for you, along with pointers on preparation and cooking options.
What seafood can I eat on keto?
Beyond just chicken, pork, and beef, you can actually enjoy seafood while on the keto diet! Some of the most popular options are:
Tuna (85g) – 0g carbs, 22g protein, 0.5g fat
Shrimp (100g) – 0.2g carbs, 24g protein, 0.3g fat
Lobsters (145g) – 0g carbs, 27.55g protein, 1g fat
Salmon (100g) – 0g carbs, 20g protein, 13g fat
Clams (100g) – 5.1g carbs, 25.5g protein, 2g fat
Scallops (84g) – 0g carbs, 19.5g protein, 0.64g fat
Squid (85g) – 2.6g carbs, 13g protein, 1.2g fat
What are the health benefits of eating seafood while on keto?
Seafood, in general, contain the most vitamin B12, vitamin D, polyunsaturated omega-3 fatty acids, eicosapentaenoic acid (also known as EPA), and docosahexaenoic acid (also known as DHA). These vitamins and minerals are known to contribute to good cardiovascular health as well as improved memory.
How much seafood is safe to eat?
According to the Dietary Guidelines for Americans, it's safe to consume 8oz of seafood per week. Now, if you wish to eat more than that, it's best to stick to safer low mercury seafood like clams, cod, crabs, flounder, lobster, oysters, scallops, shrimps, salmon, squid, canned light tuna, and catfish.
"Seafood choices higher in EPA and DHA but lower in methyl mercury are encouraged. Seafood varieties commonly consumed in the United States that are higher in EPA and DHA and lower in methyl mercury include salmon, anchovies, herring, shad, sardines, Pacific oysters, trout, and Atlantic and Pacific mackerel (not king mackerel, which is high in methyl mercury)."

– DGA, Chapter 1, A Closer Look Inside Healthy Eating Patterns
---
Photo & Recipe Courtesy of Real Balanced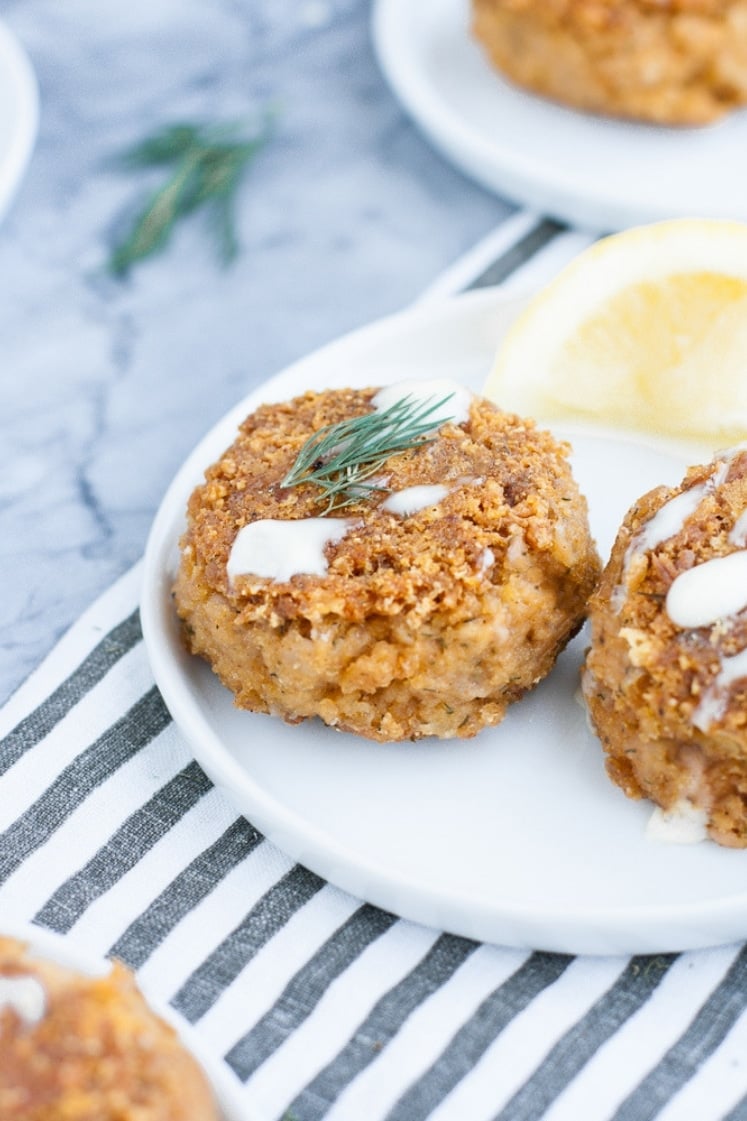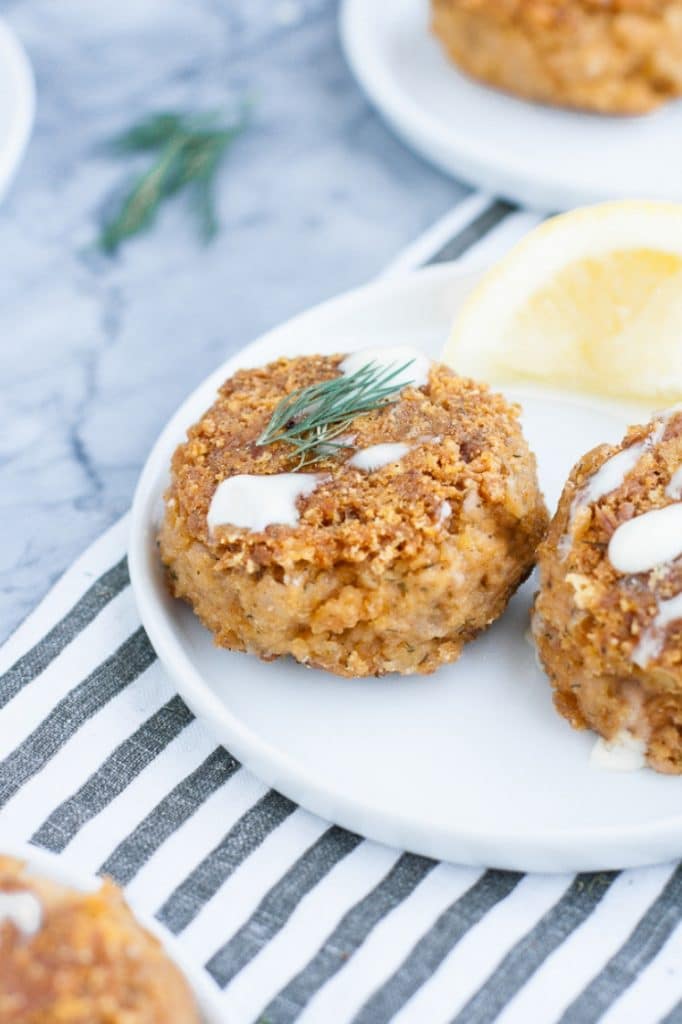 Do you love tuna cakes? I love this crunchy keto tuna cakes recipe because it's tasty and simple to make! Its main ingredients are canned tuna, crushed pork rinds, and shredded cheese so you can just imagine just how much flavor each serving packs.
---
Photo & Recipe Courtesy of Keto Cooking Wins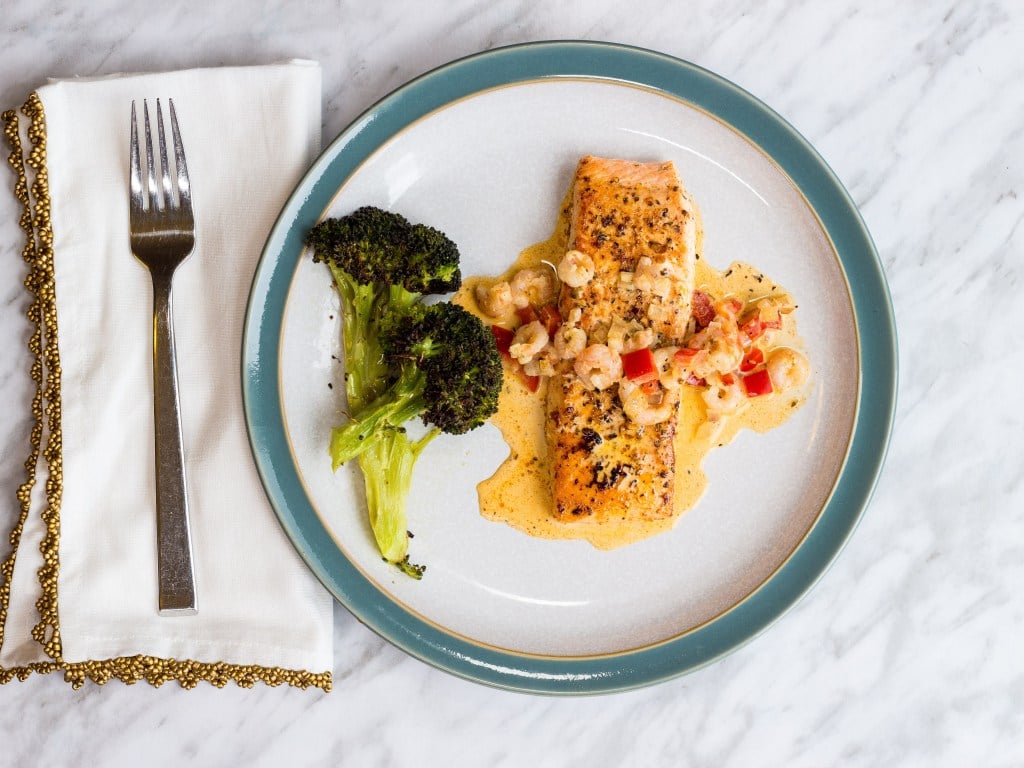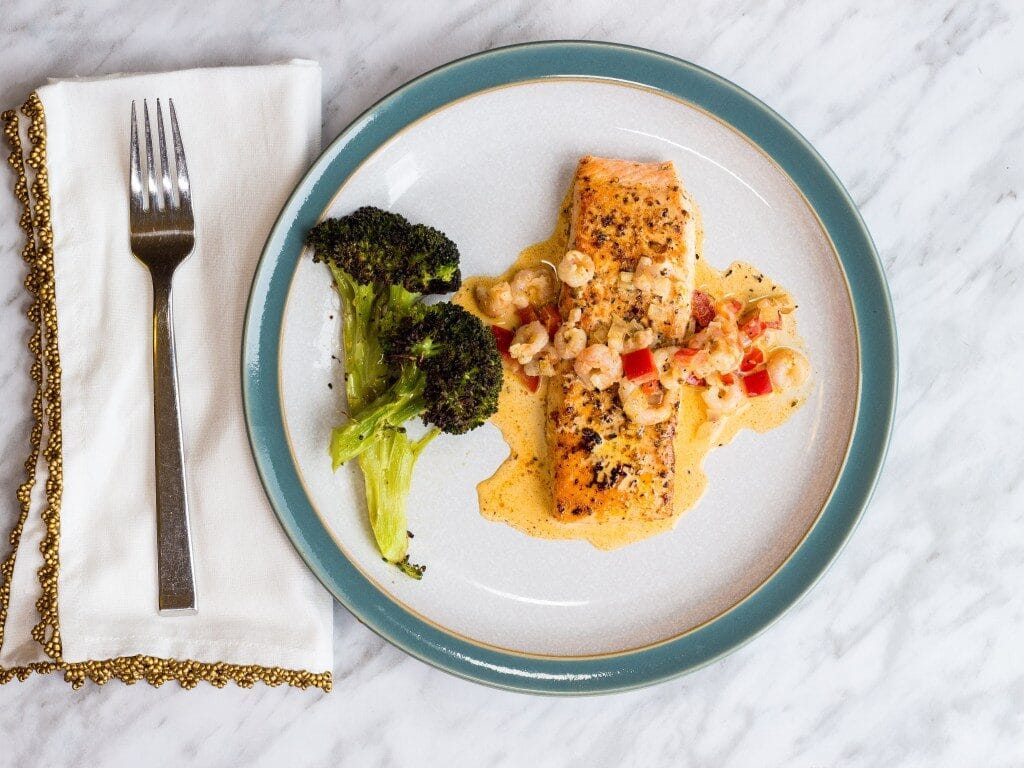 Want to impress your guests with a scrumptious keto seafood dish without breaking the bank and spending hours in the kitchen? Then try this creamy cajun salmon with shrimp recipe! It takes only 25 minutes to cook a batch that's good for 8 servings.
---
Photo & Recipe Courtesy of Keto Cooking Christian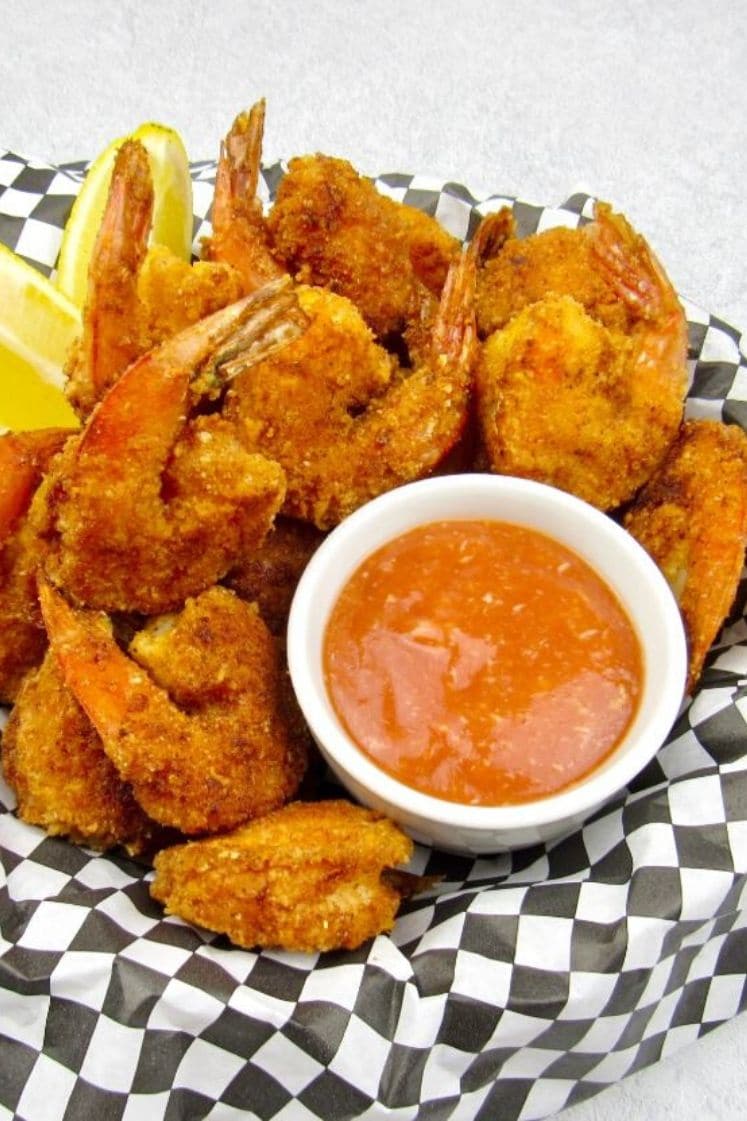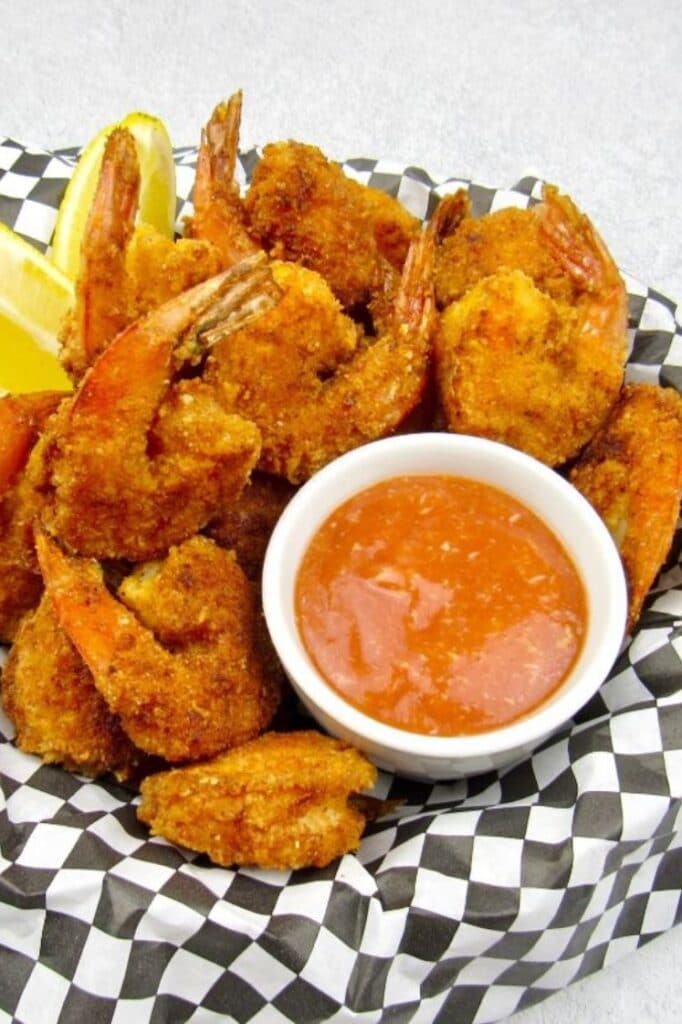 Who says you can't have crunchy shrimp cocktails while on the keto diet? Seriously, I bet this ready-in-15-minutes appetizer will win you the praise of your family and friends. It uses gluten-free 'breading' made out of pork rinds, parmesan cheese, and almond flour, and is accompanied with a tangy low-carb sugar-free dip.
---
Photo & Recipe Courtesy of Real Balanced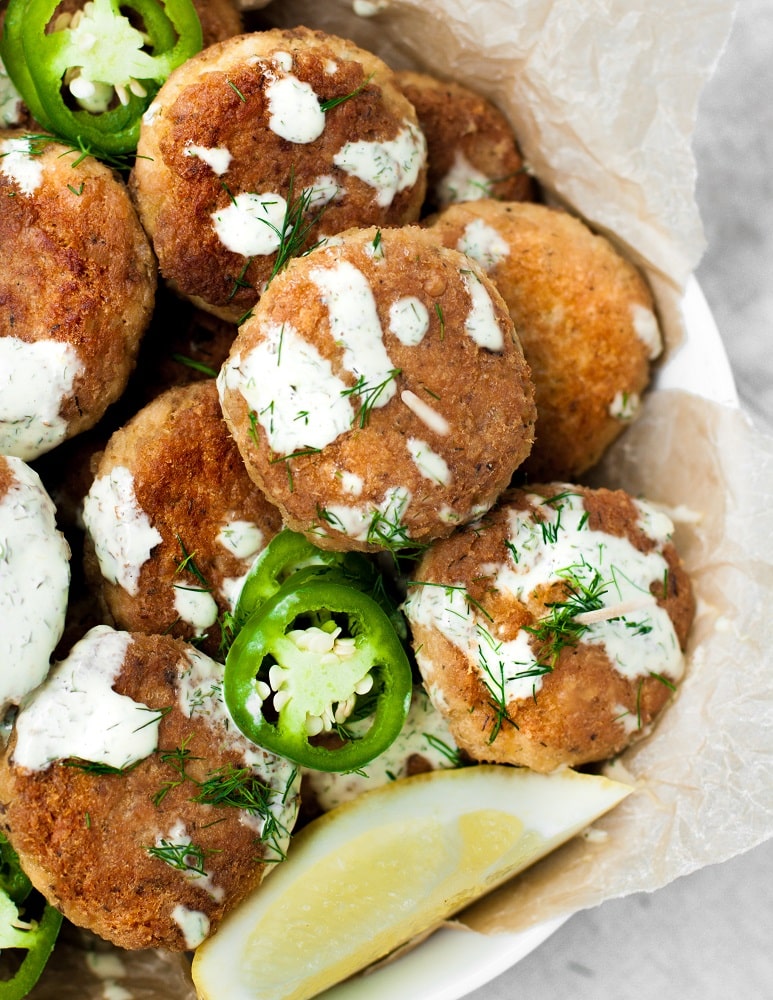 You've heard of chicken poppers, but have you ever tried these spicy salmon poppers? This keto-friendly seafood recipe can be served as a light yet wholesome meal or even as a party appetizer. It's gluten-free, grain-free, sugar-free, nut-free, paleo, and whole30-compliant so feel free to share!
---
Photo & Recipe Courtesy of Wholesome Yum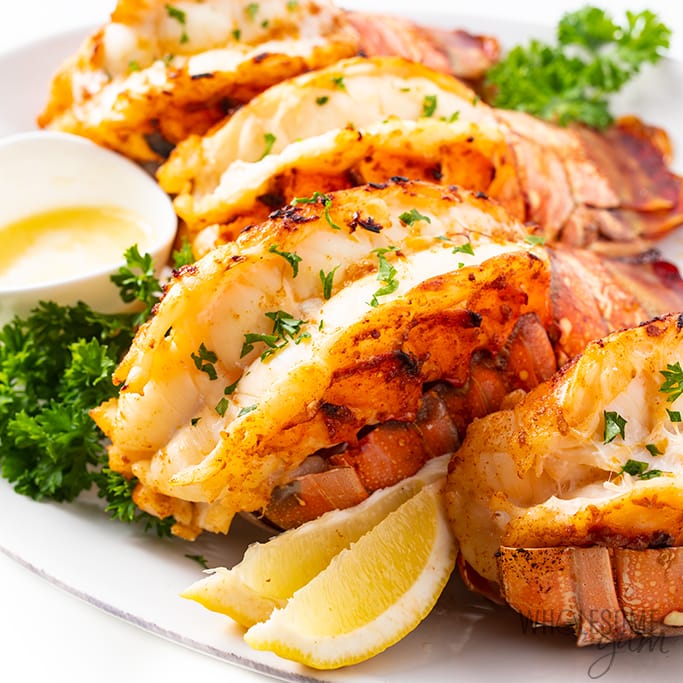 When I first saw this recipe, my immediate thought was this would pass as a restaurant special. I mean, just look at it!! I can already imagine how glorious it smells and how luxurious it tastes. Perfect for keto date nights at home and for hosting other low carb celebrations.
---
Photo & Recipe Courtesy of Appetite For Energy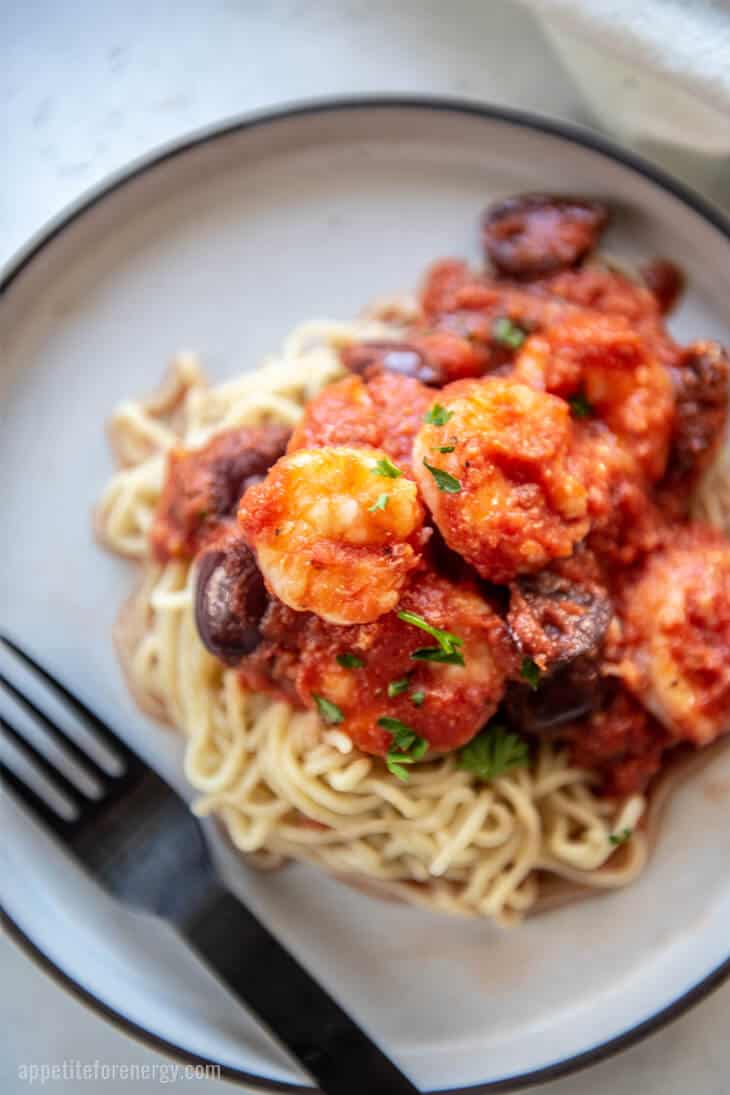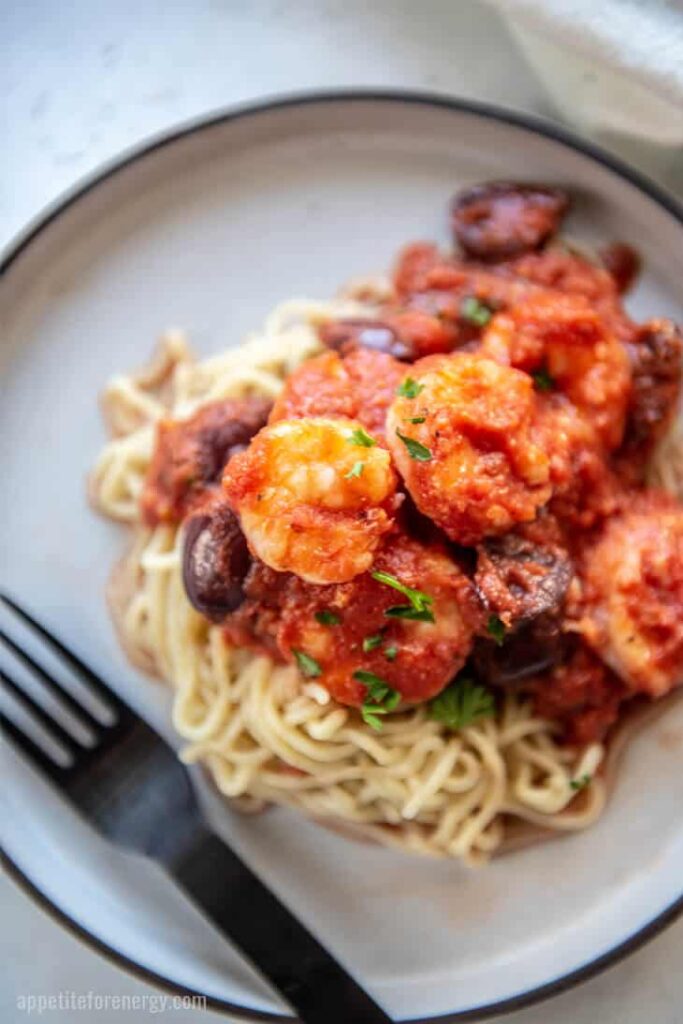 One of the things I love about Italian cuisine is the way they prepare and cook their food. It's so simple sometimes that it's hard to understand how it turned out so mindblowing. But alas, we can't have pasta while on the keto diet… right? WRONG!! This keto seafood "pasta" recipe brings you all the pasta goodness without kicking you out of ketosis. Oh… and did we mention it only takes 20 minutes to prepare? Yeah, you should probably add this to your to-cook list!
---
Photo & Recipe Courtesy of Real Balanced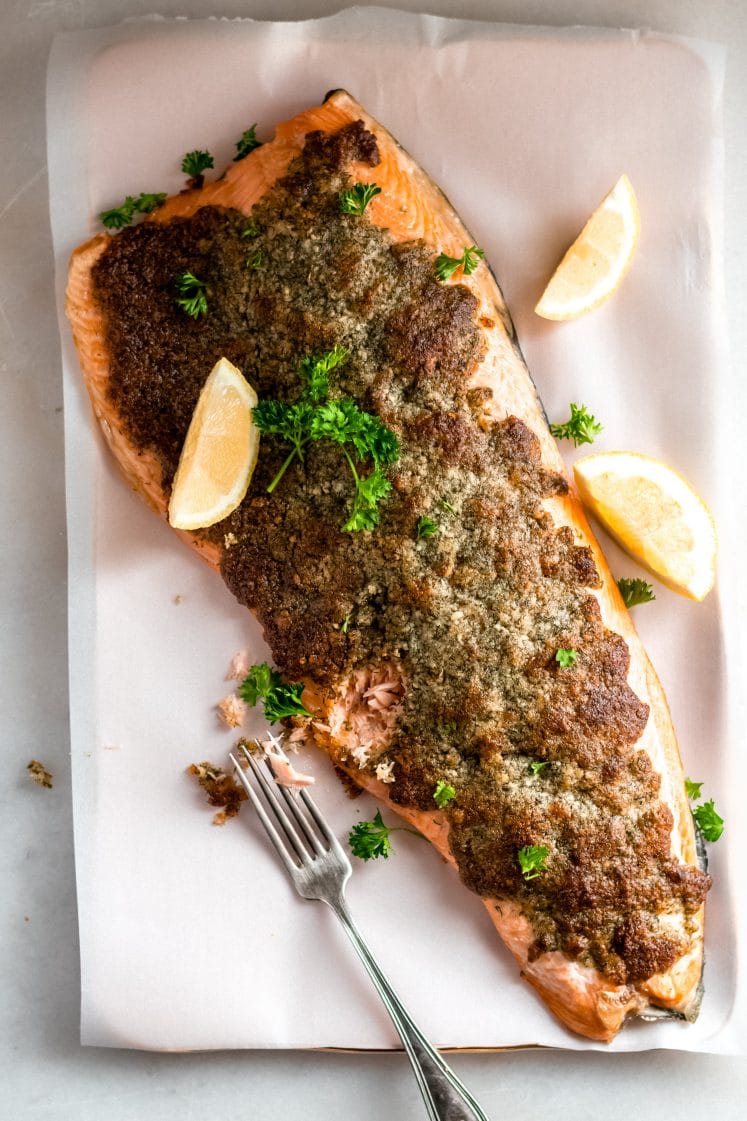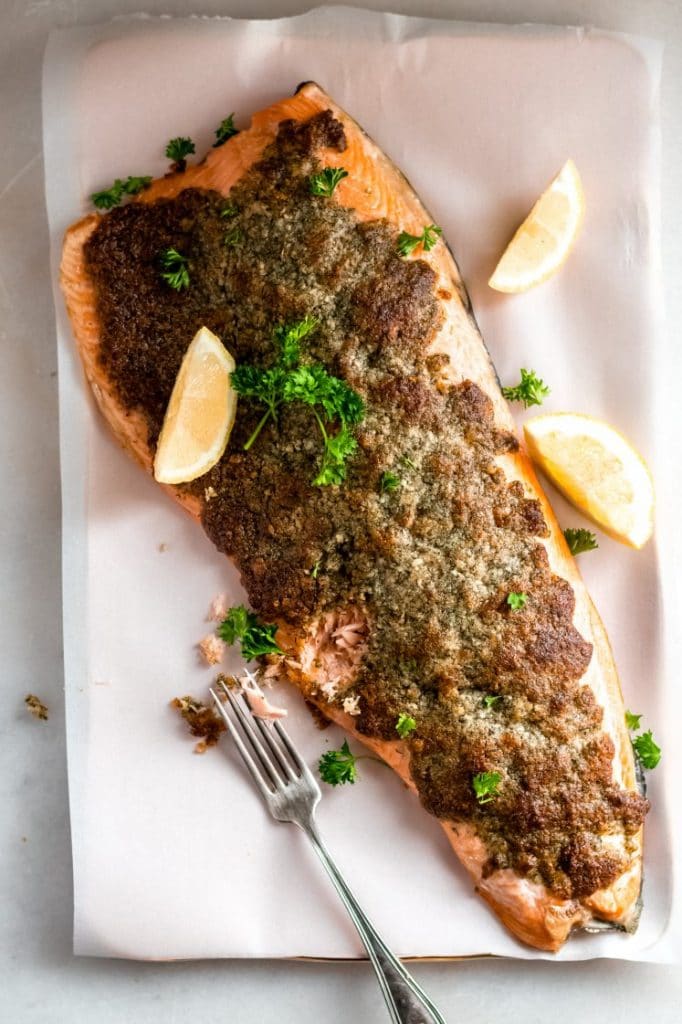 My crispy parmesan dill salmon recipe is a keto fan-favorite because it's loaded with protein, omega-3 fatty acids, AND tastes divine! Besides being keto-friendly, it is also compliant with the following: primal, gluten-free, grain-free, nut-free, egg-free, and coconut-free diets. If that's still not enough to get you to try this dish out, then you will be pleasantly surprised to know that it only requires 8 ingredients and 25 minutes to get 8 delicious servings – perfect for busy bodies needing a nourishing meal.
---
---
Photo & Recipe Courtesy of Fat For Weight Loss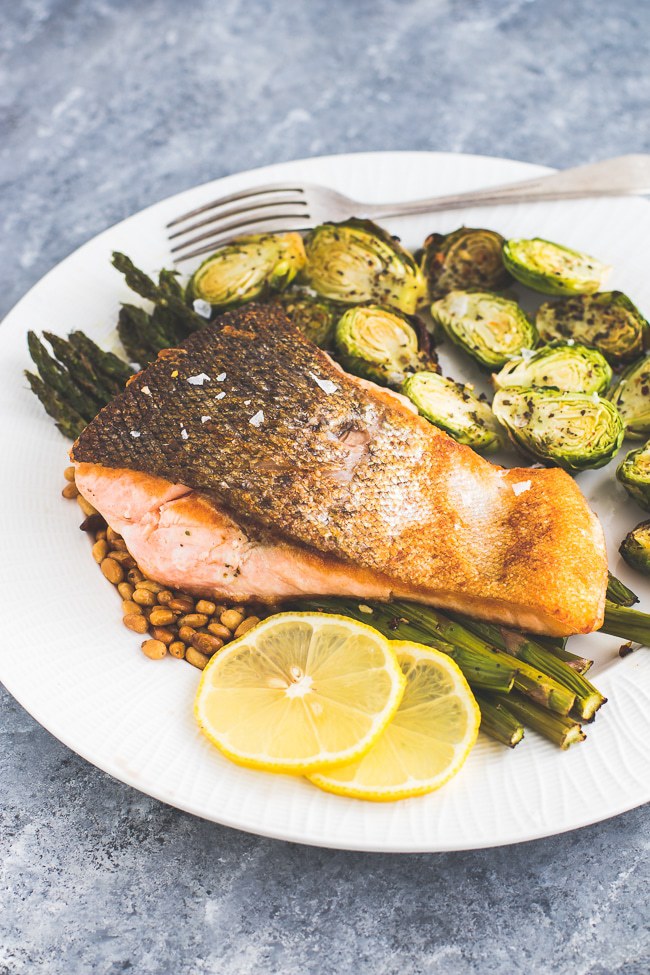 What can you expect when you try this low carb keto seafood recipe? Pan-fried salmon with its skin perfectly crisp, its meat moist and tender, paired with nutrient-dense veggies. This is as complete as a meal can get!
---
Photo & Recipe Courtesy of Low Carb Africa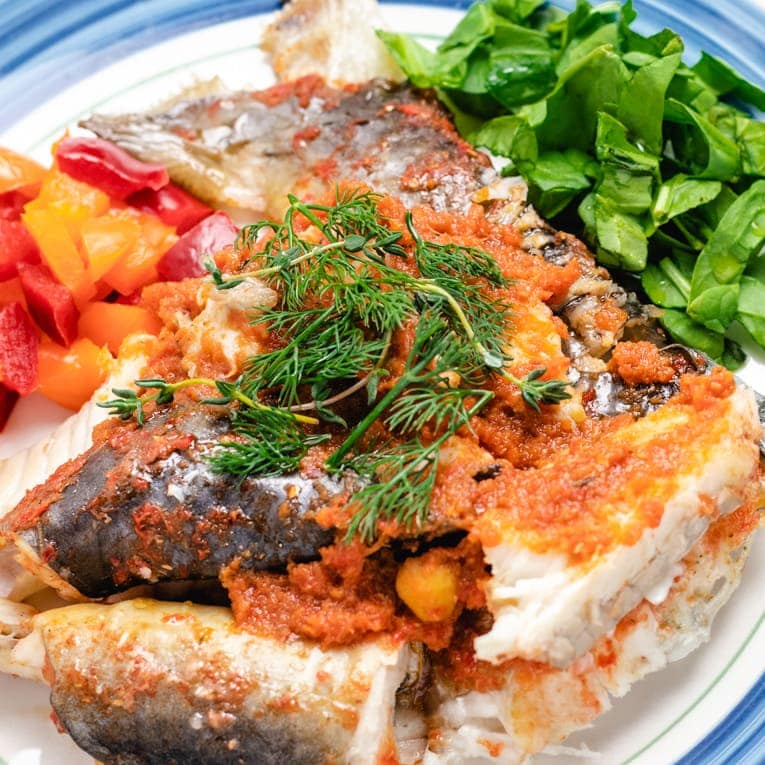 Besides salmon, tuna, cod, and tilapia – catfish is also an amazing fish you can use to make a mouthwatering main course. This dish takes a bit longer to prepare but you know what they say, "anything worth having is worth waiting for." Just follow the recipe and you'll be blessed with a catfish dish so delicious, it'll be gone in one sitting!
---
Photo & Recipe Courtesy of Real Balanced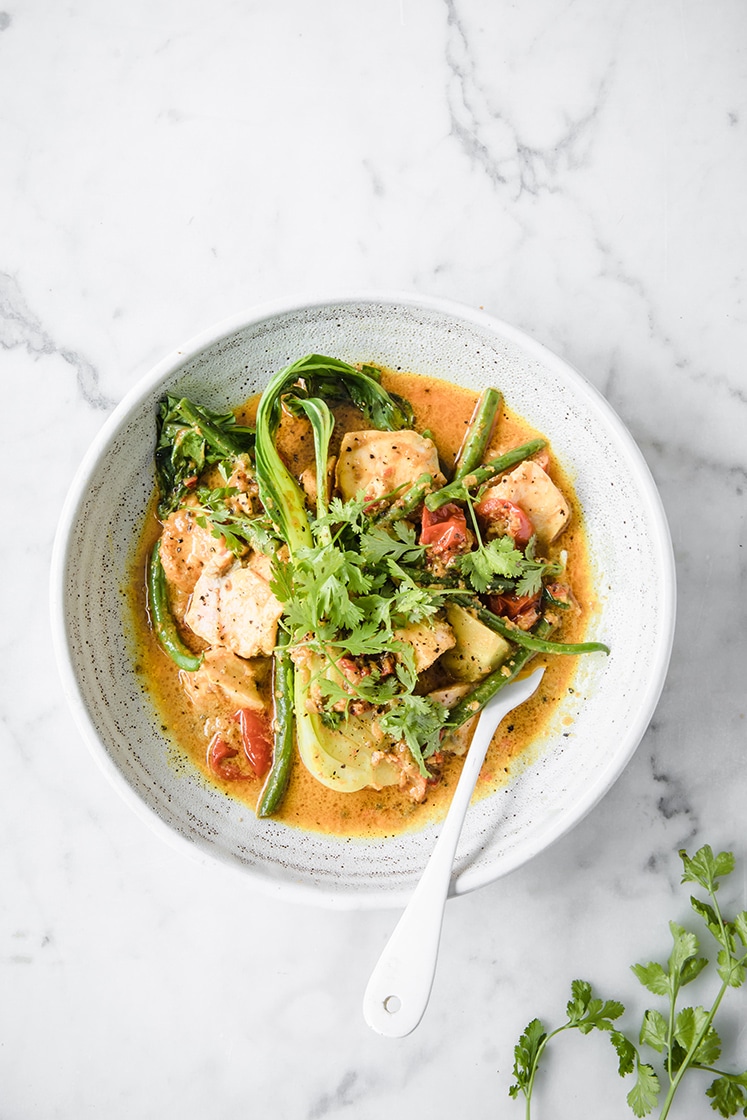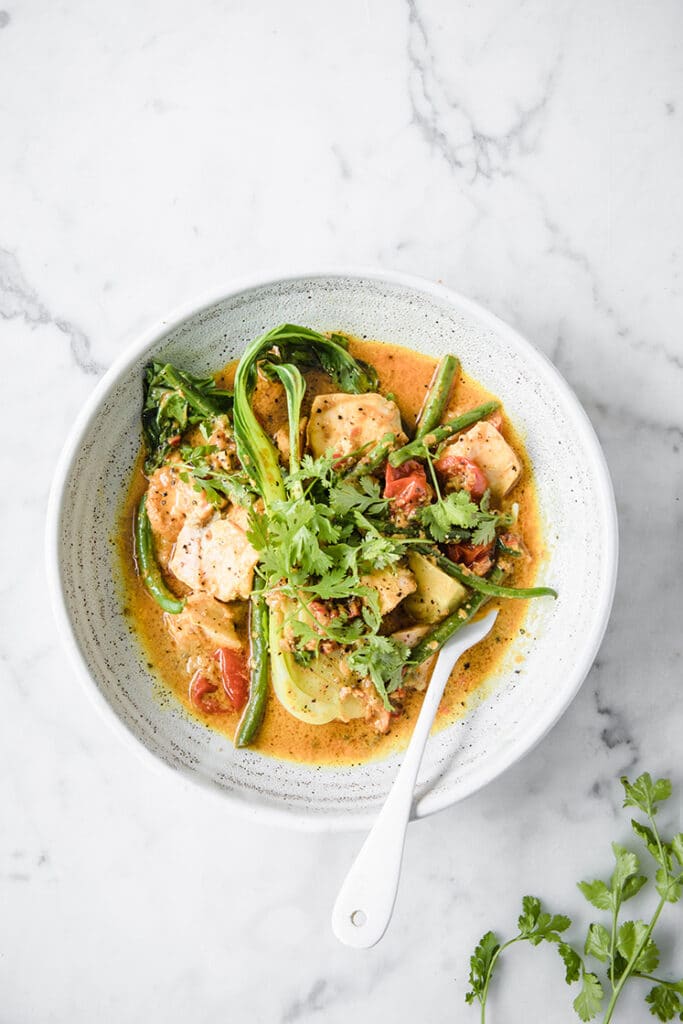 I made this keto version of an iconic Thai recipe because cooking different cuisines helps you to incorporate more nutrients into your diet… and well, I just really love keto salmon recipes for many reasons: 1) It's easy to cook. 2) It's loaded with heart-healthy vitamins and minerals. 3) You can easily get these from the grocery.
My keto salmon coconut curry has a nice spicy kick to it and is easy to customize. You want less heat, skip the chili. Like it super spicy? Toss in another chili or two. It's wholesome, simple, and tasty – 10/10 highly recommend.
---
Photo & Recipe Courtesy of Simply So Healthy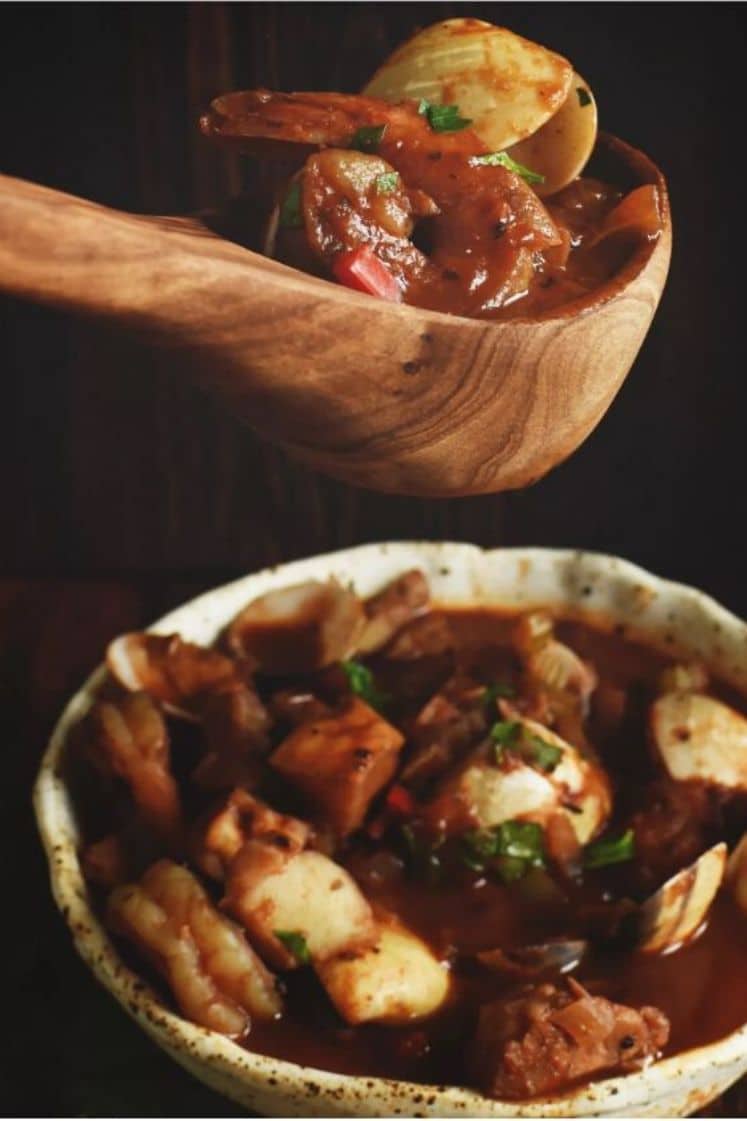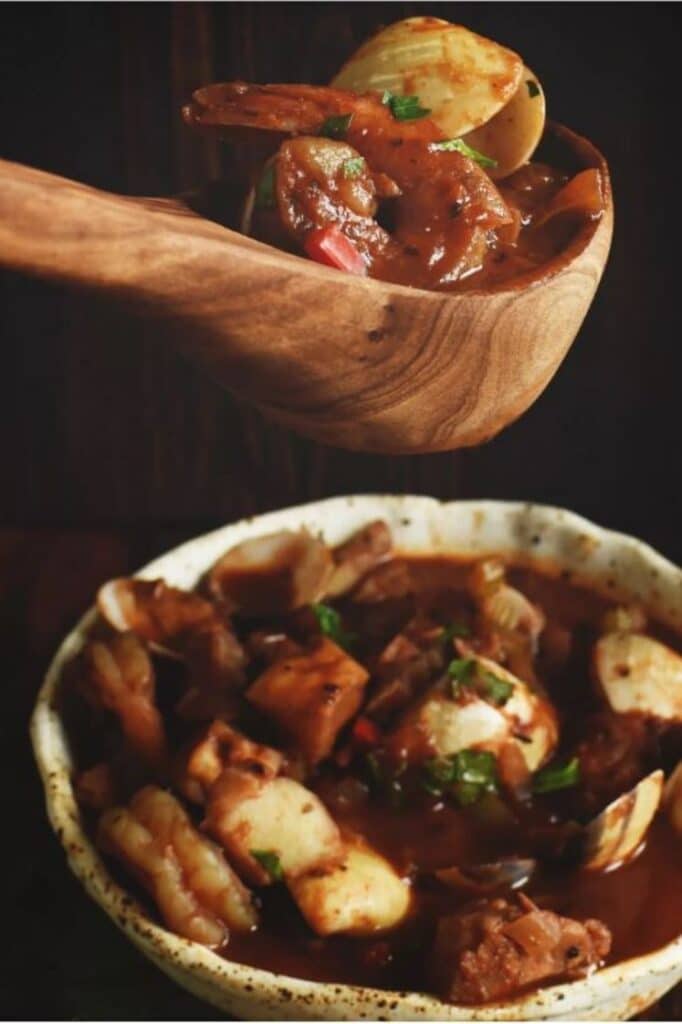 Cioppino is an Italian-American dish that uses seafood from the Pacific Ocean. It's usually served with a side of toasted sourdough bread or French bread, but a bowl of the stew itself is already keto-compliant.
This Cioppino Seafood Stew recipe captures the flavor of the traditional tomato-based stew while keeping the carbs low enough for those on a keto diet.
---
Photo & Recipe Courtesy of Resolution Eats
Is it true that everything tastes great with butter? Simple answer, yes, at least that's the case with these low carb pan-seared scallops!
Unlike clams, you only cook the scallop's main muscle (the chunk of white in the center) and is shucked raw. That's probably why it's flavor and texture is more consistent than say eating an oyster/clam where one part is tender and some bits are a little chewy.
Now, this recipe may take a bit of preparation, but making this yourself will surely open your eyes to the wonderful world of keto seafood cuisine.
---
Photo & Recipe Courtesy of Real Balanced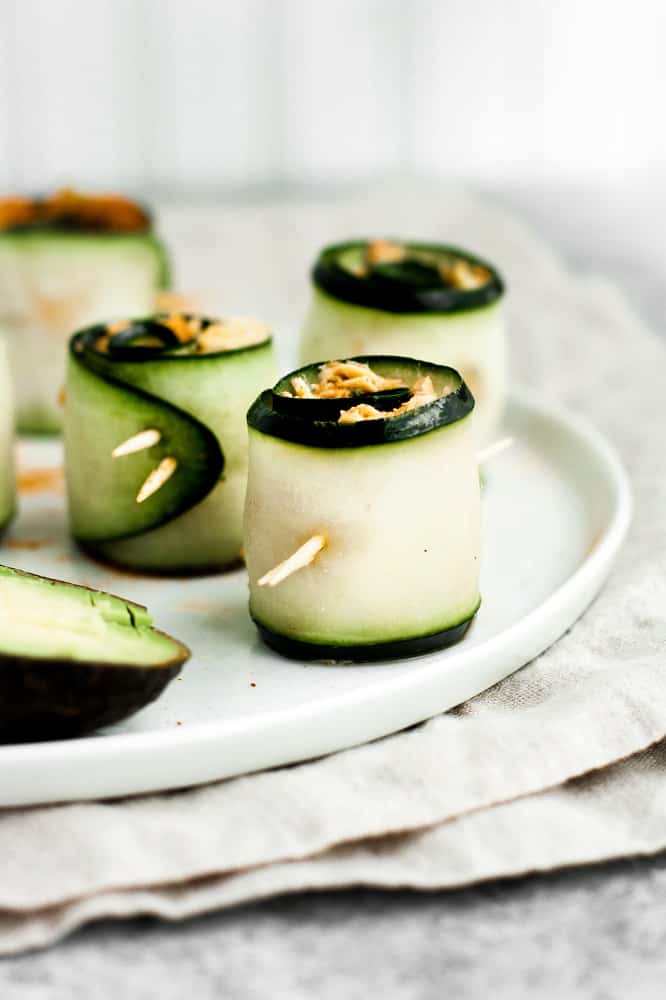 One of the frustrations people have while on the keto diet is that they can't have sushi, but this is probably the next best thing. These spicy tuna rolls are easy to make, satiating, nutrient-dense, and is low carb. And just as its name suggests, it only takes 10 minutes to make!
---
Photo & Recipe Courtesy of SugarFree Londoner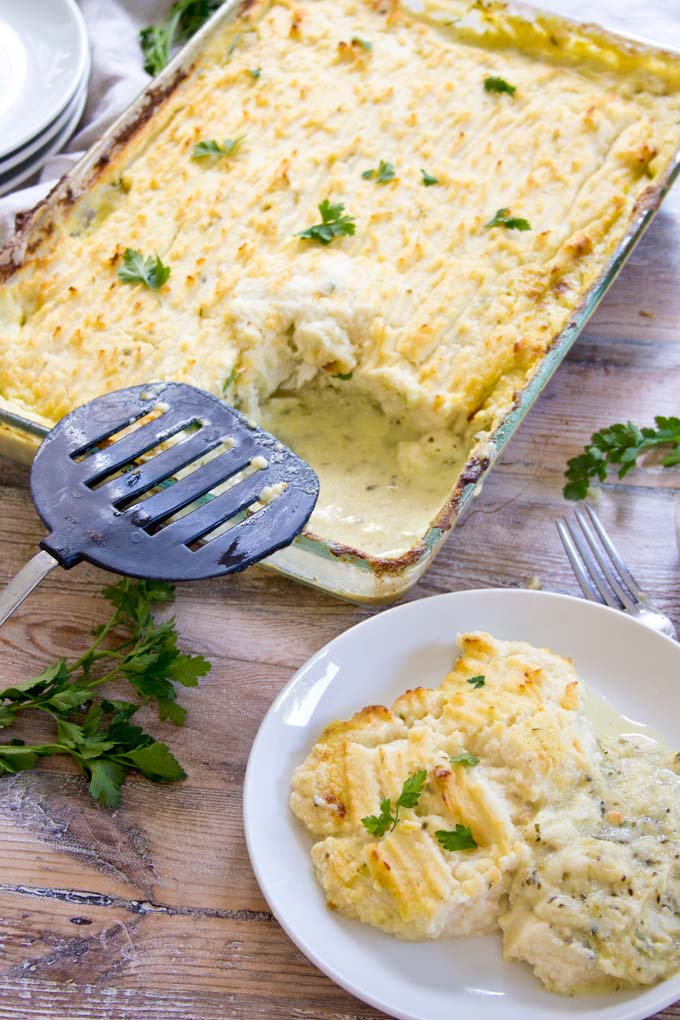 This thick and creamy low carb fish pie is pure comfort without the truck-load of carbs! Another selling point of this casserole is that you can toss in other vegetables like spinach or even broccoli, whatever you have handy at the moment to boost its nutritional value. As for the protein base, you can amp it up with a combination of white fish, or salmon, and even prawns!
---
Photo & Recipe Courtesy of Real Balanced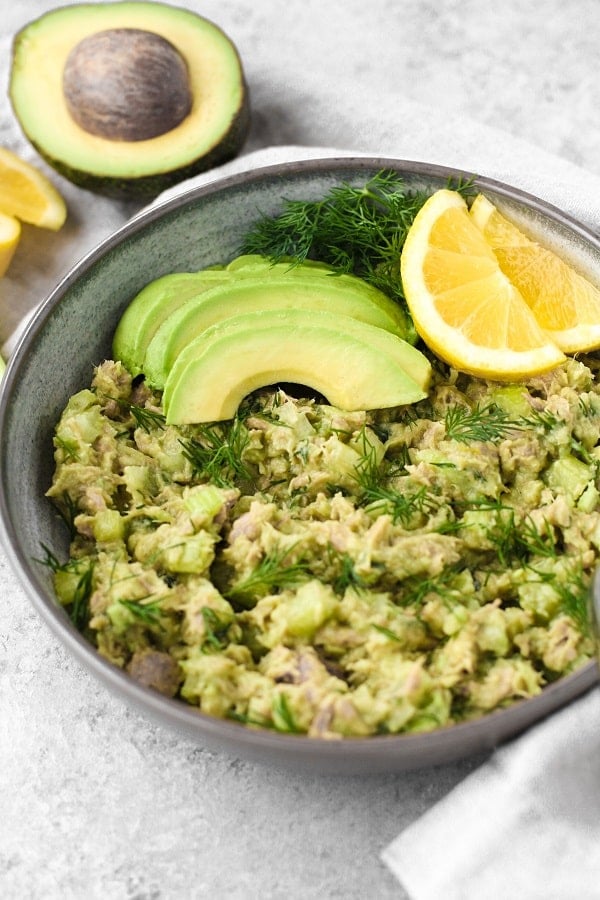 This easy keto salad is the marriage of 2 superfoods: tuna and avocado. I make this on weeknights, leave in the fridge to cool and enjoy as a post-workout meal the day after. It's high in protein and fat, but only has 4.2g of net carbs – a great meal prep option for sure!
---
Photo & Recipe Courtesy of Tasty Low Carb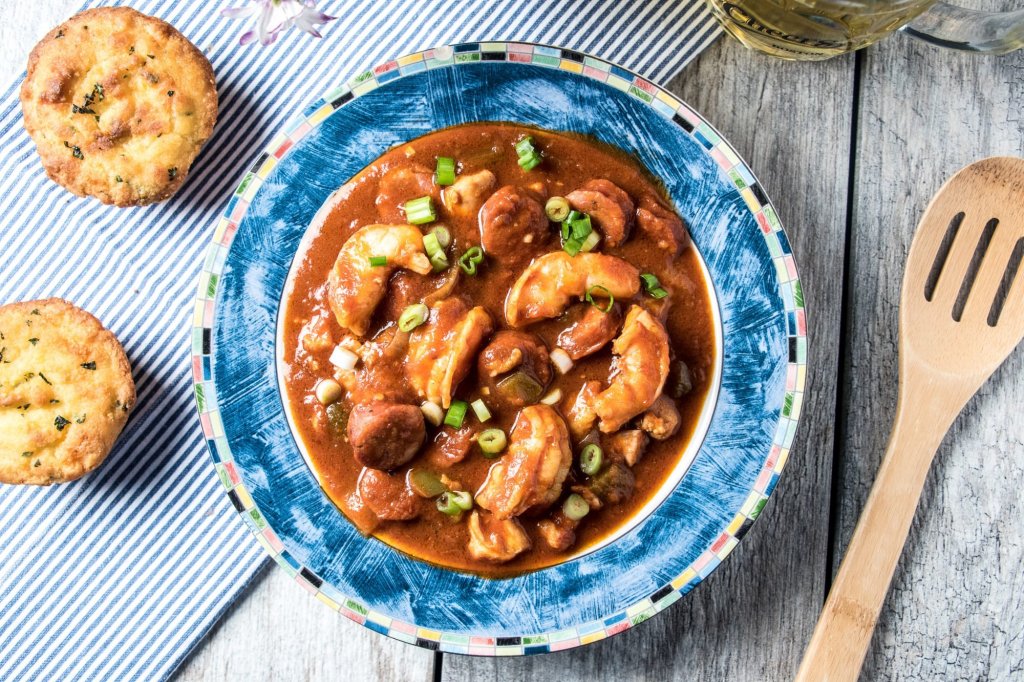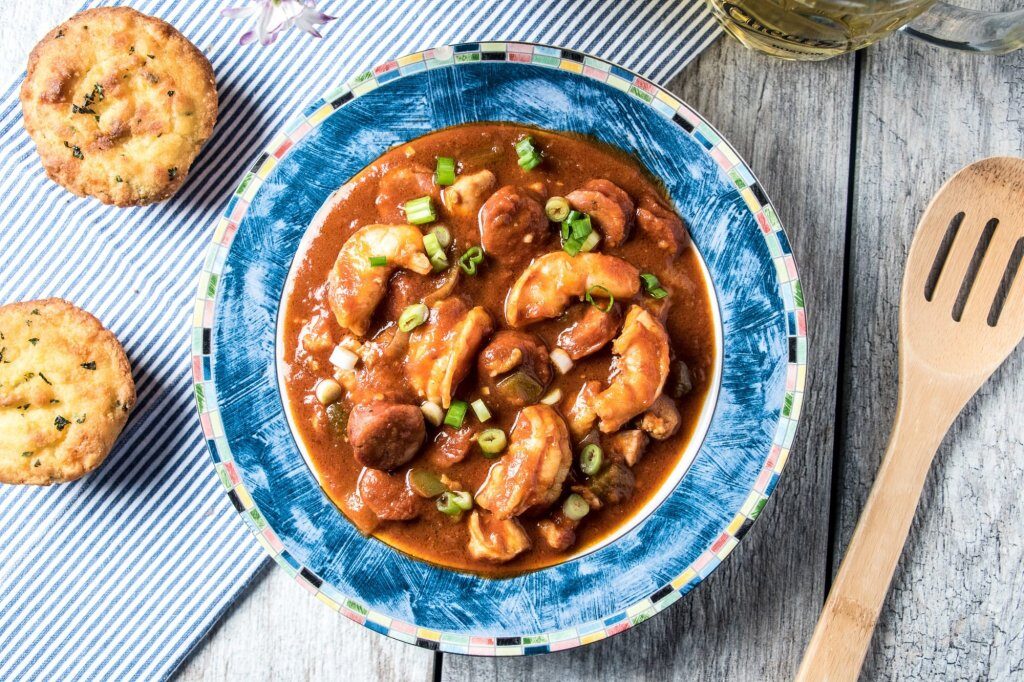 You can't have a keto seafood recipe roundup without gumbo! This New Orleans Style Gumbo is thick, spicy, and easily serves 8 with just a little under an hour of cooking time. This is about as heart-warming as a dish can get.
---
Photo & Recipe Courtesy of My Keto Kitchen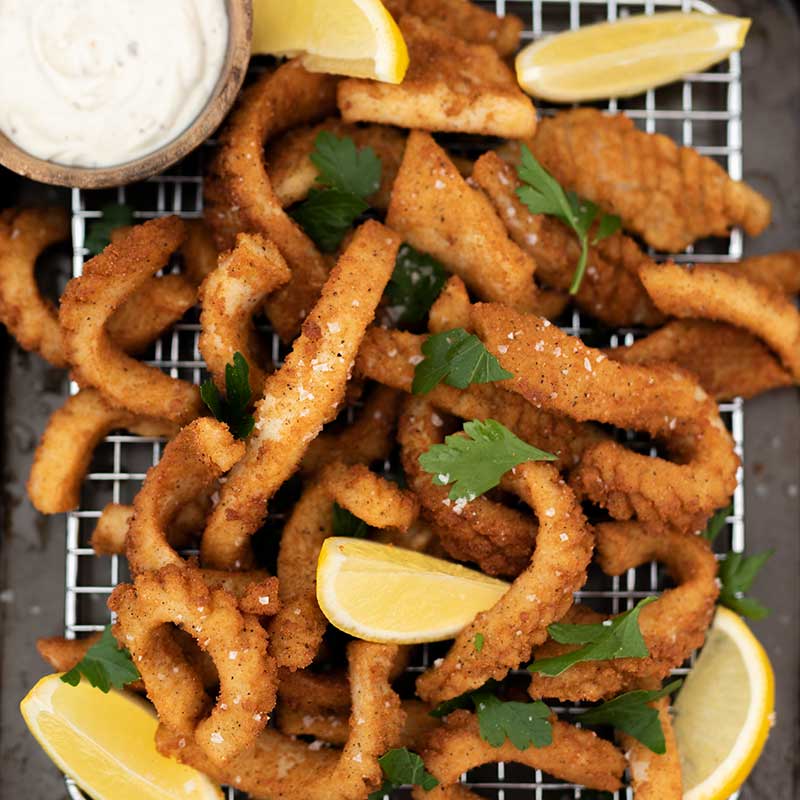 Looking for a low carb seafood recipe that's easy to prepare, serve, and eat? Well, say no more!! This keto salt and pepper squid is going to win you over. The secret to this recipe is the crispy-crunchy coating + tender squid. Toss it in the fryer for 100% keto snacking satisfaction!
---
Photo & Recipe Courtesy of Tasty Low Carb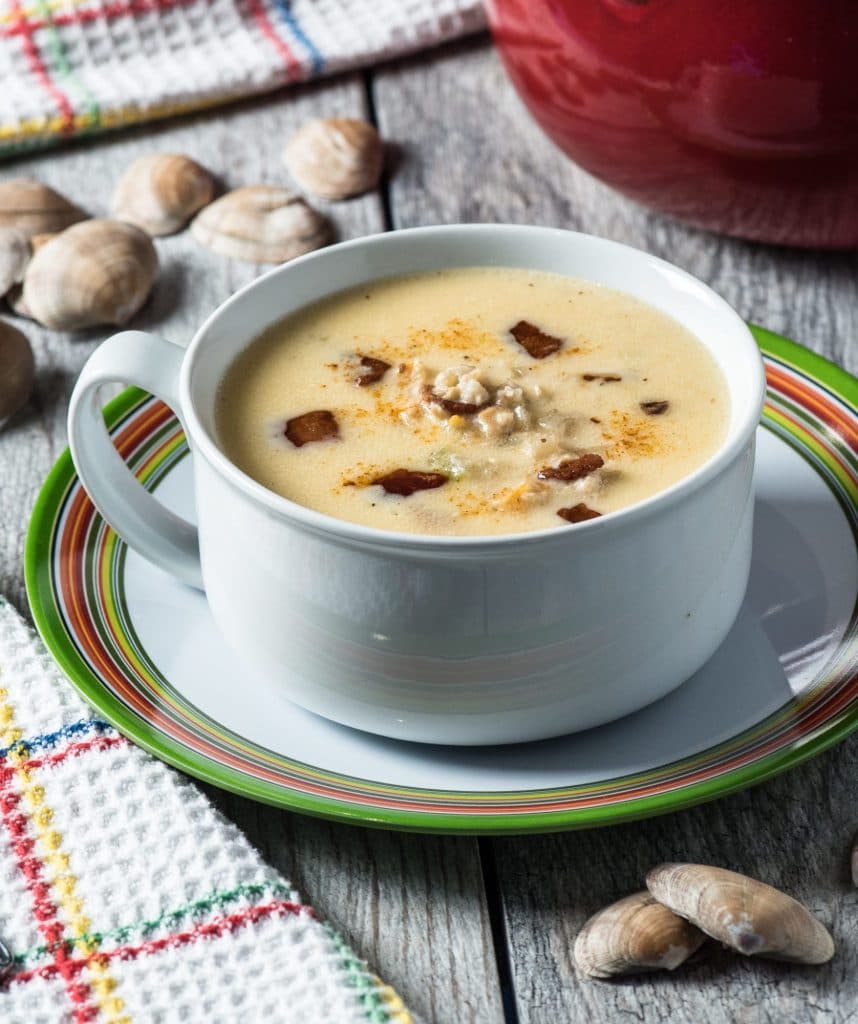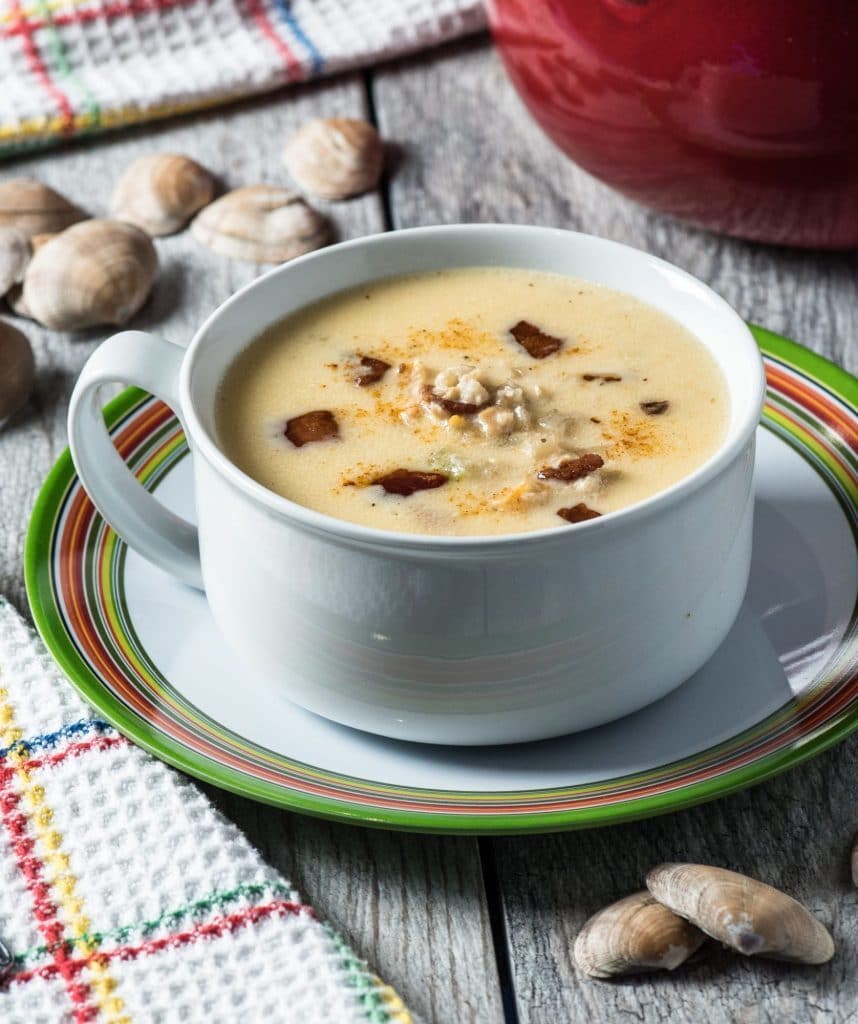 Of course, we're going to feature a quintessential comfort soup! And of course, it's going to be keto-friendly! And, you bet it's going to taste delicious even without the potatoes. If you're wanting bliss and cozy, this is the low carb seafood recipe of your dreams!
---
Photo & Recipe Courtesy of That Low Carb Life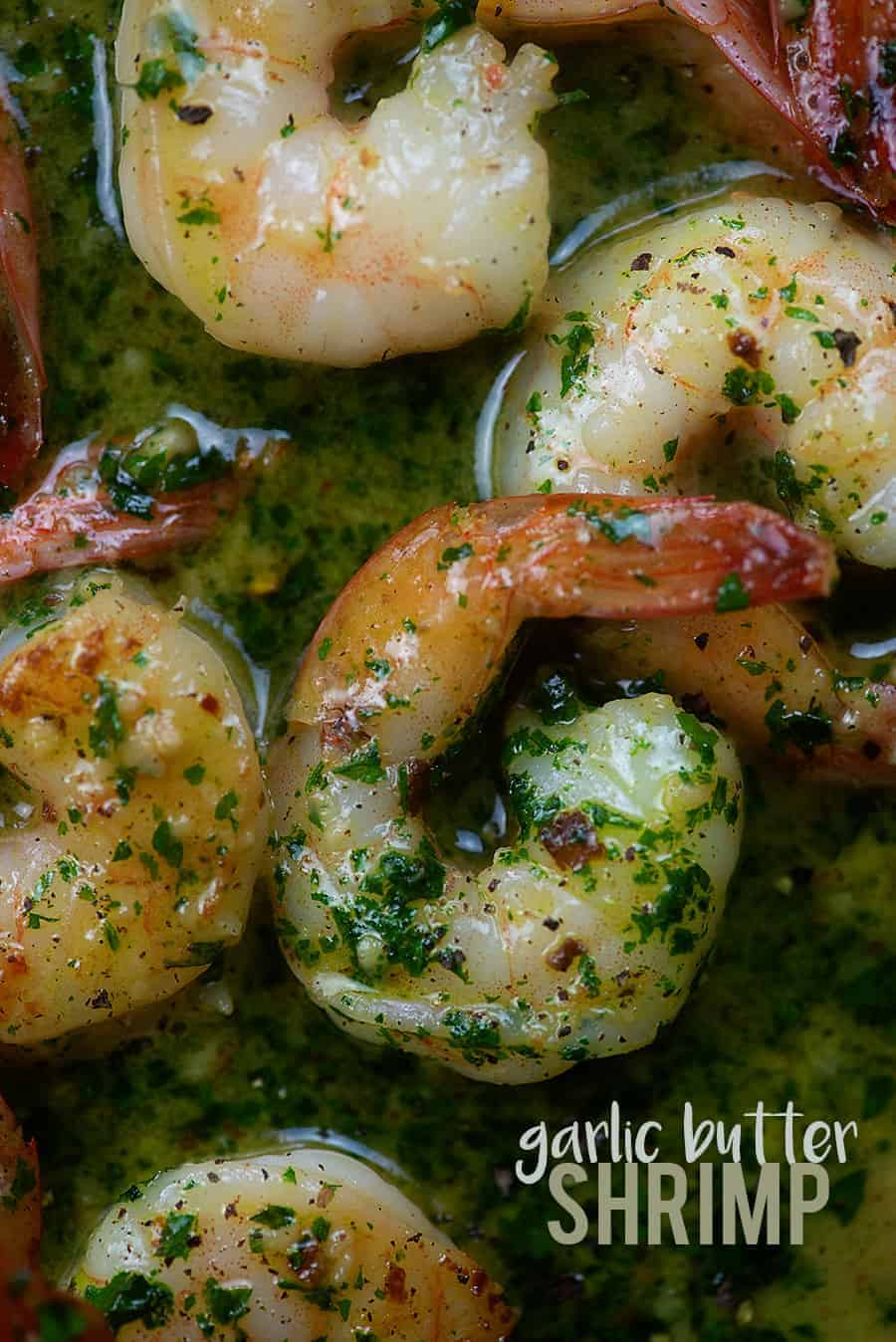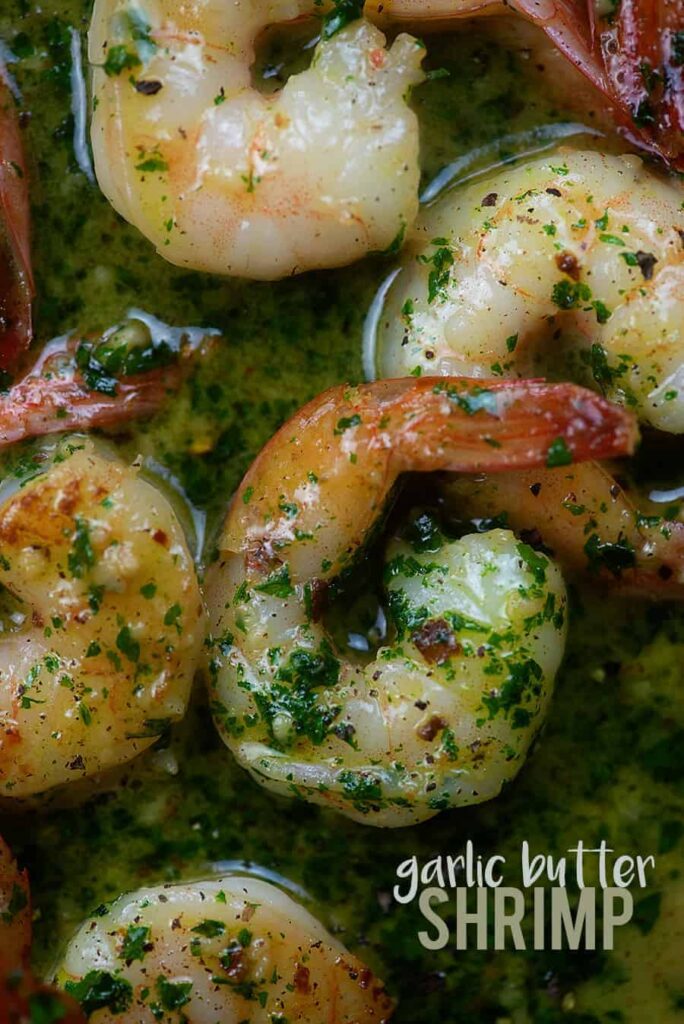 Ketoers are some of the most butter-obsessed folk on the planet and for good reason! Garlic buttered shrimps taste absolutely delicious. You can serve these as-is, or maybe save some for later to repurpose when you make no-carb pasta… it's like a gift that keeps giving. Ah! Also, it has a fantastic fat-protein-carb ratio at 20g : 27g : 3g!!
---
Photo & Recipe Courtesy of All Day I Dream About Food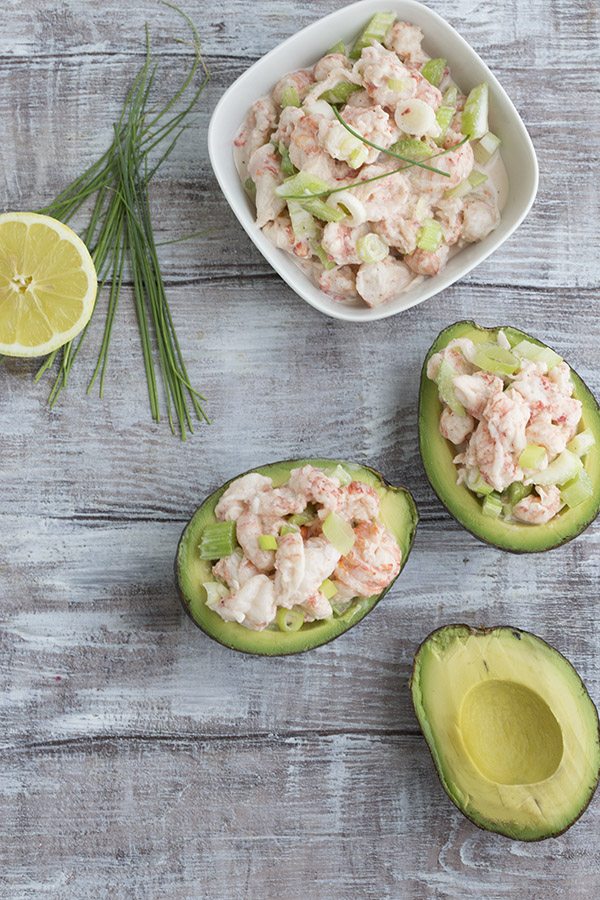 Who knew you could enjoy a New England lobster roll in a keto-compliant way?! Traditionally served with on a hotdog bun, lobster rolls are probably not the best keto meal option… BUT serve them in avocado boats and you've got yourself a magical, nutrient-dense flavor ride.
Find a dish you like? Comment below and tell me which one of these keto seafood recipes you'll try this year!
Reader Interactions