If you're struggling with what to get the special guys in your life, then you'll love this helpful gift guide that includes all of the best gifts for him from Amazon! Easy to order, delivered quickly, and ready to be wrapped and gifted, these amazing gifts will be enjoyed and so appreciated by the recipient!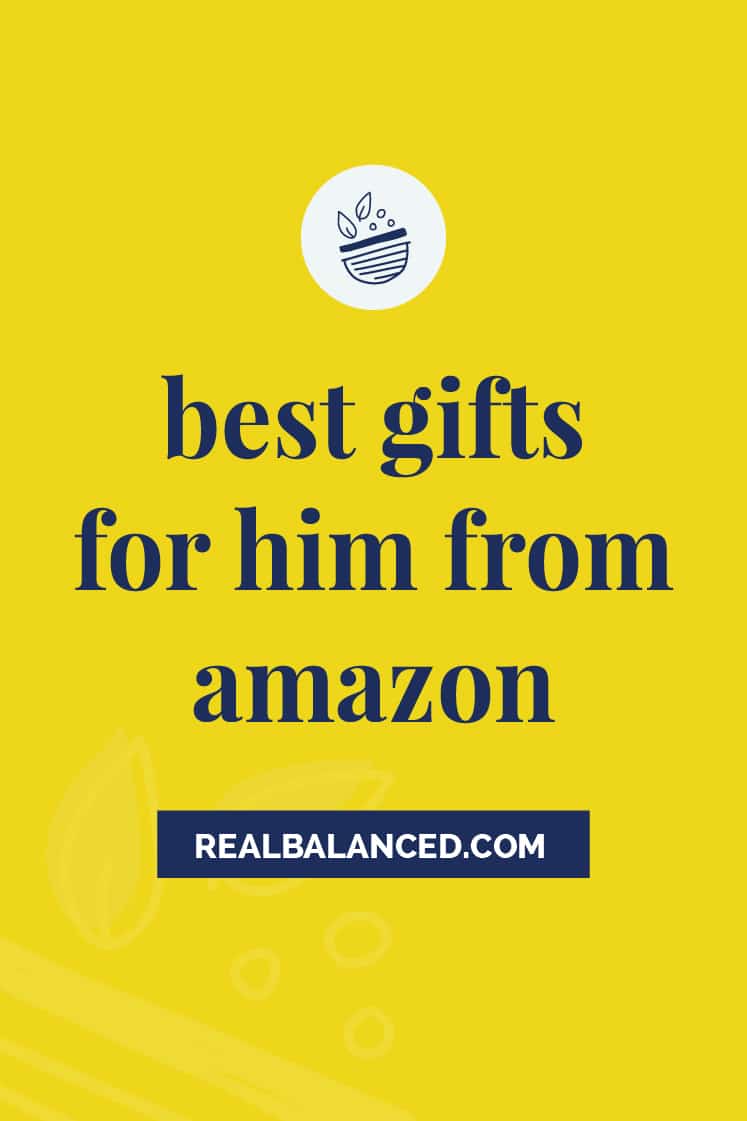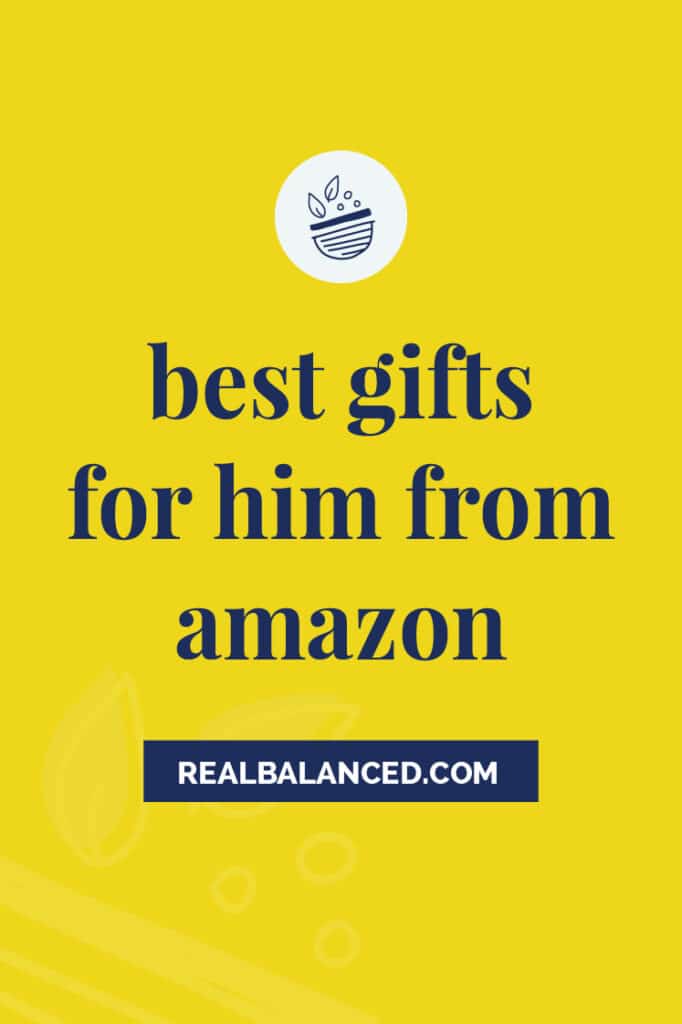 As an Amazon associate, I earn from qualifying purchases.
From grooming to clothes, to devices, and more, this 2019 gift guide includes the best gifts for him from Amazon has you covered! Whether you're shopping for your boyfriend, husband, brother, father, or someone else, this list of popular items from Amazon are great options.
And, if you have Amazon Prime, you can have them ordered and delivered to your front door to have wrapped and ready to go in just a couple of days!
(Need more Amazon gift ideas? I have two more guides you might find useful! Check out my Gift Guide For Her and Gift Guide For New Moms Here.)
All of the best gifts for him from Amazon in 2019
For many of us, it can be quite challenging to come up with a great gift idea for the men in our life. Thankfully, purchasing great gifts doesn't get much easier than shopping from Amazon!
Amazon Prime Gift Shopping
If you don't already use Amazon Prime, I'd highly suggest considering it for yourself (and even as a gift for someone else!). The 2-day shipping that it provides you is really a game-changer and something that we use weekly in our household. This shipping offer especially comes in handy around the holiday season when we need last minute gifts, wrapping paper, and other holiday items.
What to buy men as a gift
When shopping for the guys in your life, we think it's best to keep it simple, but thoughtful. Give items that will be used and loved, like clothing and grooming essentials!
This gift guide was created to take the stress and uncertainty out of your shopping experience. Any item that you buy from Amazon using this list of goodies is sure to be loved and well-appreciated!
Clothing
Boot Socks
There are few things worse than cold feet! Gift the men in your life with these heat-trapping, insulated boot socks. They'll keep their feet nice and cozy in even the coldest of temperatures. Choose from solid black, or four different patterns!
Jacket
Every man needs a casual men's jacket in their wardrobe. I love this one because it looks so warm, versatile, and will match with any outfit! The tan color is my personal favorite, but it comes in other colors including olive, navy, and black. Plus, it's machine washable, so when it inevitably gets dirty, it'll be easy to clean!
Pajama Pants
These cotton pajama pants are a great staple item that will definitely be worn regularly. Available in many colors and patterns, these comfy pajamas would be a great gift for any guy!
Slippers
These slippers have thousands of raving reviews, and for good reason! They are affordable, warm, and are extremely comfortable! They are especially great because they have a hard sole on the bottom, making them sturdy to walk around in all day long.
Bath
Nontoxic Deodorant
An essential item for most men, deodorant is a great gift for the guy in your life as they're sure to use it daily! My husband swears by this Native Deodorant, which is nontoxic, sulfate-free, paraben-free, aluminum-free, and smells so nice!!
Electric Shaver
This electric shaver is sure to be used by the man in your life! This gift is a bit more expensive than other items on this gift guide list, but it is well worth the price! Many reviewers mention that they get "as close a shave" from this electric shaver as they do from a traditional blade shaver.
After Shave
This after shave gel was widely mentioned by so many as a gift idea for him that I knew I needed to include it in this list! This product is highly recommended as it's a perfectly refreshing aftershave product for the guy in your life to use immediately after shaving. This alcohol-free product both soothes and nourishes the skin. Win-win!
Bar Soap
My husband could not love a product more than he does this Dr. Squatch Soap. Really. He loves this soap SO MUCH. If you were to ask him, he would say this is definitely one of the best daily-essential gifts you can get on Amazon. It is handcrafted and removes dead skin cells with a gentle sand exfoliation. Ryan especially loves the smell and I'd have to agree with him. The Pine Tar scent smells great!
Beard Grooming and Trimmer Kit
This top-rated beard grooming and trimmer kit is a great gift for the beard aficionados in your life! Using only organic ingredients, the items in this kit leave beards soft and conditioned and make styling easy. Many men especially rave about the boar bristle beard brush that distributes natural oil and easily distributes beard oil, balms, waxes, and conditioners.
Beard Oil
Another favorite product of my husband's, this Dr. Squatch Beard Oil is made with natural ingredients that hydrate and nourish beard hair.
Lifestyle
Laptop Bag
This top-rated and affordable laptop bag is perfect for the busy working man in your life! For the quality of this bag, the price couldn't be better! Many reviewers report that even after a year of daily use, their bag is still in pristine condition!
Wallet
This affordable slim wallet from Amazon is extremely popular and for good reason! Available in many colors, this minimalist-style wallet is a great gift for any of the guys in your life!
Yeti Coffee Mug
For the coffee-loving guy in your life, this Yeti Stainless Steel Coffee Mug is the ultimate gift and easily one an amazing gift you can buy on Amazon! Yeti mugs are double-insulated, BPA-free, and dishwasher-safe. I personally have had this exact mug for years and use it every single day! It keeps hot coffee hot all day and cold drinks cold all day. I love the simple stainless steel color, but there are multiple color options for you to choose from!
Toolbox
This affordable toolbox is a fantastic gift option for any guy, but especially one who recently purchased a new home or has an upcoming project they are wanting to start on. Having a new toolbox to store all of their tools will make their work so much easier! This toolbox, in particular, is deep enough to fit a wide variety of tools and comes with organizers to make finding tools that much quicker!
Sous Vide Cooker
This sous vide cooker has becoming extremely popular in recent years! This kitchen appliance has been purchased by so many men I know and it seems they really love this device for easily and perfectly cooking everything from meat, to chocolate, to eggs. The clever design of this particular sous vide is what I like most about this product as it's slim and can be easily stored in your kitchen.
Gaming
Nintendo Switch
This Nintendo Switch is the most used gaming device for my husband. He especially loves that he can take it and bring it with him no matter where we go and if he needs to find something to do when we have some downtime. The battery life is pretty extensive and can last anywhere from 4 hours to 9 hours!
Retro Nintendo
What's better than a nostalgic gift for the guy in your life?! This retro Nintendo gaming system will bring back great memories from childhood and will be such a fun device to play with throughout the year!
These gifts for him from Amazon are perfect gift options!
Giving any of these items would make for a wonderful gift! With all of these best gifts for him from Amazon, you're sure to make the guy in your life so happy!
Have you purchased any of these items? Do you have any suggestions to add to this gift guide for him? Share in the comments!
Reader Interactions