To help provide you with practical solutions that the women in your life will love, we've compiled a list of the best gifts for her from Amazon!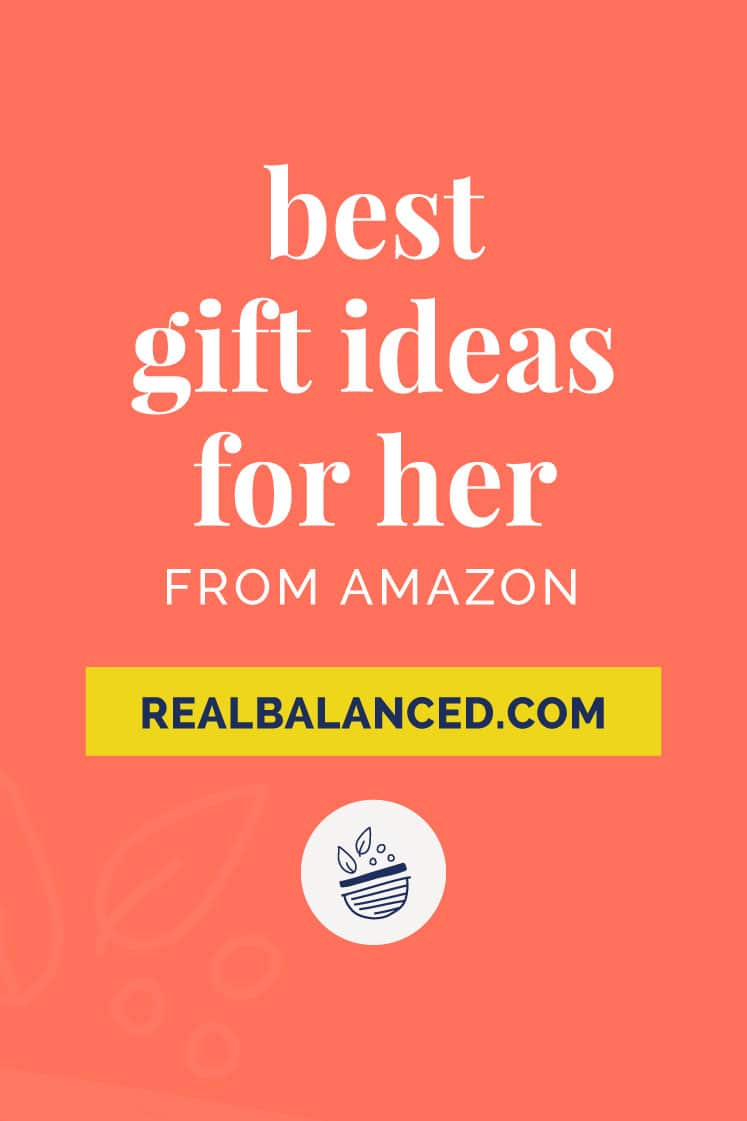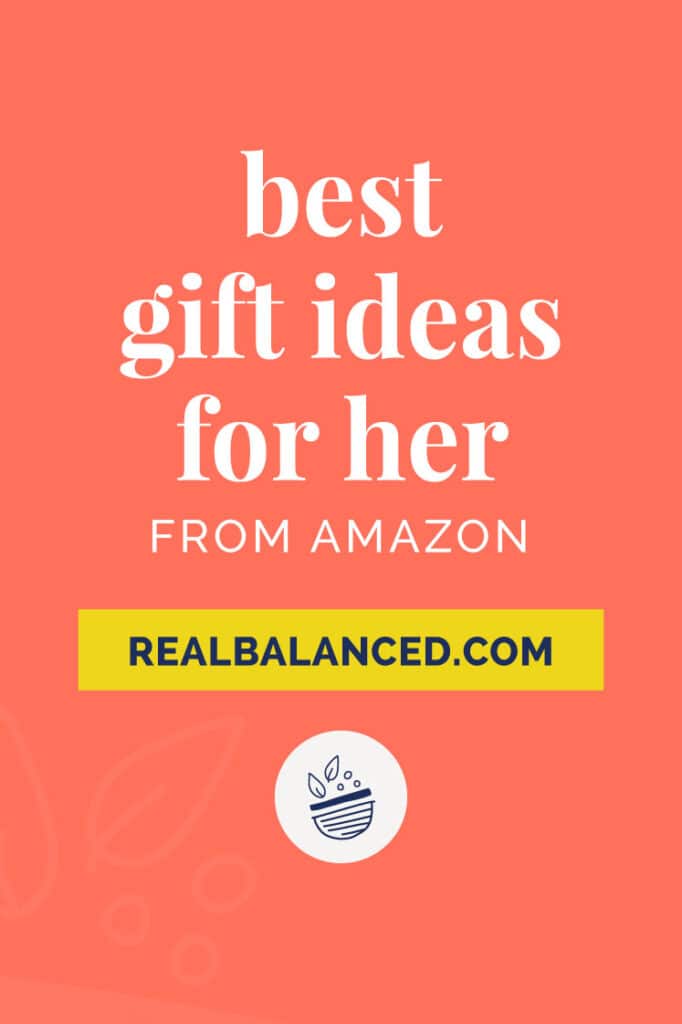 From comfortable fashion, to beauty accessories, to coffee cups, there is something on this gift guide list for everyone. Consider yourself warned: You may find something for yourself, too!
As an Amazon associate, I earn from qualifying purchases.
From fashion, to beauty, to accessories, and more, this gift guide includes all of the best gifts for her from Amazon! No matter if you're shopping for your girlfriend, wife, sister, mother or someone else, this list of popular items for women from Amazon are all great and affordable choices.
And, if you have Amazon Prime, you can have them ordered and delivered to your front door to have wrapped and ready to go in just a couple of days!
(Need more Amazon gift ideas? I have two more guides you might find useful! Check out my Gift Guide For Him and Gift Guide For New Moms Here.)
Clothing and Accessories
Yoga Pants
Long story short, these yoga pant leggings are THE BEST. It's no surprise that every person I've talked to who has ordered these raves about them! Check out the reviews on Amazon and you'll see what I mean! These particular pants come in three lengths: long, cropped, and shorts (a bike shorts style). These workout leggings with pockets are high-waisted, and they aren't see-through.
Women's Teddy Coat
Women's teddy coats are so popular right now, and for good reason! They're cozy, chic, and look great with any outfit. Any woman in your life would LOVE one of these teddy coats. I personally own the tan color and really love it (you can see it worn in my Instagram post here), but they offer a variety of color options to choose from!
Bath Robe
Every woman needs a nice, high-quality, and comfortable bath robe! This lush, soft, women's bathrobe does the trick and is another one of the best gifts for her from Amazon! It is perfect for curling up on the couch to relax, especially during those long winter months!
Slippers
So plushy! These women's slippers are amazing! Featuring a cute cross-band design, these slippers come in 5 different colors (I really love the white!). They're perfect for anyone who loves to feel cozy at home! Personally, I think these may be one of the best gift ideas for her from Amazon!
Scrunchie Set
With a scrunchie set this versatile, there's guaranteed to be an option for every outfit! This scrunchie set comes with 24 different colors in a velvet finish. They're 1.5″ thick and about 4.3″ wide, making them great for various hair types. This velvet scrunchie set is a great and trendy gift option!
Lifestyle
Milk Frother
For any coffee lover in your life, this milk frother is a PERFECT gift and is truly one of the best gifts for her from Amazon. If you follow me on Instagram, you likely know how passionately I talk about this appliance! I LOVE IT. SO MUCH! With it, you can create delicious lattes, macchiatos, and more, all from the comfort of your own kitchen! This is the best milk frother because it creates a little over 8 oz of frothed milk at a time. The coffee lover in your life will absolutely love this gift.
Yeti Coffee Mug
No matter your loved one's drink of choice, this Yeti coffee mug is great for keeping it hot or cold! This 20 oz rambler-style mug comes in 17 colors, ranging from neutrals to bold. There's something for everyone! Yeti travel coffee mugs are dishwasher safe, making them incredibly easy to clean. I've had my Yeti mug for several years and use it every single day!
Temperature Controlled Coffee Mug
This temperature-controlled mug is a gift that every tea and coffee lover will be so happy to receive! Ember has created a coffee mug that keeps your drink at its exact temperature or a customized temperature of your choice. It lasts for an hour, which is plenty of time to enjoy your comforting beverage.
Lunch Box
For the woman in your life that has to take her lunch on the go, this Kate Spade Polka Dot Lunch Tote is SO fun! It measures 8″ x 7″ x 4.5″ and it opens with a beautiful gold zipper. Along the front in small black letters, this tote reads "OUT TO LUNCH." The inside is insulated and features an easy-to-clean liner. Personally, I think this is another one of the best gift ideas for her from Amazon because she will absolutely use it daily!
Portable Phone Charger
Finding yourself with a dying phone and no access to an outlet is pretty frustrating and, in many cases, can be unsafe. Anyone who has a phone will find a portable cell phone charger valuable! This sleek black option is heavy duty and will charge an average phone about 6 times. It also boasts a 2.5x charging speed!
Vacuum
This light yet powerful vacuum cleaner is a wonderful option for someone who has just moved into a new home, needs a new vacuum, or simply loves keeping tidy! The best part? It is SO affordable! From Bissell, this particular vacuum can be transformed into three different machines for use on multiple surfaces. It works on hard floors, too! I really like the blue color option, but it also comes in green and purple.
Sleep Headphones
Though called sleep headphones, this particular style is perfect for athletes too! The headphones are attached to a comfortable headband that fits snug around the ears to keep them warm and protected from the cold. Similarly, the headband keeps the earphones in place while sleeping. If you listen to podcasts or music at night when falling asleep (I listen to the "Sleep With Me" podcast every single night to fall asleep), you'll want to try these out!
Home
Silk Pillowcase
Sleeping on a silk pillowcase is beneficial for the skin and especially the hair. It helps to reduce split ends and keep frizziness tamed. Not to mention, silk pillowcases are so comfortable! This 100% Mulberry silk pillowcase comes in 6 different sizes and a variety of colors.
Candle
There are few things better than a festive scented candle! This buttered maple syrup scented candle from Crossroads is amazing for the fall and winter months of the year. With 26 ounces in each jar, this candle burns for up to 120-140 hours!
Five Minute Journal
It's becoming a commonly known fact that journaling is incredible for mental health, motivation, and personal development. The Five Minute Journal is the perfect gift for anyone in your life! With just five minutes a day, your loved one can ground themselves with thoughts of gratitude, ambition, and happiness. A Five Minute Journal is such a thoughtful gift! I bought one for myself and for a few friends last year and love spending five minutes each morning and evening writing in it.
Letter Board
By now, I'm sure you've seen letter boards all over social media! They're all the rage, and for good reason! Felt letter boards are the perfect way to (quite literally) make a statement within your home. They are a great addition to your mantle, bookshelf, kitchen, or hung right on the wall. This changeable letter board comes in a variety of colors and sizes. I purchased the largest size and use it to update baby's weekly progress throughout my pregnancy.
Wake Up Alarm Clock
It's incredibly healthy to wake up with the sun, but for most of us, that's not often possible. Luckily for us, this Wake Up Alarm Clock can do the trick! It emits a soft glow that simulates a sunrise to serve as a more natural and less harsh wake-up call. It includes a variety of features and can be customized to your liking. A wake up light alarm clock actually makes waking up a pleasant experience (well, at least as pleasant as it possibly can be to get out of bed!).

Himalayan Salt Lamp
If you're looking for a chic, hand-crafted gift, this is the one! These beautiful Himalayan salt lamps are eye-catching statement crystals that will transform any room. They emit a soft pink glow and really make any space feel extra cozy. This particualr lamp comes with a 6.6 ft cord and a touch dimmer. I gifted this salt lamp to multiple friends last year and they've all reported back how much they love them! I personally own 3 of them and have them in my living room, office, and bedroom.
Makeup Organizer
This makeup organizer is another one of the best gift ideas for her from Amazon! This organizer has so much storage space and is perfect for the makeup lover in your life. It's sleek and perfect for organizing a large selection of products. This is the best makeup organizer because it comes in two sizes and 8 different colors!
These are the best gifts for her from Amazon and are perfect gift options!
Giving any of these items to the women in your life would make for a great gift any time of year! With all of these best gifts for her from Amazon, you're sure to make her happy!
Have you purchased any of these items? Do you have any recommendations on products to add to this gift guide for her? Share with me in the comments!
Reader Interactions