This Pressure Cooker Low-FODMAP Citrus Carnitas is a delicious, flavor-filled dinner option for busy weeknights!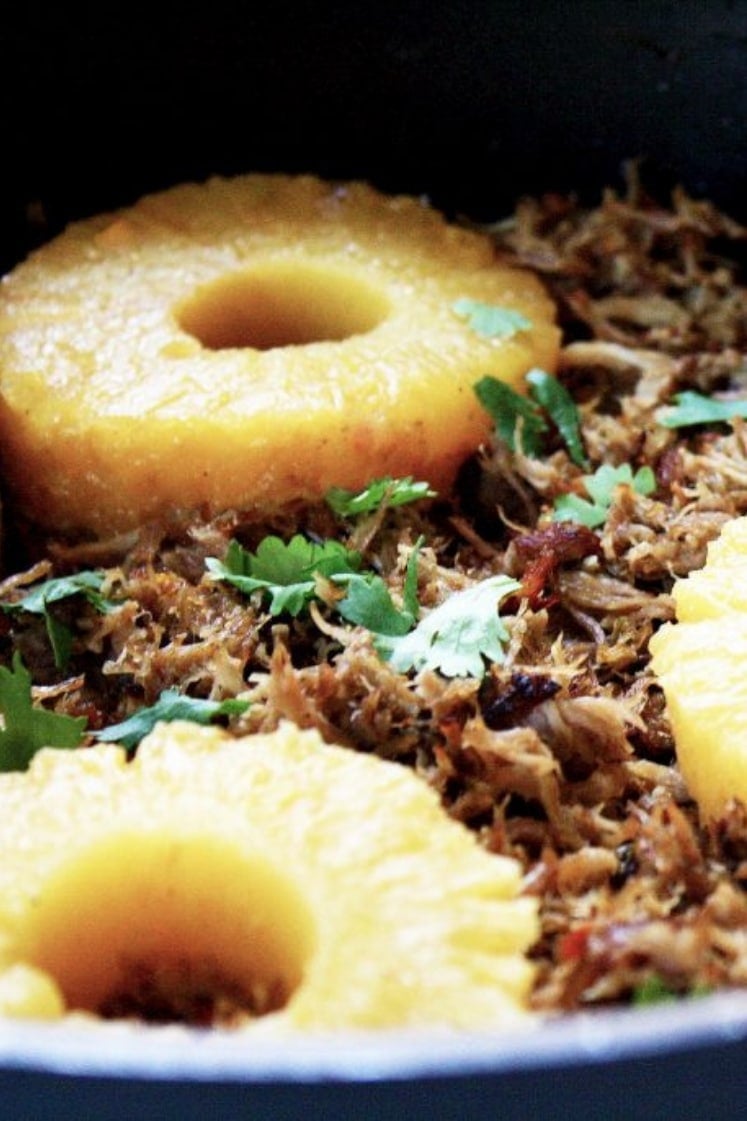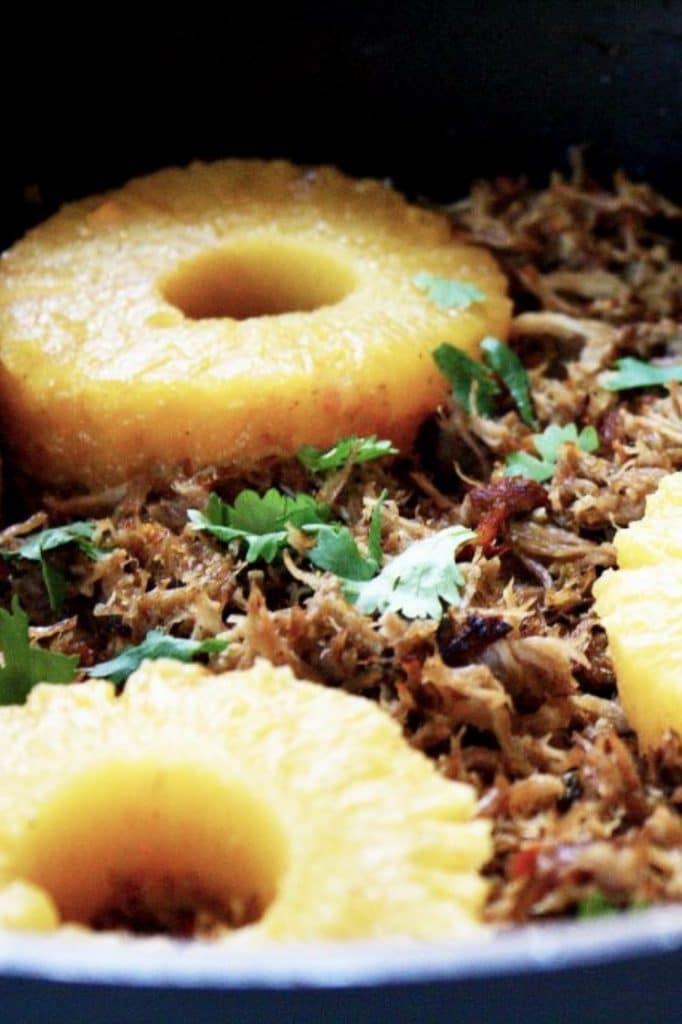 Finding a carnitas recipe sans onions or garlic is difficult. The high-in-fructans vegetable and spice cause digestive troubles for those who need to avoid foods high in FODMAPs due to various gastrointestinal problems.
A Brief Background on FODMAPs
FODMAP is an acronym that stands for Fermentable Oligosaccharides, Disaccharides, Monosaccharides, and Polyols, short-chained carbohydrates that are poorly absorbed by our bodies. These types of carbohydrates can cause all sorts of digestive problems for those with sensitive GI systems. When consuming foods high in a specific FODMAP, the food passes through our stomach and small intestine and is either fermented by colonic bacteria releasing gas or expelled together with fluid. Not great for those with IBS, SIBO, and a myriad of other stomach problems.
After I personally eliminated FODMAPs from my diet, many of my symptoms decreased or altogether disappeared. Since that time, I've been able to slowly reintroduce many moderate- and high-FODMAP foods back into my diet, garlic and onions being the exception. Gotta heal that dang gut of mine. In the meantime, I just continue to cook without these two ingredients and do my best to avoid them when we go out to eat.
Do you follow a low-FODMAP diet? If so, check out some of my other low-FODMAP recipes here.
Pressure Cooker/Instant Pot
How on earth did I ever live without my Instant Pot? I use this thing so often that I feel like I wash it twice a day. It cuts cook time by like 7459347935633% AND it doesn't heat the house up, which is especially awesome when warm weather hits. Plus, unlike a slow cooker, you don't have to leave your Instant Pot on all day since pressure cookers can cook everything in basically less than an hour instead of 4, 8, 16, or even 24 hours for some slow cooker recipes.
If you don't have some sort of pressure cooker, such as the Instant Pot, I can't recommend one enough. Already have one? Buy one for someone else. Spread the convenience of these little pieces of appliance glory.
Citrus Carnitas
For several months, I've been playing around with a recipe for low-FODMAP carnitas in my Instant Pot. I knew I wanted the meat to be tender, yet crispy, and that another depth of flavor needed to be composed since garlic and onions were not optional ingredients. After some time, I finally cracked the code!
Pineapple, orange zest, and orange juice. Oh YES.
This recipe is… good. REALLY GOOD. As in, I may or may not have eaten three helpings in one sitting…
Serve this up in a big ol' bowl! Garnish with lime wedges and fresh cilantro, and dig in!
Diets This Pressure Cooker Low-FODMAP Citrus Carnitas Recipe Is Compliant With
This recipe is low-FODMAP, Whole30 compliant, paleo, gluten-free, grain-free, dairy-free, and sugar-free.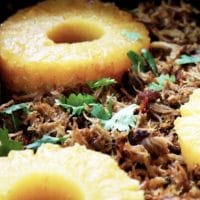 Pressure Cooker Low-FODMAP Citrus Carnitas
---
Author: Sara Nelson
Prep Time: 10 minutes
Cook Time: 45 minutes
Total Time: 1 hour, 15 minutes
Yield: 6 servings 1x
Description
These Pressure Cooker Low-FODMAP Citrus Carnitas are a delicious, flavor-filled dinner option for busy weeknights! This recipe is low-FODMAP, Whole30 compliant, paleo, gluten-free, grain-free, dairy-free, and sugar-free!
---
---
Instructions
With a sharp serrated knife, cut pork shoulder into 2-inch pieces and place in a large bowl.
In the bowl of cut pork, add sea salt, cumin, cinnamon, red pepper flakes, and oregano. Stir until well-combined.
With a vegetable peeler, peel skin from both oranges and place into bowl of seasoned pork. Juice bald oranges into bowl of seasoned pork.
Pour mixture into Instant Pot insert, add bay leaves and sliced pineapple, and seal.
On the manual setting, set the timer to 35 minutes.
After 35 minutes, allow the Instant Pot to naturally depressurize for 20 minutes. After 20 minutes, turn the valve to finish depressurization.
With tongs, move meat fromInstant Pot insert to a large plate or bowl (do not pour liquid from insert out!). Using two forks, shred meat and pieces of orange zest.
In a large pan on the stovetop, melt pork lard over medium heat.
Add shredded pork to the hot pan and allow the meat to crisp up about 10 minutes. Add additional salt as necessary.
After pork has reached your desired level of crispiness, remove from heat and pour 1/4 cup of liquid from Instant Pot insert into the pan of crisped pork.
Serve immediately with cooked pineapple (or discard pineapple for a lower-carb dish) and garnish with fresh cilantro and lime wedges.
Reader Interactions