I have FINALLY perfected my recipe for low-carb, grain-free, dairy-free cookies! Get excited because your minds are about to be blown.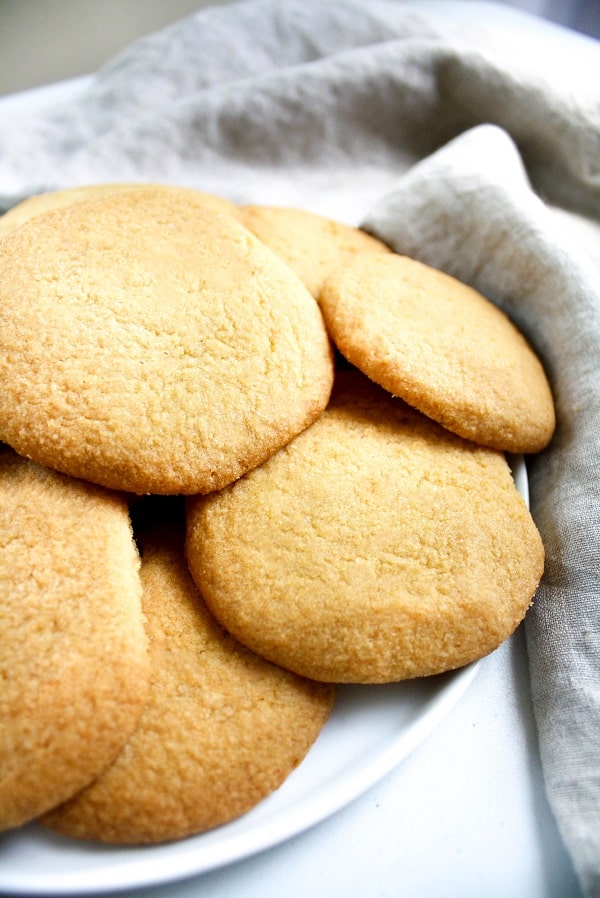 I tested this recipe several times and, with a few tweaks, have the utmost confidence that you'd never even know these are low-carb or grain-free, and neither will anyone else! Promise. Proof: I made a massive batch of these, sent them to work with Ryan, and he reported back that all of his coworkers loved them and couldn't believe they were low-carb-, keto-, and paleo-friendly!
Grain-Free Cookies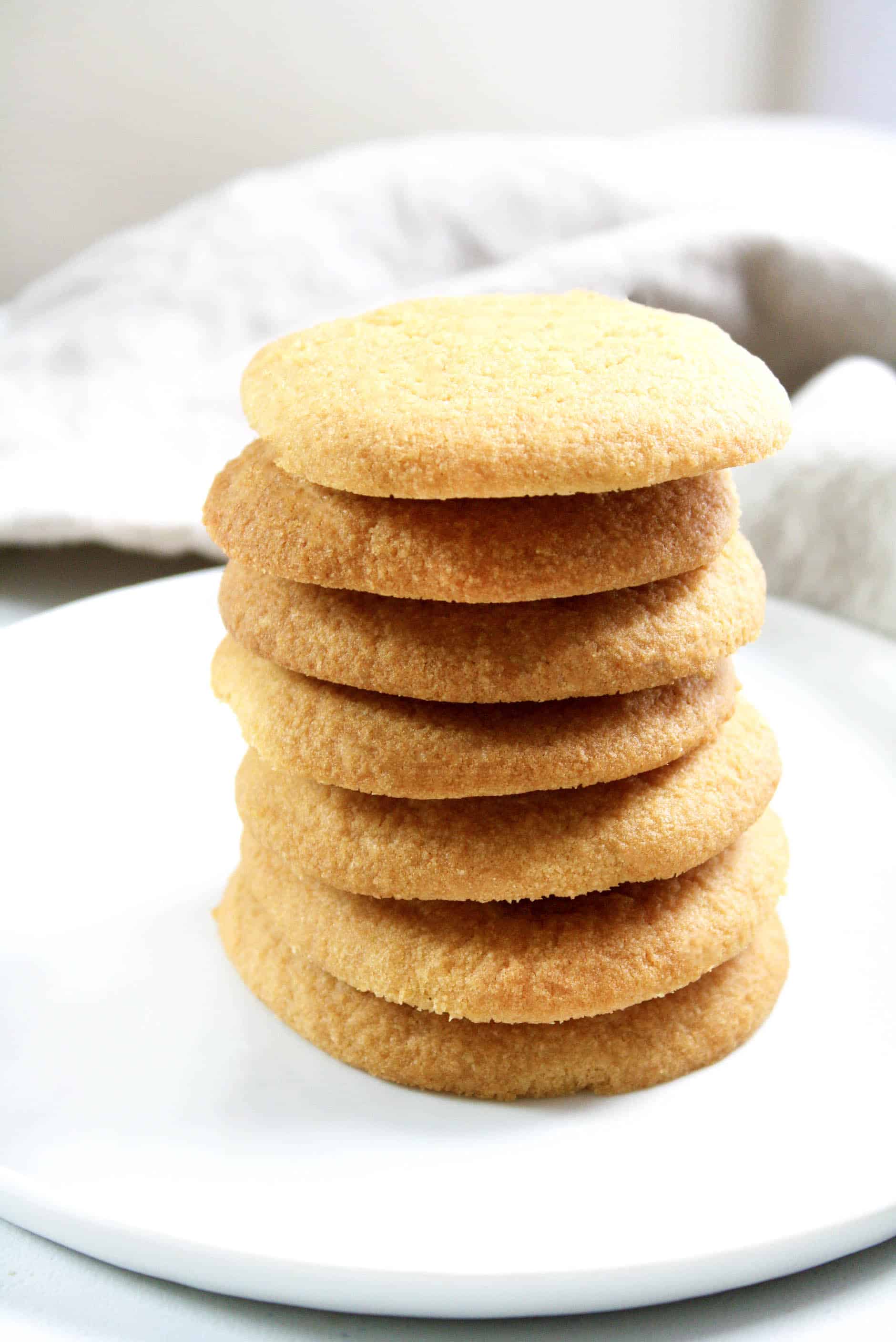 These cookies are made sans gluten and grains! I personally choose to limit my grain intake and don't eat gluten-containing items so I knew a gluten- and grain-free cookie recipe that tastes just like a traditional cookie was necessary. Plus, this recipe is a great grain-free cookie base that would taste delicious with add-ins (walnuts, cinnamon, etc.).

Dairy-Free Cookies
As someone who knows all too well that specific dietary requirements determine what a person can or cannot eat, I was determined to make these cookies dairy-free for those who are lactose intolerant or choose to limit their dairy consumption. As per usual, I am #grateful that ghee exists.
Ghee, or clarified butter, is melted butter with the lactose removed. For those with lactose intolerance, who follow a paleo diet, or just prefer to eat dairy-free, ghee is about to be your new best friend. Plus, ghee contains MCTs (medium chain fatty acids) making them a perfect nutritional fuel source, especially for all of my keto dieter friends out there.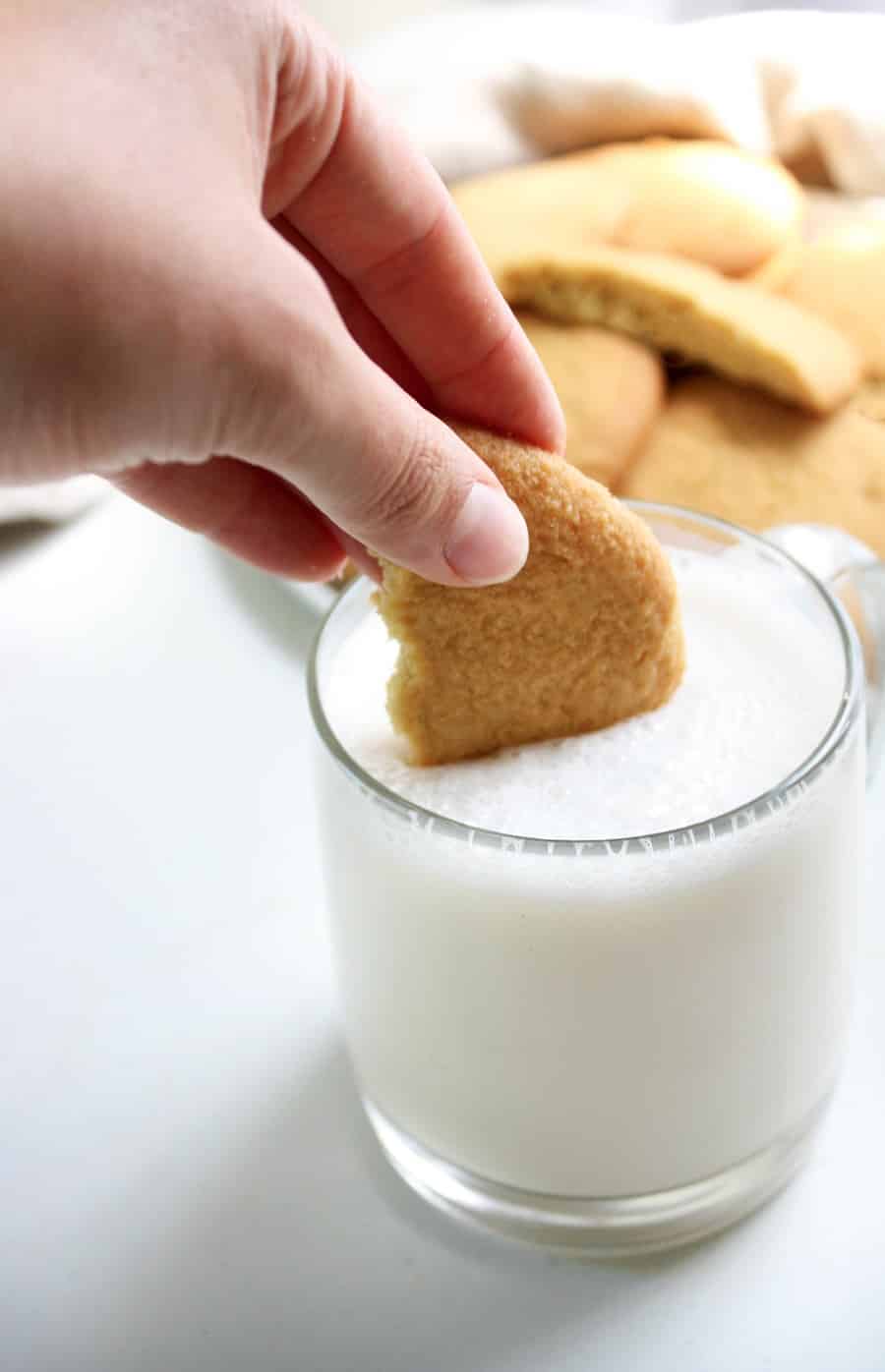 (If you prefer to not use ghee, you can also replace the ghee in this recipe for coconut oil!)

Low-Carb Cookies Sweetened With Monk Fruit Sweetener
Monk fruit sweetener saves the day, yet again! This stuff tastes exactly as you would traditional cane sugar without the spike in blood sugar or the calories! On a low-carb or keto diet? Monk fruit sweetener is about to be your new best friend. In this recipe, I use the Lakanto Golden Monk Fruit Sweetener which tastes very similar to that of brown sugar. So delicious!
If you're running low on monk fruit sweetener or if you've never tried it before, you can use the code "REALBALANCED" and get 20% off Lakanto products!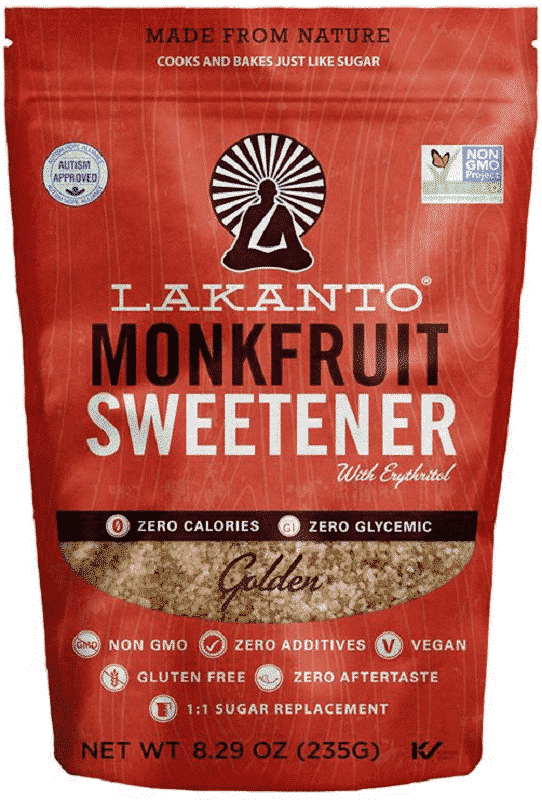 Looking for more information on monk fruit sweetener? I wrote a post answering all of your most frequently asked questions… check it out here!

LAKANTO TASTE TEST BUNDLE
I am also excited to share that I have partnered with Lakanto to share a Taste Test Bundle with you all! If you've been waiting to try monk fruit sweetener, now is the time to order! This deal includes classic monk fruit sweetener, golden monk fruit sweetener, a recipe e-Book, and Lakanto's Taste Test Guarantee!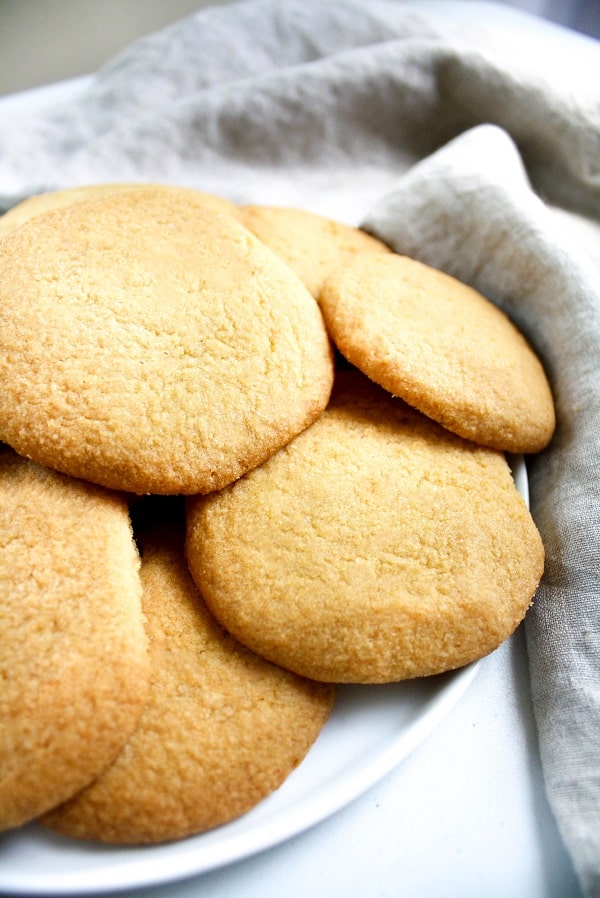 Read more about and place your order for the Taste Test Bundle here!

Net Carbs In Low-Carb Cookies
One cookie contains only 1.6 grams of net carbs! This recipe is a perfect one to keep on-hand for holiday parties, for the kiddos, or just when a craving for dessert hits. Enjoy the decadence of a homemade baked good without the sugar hangover!
Diets This Low-Carb Cookies Recipe Is Compliant With
This recipe is low-carb, keto, paleo, gluten-free, grain-free, dairy-free, vegetarian, and refined-sugar-free.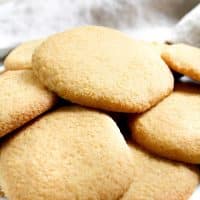 Low-Carb Cookies
---
Author: Sara Nelson
Prep Time: 10 minutes
Cook Time: 15-18 minutes
Total Time: 25-30 minutes
Yield: 20 cookies 1x
Description
These Low-Carb Cookies are a perfect vegetarian and paleo treat to satisfy your sweet tooth! This recipe is low-carb, keto, paleo, gluten-free, grain-free, dairy-free, vegetarian, refined-sugar-free, and only 1.6g net carbs per serving!
---
---
Instructions
Line baking sheet with parchment paper and preheat oven to 350 degrees.
In a medium-sized bowl, using a hand mixer, mix together coconut oil and ghee. Once combined, add eggs and vanilla extract. (If not using ghee, combine coconut oil, eggs, and vanilla extract and mix). To the same bowl, add monk fruit sweetener, baking soda, cream of tartar, and salt. Mix using hand mixer until well-combined.
One cup at a time, add almond flour and mix together with hand mixer.
Form dough into balls and lightly press down and place on cookie sheet (NOTE: cookies will spread when baking so be sure to place them about 2-3 inches apart. Use a second baking sheet if necessary).
Bake cookies for 15-18 minutes, until edges are golden brown. Remove from oven and allow to cool completely before serving. Enjoy!
Reader Interactions