If you're a fan of oriental flavors, then making any of these 10 delicious and easy keto Asian recipes will be a sure hit at the dinner table! This list has a wonderful variety of dishes you can choose from. There's low carb keto-friendly sushi, several curry versions, Korean barbecue beef, and even tasty salads!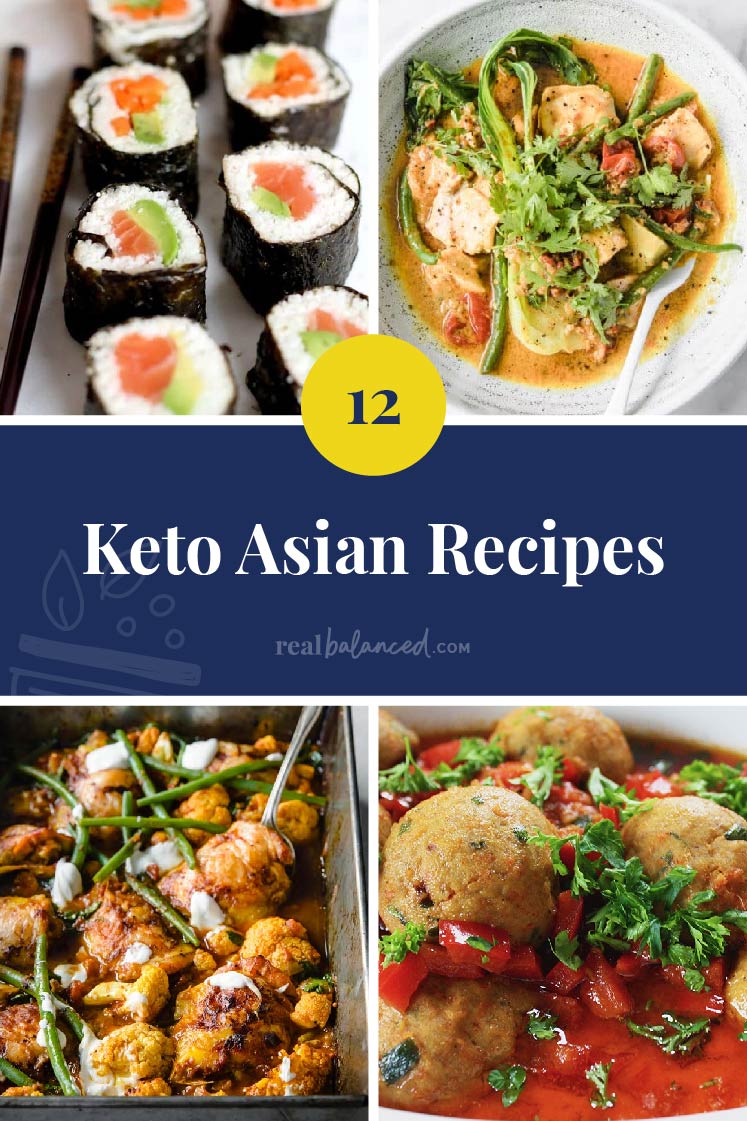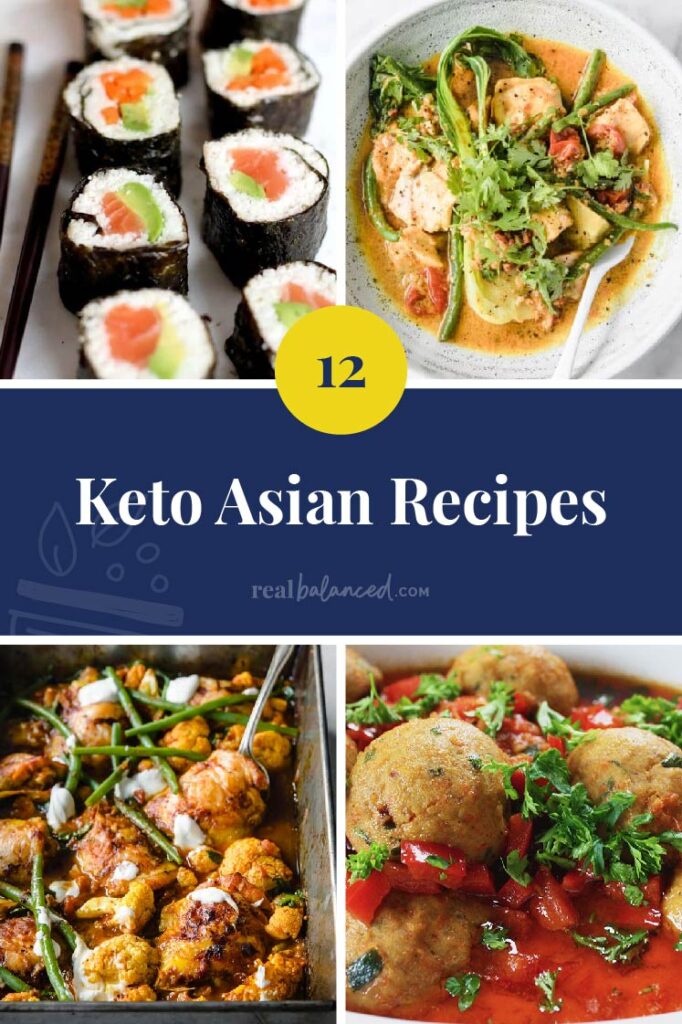 Asian cuisine often uses ingredients that contain too much carbs, which is why it's more reliable to make your own Asian recipes keto-fied at the comfort of your home.
Common Asian Ingredients, Carb Count, and Keto Alternatives
Rice
Often used as an accompaniment to viands, rice is a must in every Asian household. But besides the usual steam rice, it can also be stir-fried or cooked into porridge for added flavor and texture.

How many carbs does rice have? At 45g of carbohydrates per cup, this definitely makes it into the list of 'not keto' foods.

Rice alternatives for keto:

cauliflower rice
broccoli rice
cabbage rice
shirataki rice
Noodles
Okay, so rice is definitely a no, what about eating noodles on keto? Although this list does not include a keto Asian noodle recipe, the traditional version is also loaded with carbs ranging from 30g to 50g of carbs per cup depending on the variant (e.g egg noodles, udon, chow mein, vermicelli).

Noodle alternatives for keto:

spaghetti squash
spiralized zucchini
eggplant lasagna
bean sprouts
shirataki noodles
kelp noodles
Here's a keto Asian noodle recipe you can try though!
Sauces and condiments (per tablespoon)
hoisin sauce 8g of carbs —> try this version instead
sweet and sour sauce 8g of carbs —> try this version instead
sriracha 5g of carbs —> try this version instead
gochujang 9g of carbs —> try this version instead
corn starch 12.5g of carbs, you can use these instead:

xanthan gum
ground flaxseeds
glucomannan
psyllium husk

sugar 12.6g of carbs, and honey contains 17g of carbs (yikes)… so give these alternatives a try next time you need to sweeten dishes:

stevia
monk fruit sweetener
erythritol

oyster sauce 2g of carbs, substitute with these instead:

coconut aminos
fish sauce
soy sauce
Worcestershire sauce
10 Best Keto Asian Recipes to Make This Week!
Ready your tastebuds because these amazing dishes are going to take you across Asia without kicking you out of ketosis.
---
Photo & Recipe Courtesy of Real Balanced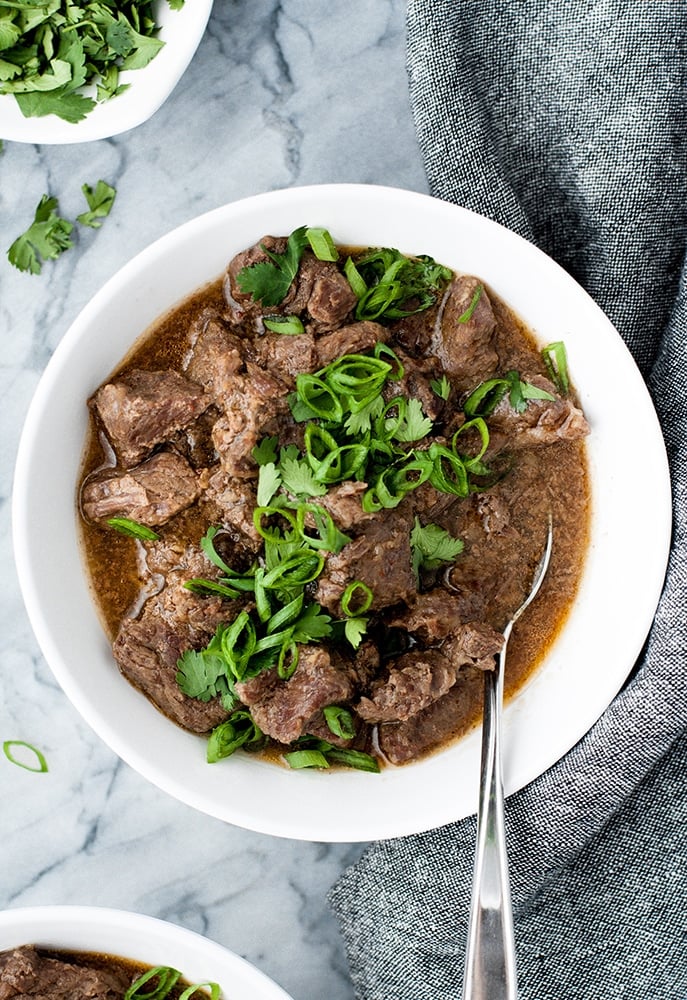 If you're up for something Korean-inspired, then this simple keto freezer meal recipe is a great dish to try! You can just toss the ingredients in your instant pot (or slow cooker), set it to cook, and come back to the tastiest, succulent saucy beef like you've never had before.
Want it with a little kick? You can up the ante by adding chili flakes or some hot sauce. Serve these in a bowl by itself or over some riced cauliflower, and you're all set to feed the entire family.
---
Photo & Recipe Courtesy of Appetite For Energy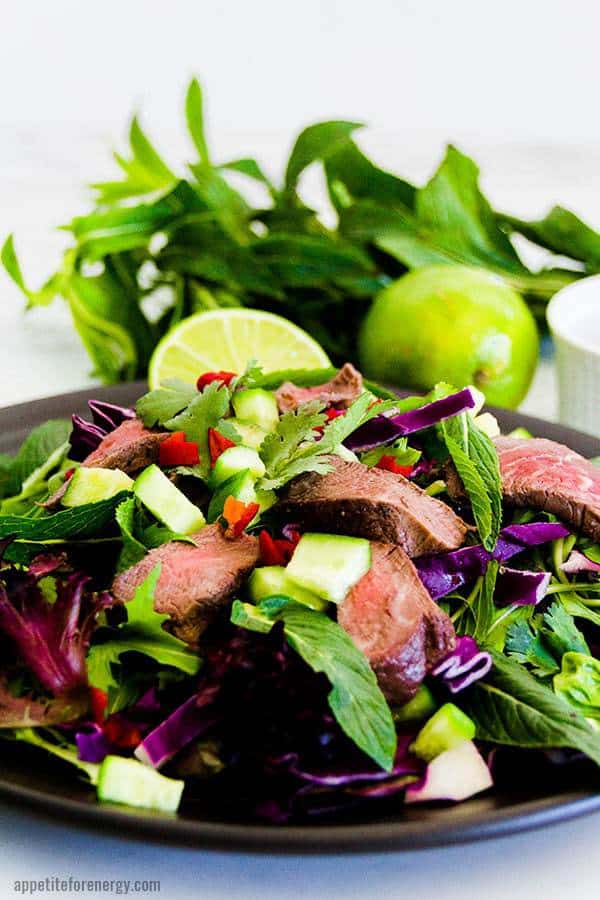 Have you ever had Thai beef salad before? If you haven't done so, before going on keto, then we've got you covered! This version is as tasty as the original version but minus the carbs (context: the traditional salad dressing contains sugar, so it isn't keto-friendly).
Not only is this oriental salad low carb AND pretty, but it's also not going to take you ages to prepare. 4-servings in 20 minutes? Who would say no to this?!
---
Photo & Recipe Courtesy of Joy Filled Eats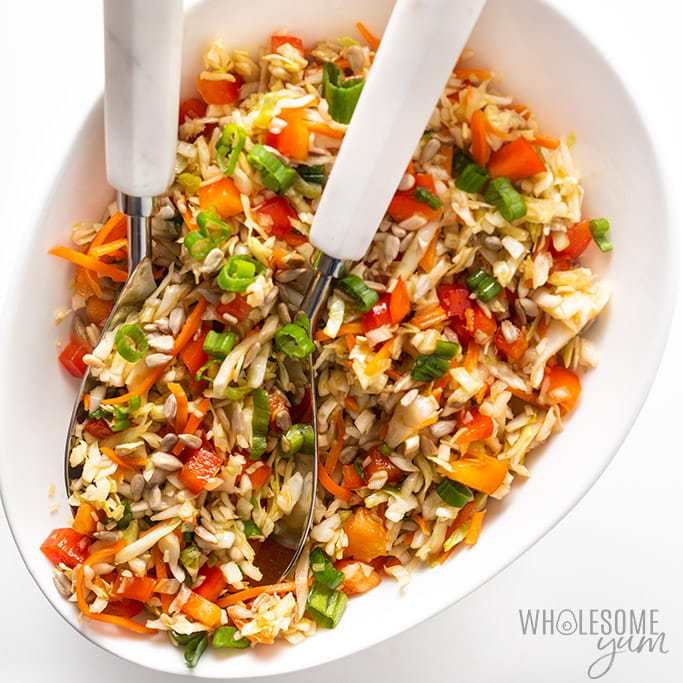 People who think that going on keto is bland and boring are in for a huge surprise! I mean, just look at all the colors in this dish – so Instagram-worthy. And don't get me started on the flavor!
This easy salad makes for a simple yet nutrient-dense dinner idea or a quick lunch. You can even serve these at your keto-inspired party or other social gatherings, and everyone will be delighted to eat it!
---
Photo & Recipe Courtesy of Resolution Eats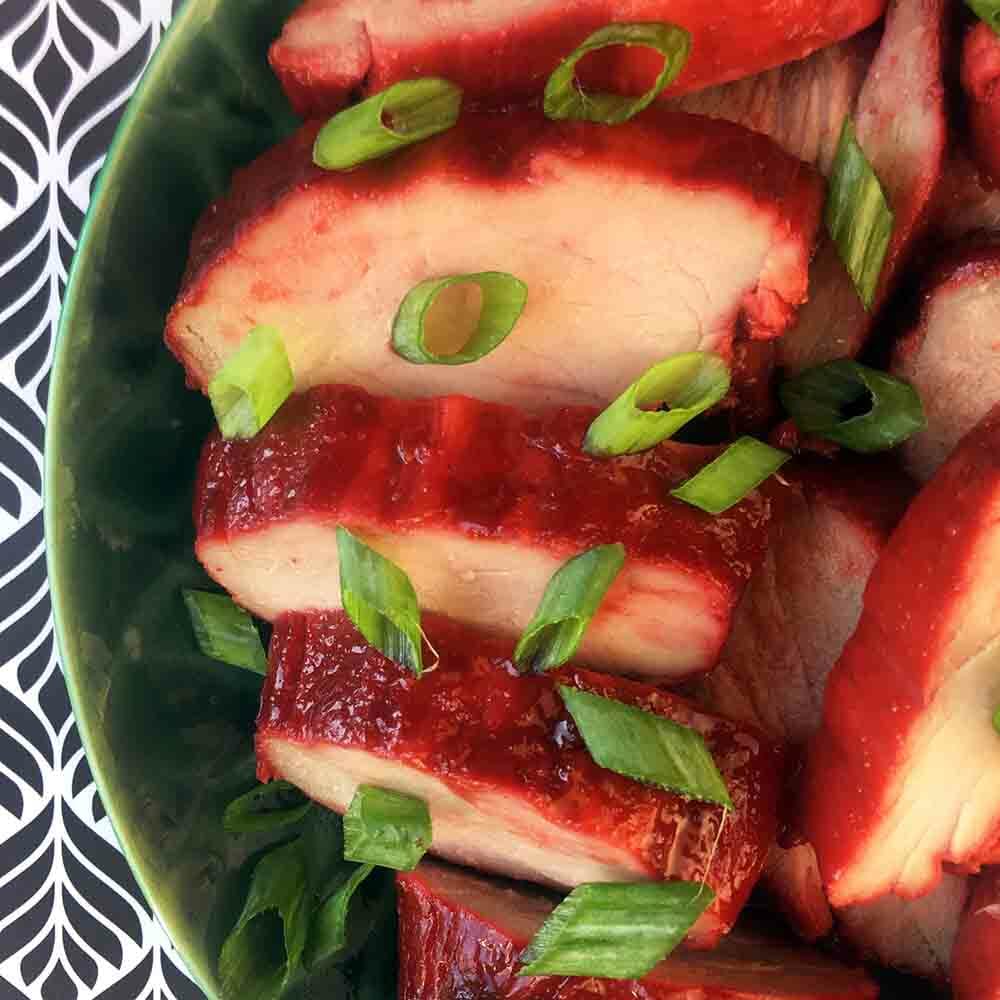 The traditional char siu sauce, used to marinate the pork in, is a mixture of five-spice powder, fermented bean curd, soy sauce, hoisin sauce, rice wine, AND honey. That's a whole lot of carbs from a whole lot of sugar content just from the sauce, so this recipe is a genius way of enjoying a Chinese restaurant favorite without spiking your glucose levels.
---
Photo & Recipe Courtesy of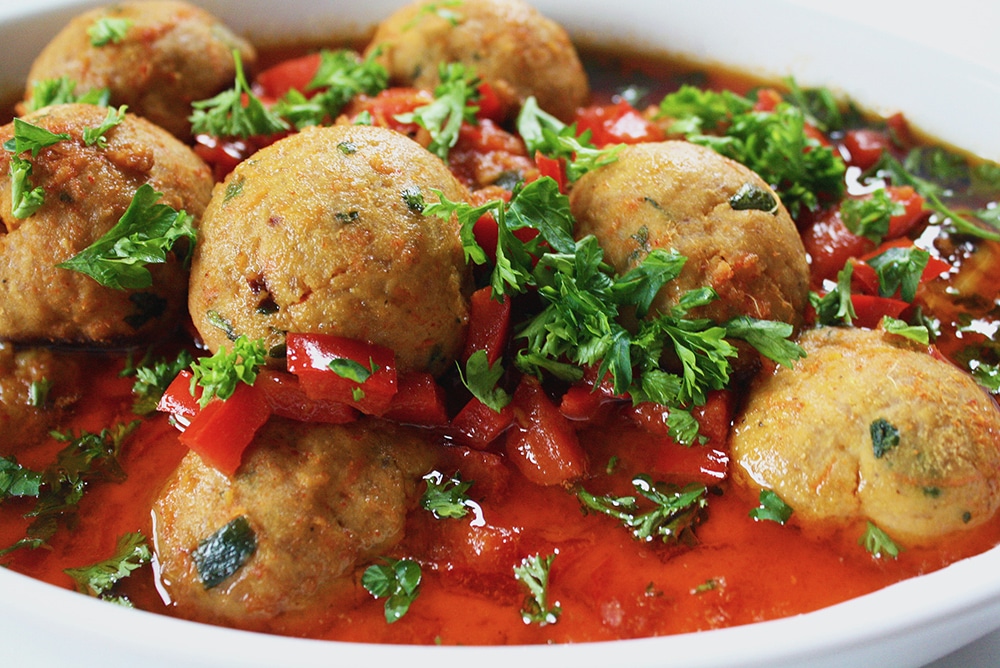 What's not to love about Thai cuisine? They have a broad spice palette that they just incorporate with their food and it is absolutely delicious!
This keto coconut curry is not only low carb, but it's also compliant with several other diets, such as: paleo, gluten-free, grain-free, and nut-free diets! It has a full body of flavor that just blows your mind and makes your mouth water.
Sure, it's going to take a lot more spices than you're used to, but I guarantee that it's well worth following the recipe! Plus, it ONLY takes 30 minutes to make this. 10 minutes to prep, 20 minutes to cook, and you'll have 6 servings ready.
---
---
Photo & Recipe Courtesy of Beauty and the Foodie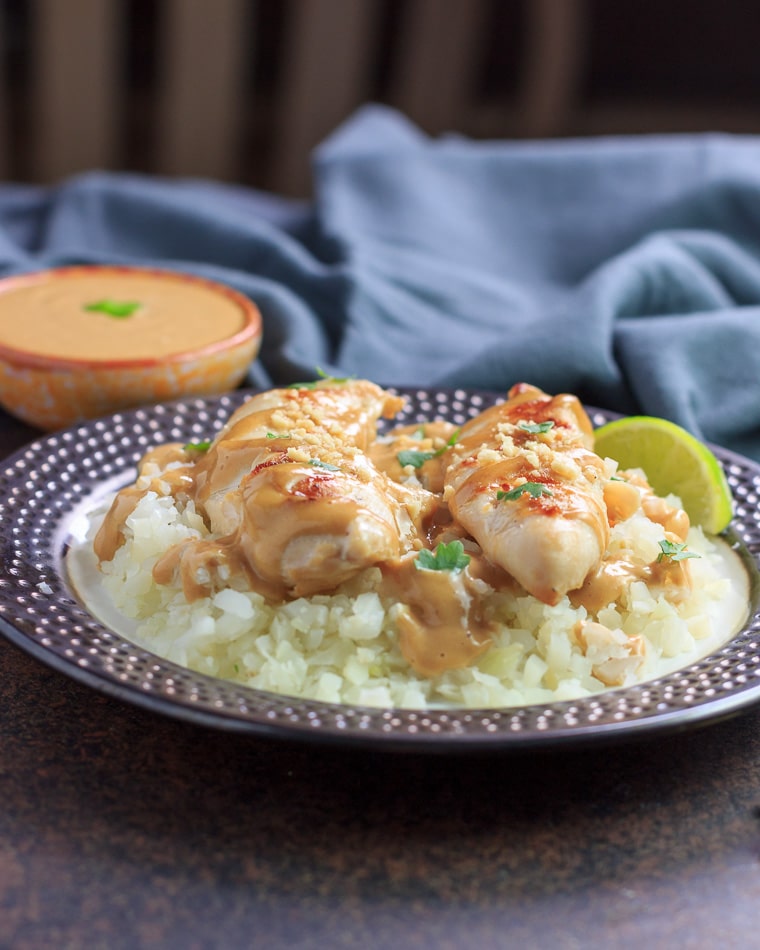 The wonderful thing about international cuisine is just how they incorporate a variety of ingredients that you wouldn't have thought would taste good together. Like, chicken and peanut sauce.
The marinated chicken breast strips can be cooked however way you prefer, but the best options would likely be grilling or pan-searing. Once you've got the chicken ready, then you can even serve it on top of some cauliflower or shirataki rice. Add to the long list of perks is the protein content and fat content, a little over 20gs… now, doesn't that sound like heavenly low carb goodness?
This dish takes only about 38 minutes to make, but you can start marinating the chicken ahead of time for better flavor. One batch is good for 4 servings.
---
Photo & Recipe Courtesy of The Keto Option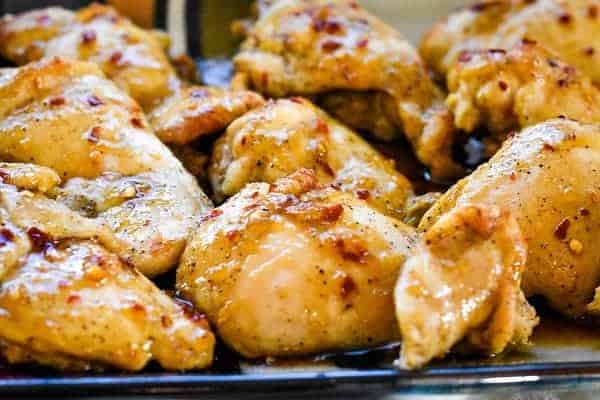 Any dish that's sticky usually has high sugar content. So, unless you're cooking this keto-friendly orange chicken-inspired dish at home, then you probably should skip ordering these for takeout.
But now that you do have this recipe in your repertoire, then we suggest that you marinate this for about 4 hours or overnight. If you follow this suggestion, then you'll not only save loads of time but you'll also ensure that the flavor is perfect with every bite.
---
Photo & Recipe Courtesy of Sugar Free Londoner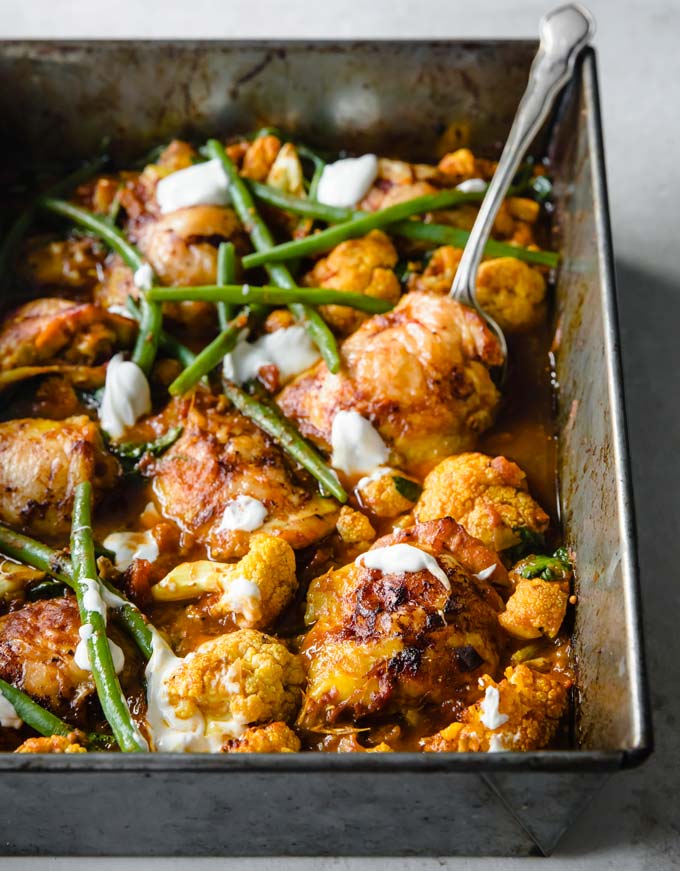 This is a keto-fied Indian curry that will get you in on the keto curry craze! The chicken dish has been baked to perfection, leaving it with a crisp-ish top, and a tender juicy middle. Not to mention its a wonderful recipe you can prepare for your favorite guests.
What's not to love? It's easy to prepare, even easier to cook, can be frozen for up to about 2 months, great fat and protein content, nutrient-dense because of all the veggies… AAAAAAND the flavors just melds together in a way that will leave your crowd fed and impressed.
---
Photo & Recipe Courtesy of Keto Cooking Christian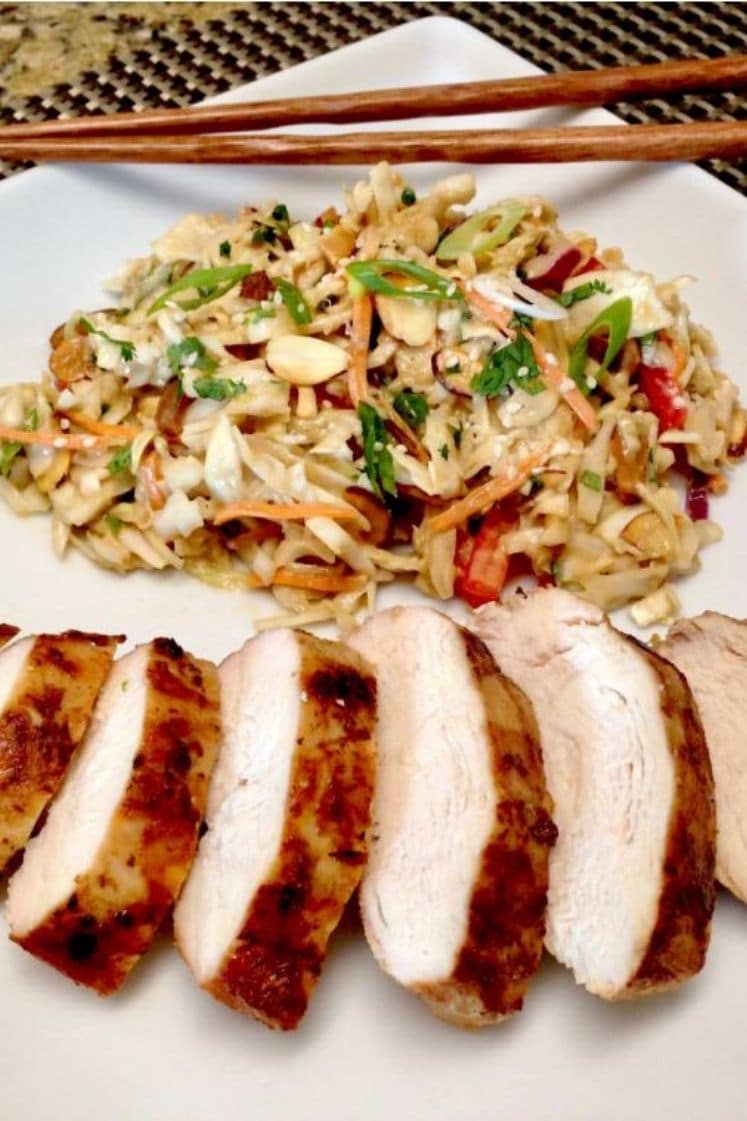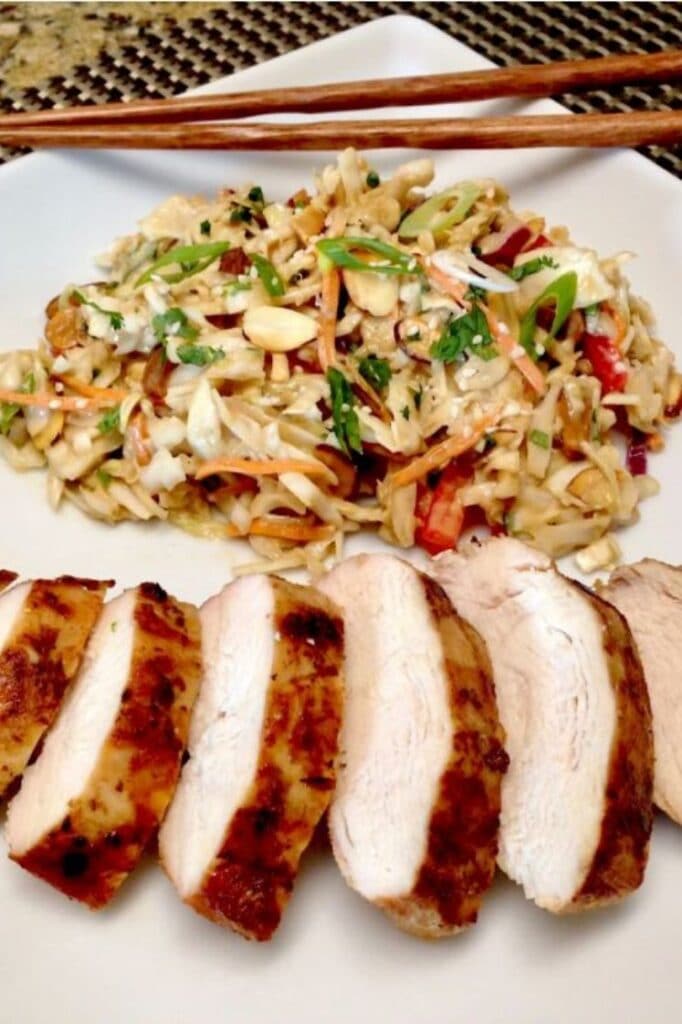 Sometimes all you need is a good meat-to-veggie side combo to power through the day – this dish is exactly that. The chicken is savory and tangy, while the coleslaw brings in a nice fresh taste that's made even more enjoyable thanks to the keto peanut sauce-dressing.
Takes 30 minutes to prepare the ingredients, 25 minutes to cook, and will give you 6 amazing servings.
---
Photo & Recipe Courtesy of Real Balanced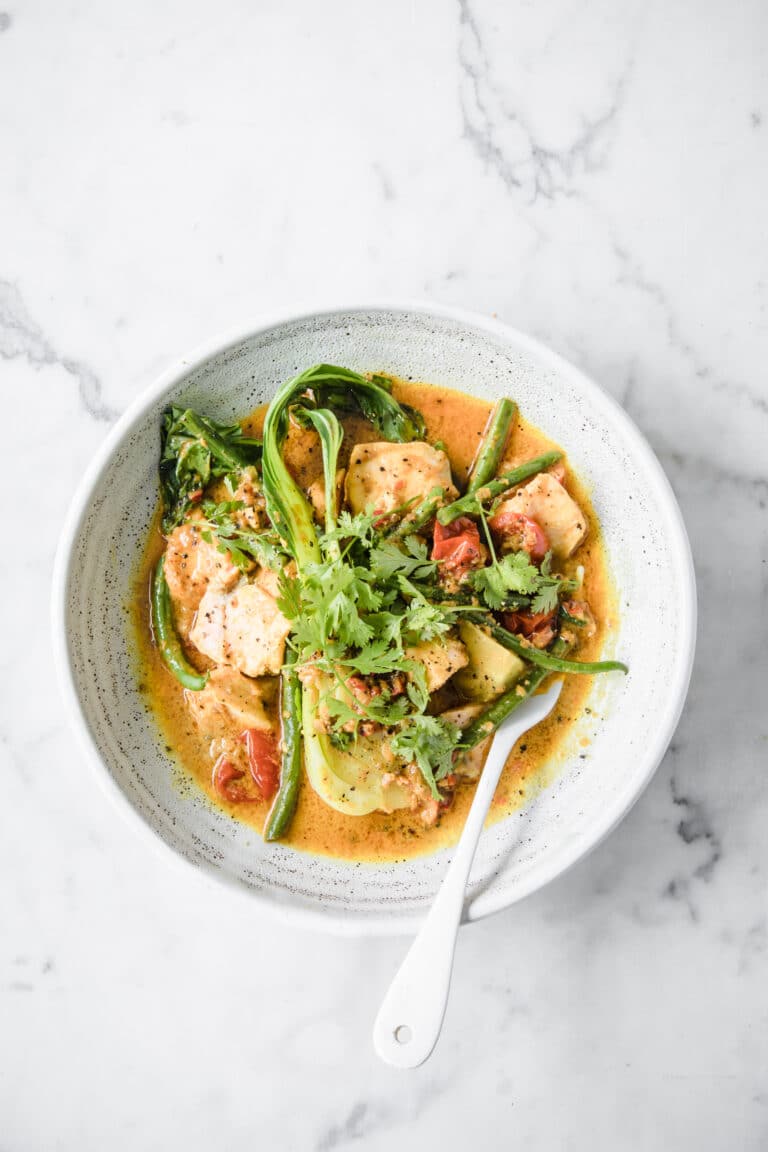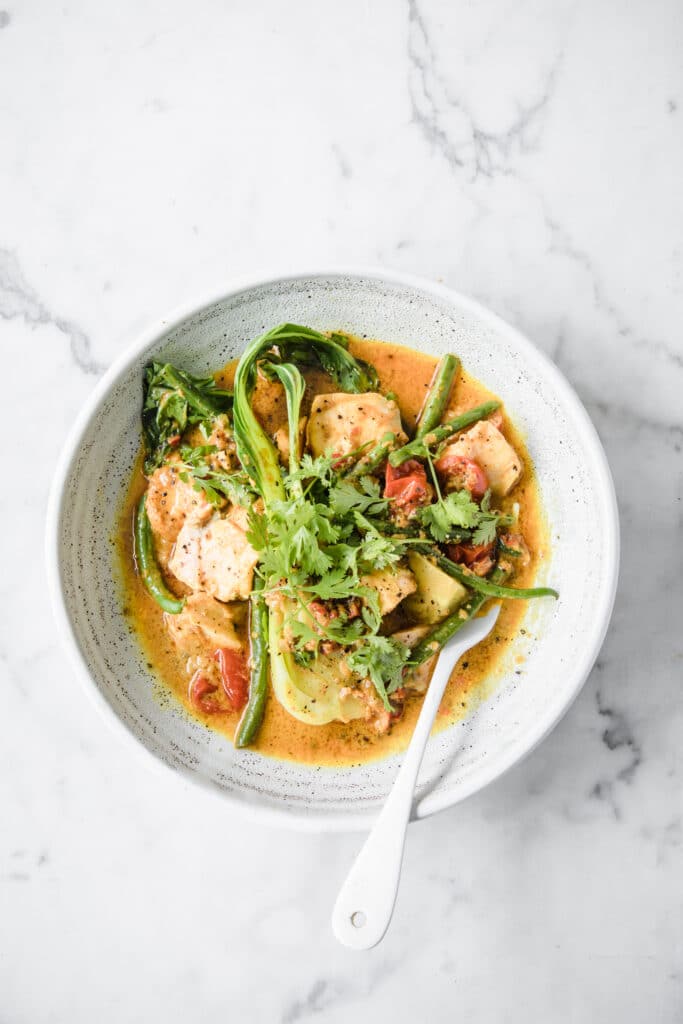 I've included my keto-friendly salmon coconut curry dish into this keto Asian recipes list because you can never have enough curry dishes!
This one is a yellow curry variant and isn't as spicy as the one that has a red sauce. Turmeric is the main spice that pops up in this dish. If you're trying to increase your omega-3 intake, then this will give you that and more.
And if you're a meal prep wizard, this will work wonderfully in your menu cycle because once it's cooked, it will last for 3 days in the fridge or about 2 months in the freezer.
---
Photo & Recipe Courtesy of Lowcarb-Nocarb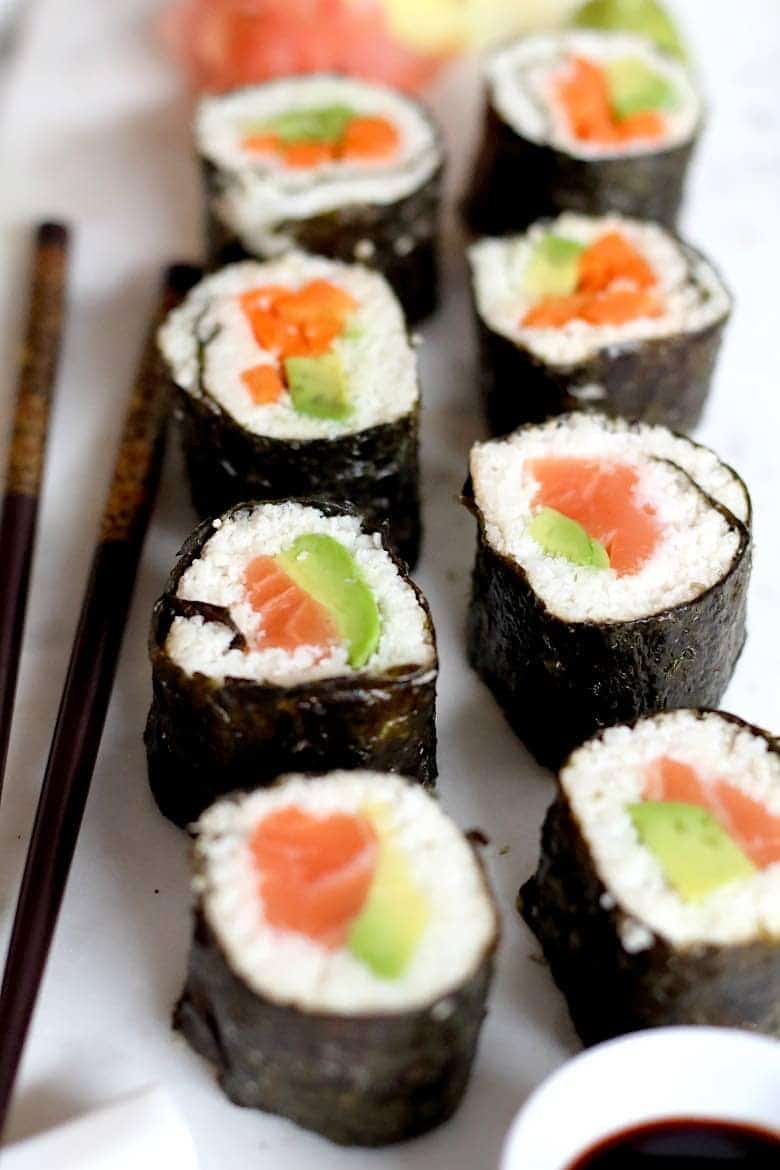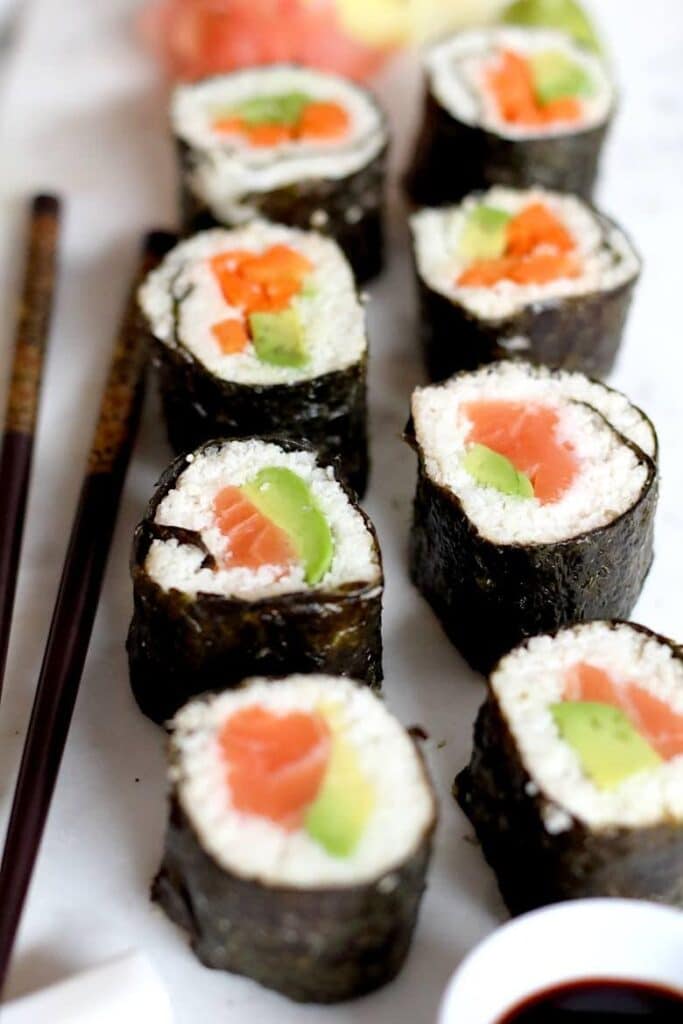 I KNOW, I KNOW!!!! You've been dying to have sushi since you've started going on keto and this is the best thing that's ever happened. It's a breeze to make and requires just 6 ingredients that you can easily get from the grocery.
Now you can finally satisfy your craving for sushi without compromising your state of ketosis!
Don't have salmon? Feel free to use whatever sushi-grade fish you have available and pair it with some avocado or cucumber.
---
Photo & Recipe Courtesy of Keen For Keto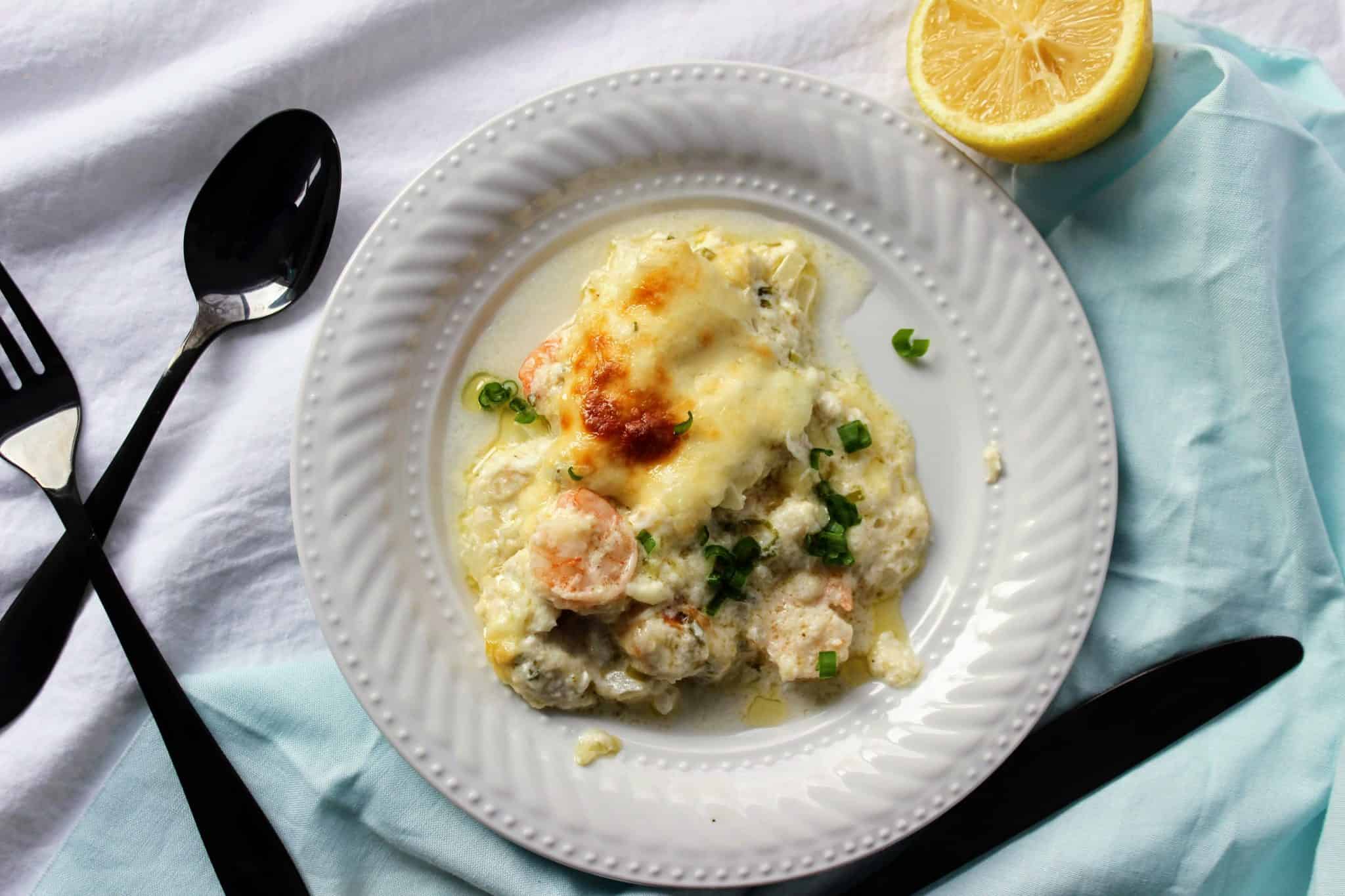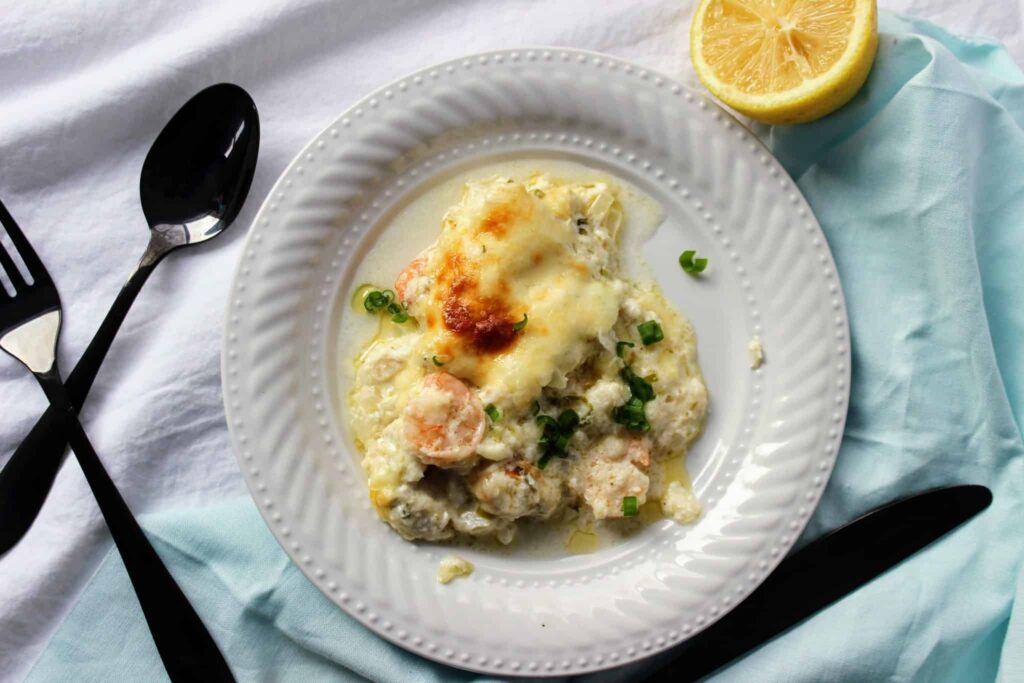 This keto Chinese buffet special comes by many names… Crab Casserole, or Seafood Casserole, Seafood Bake, or Seafood Delight. And when you make this at home, you're going to be in for a real treat because it does taste like delightful seafood.
The texture is wonderful thanks to the seafood variety (e.g. shrimp, crab meat, and tilapia) thrown in the mix, then there's the creamy sauce, and the nice chewiness of the cheese.
Which one of these dishes is your all-time keto low carb Asian recipe favorite? Let me know in the comments!
Reader Interactions