Made with matcha green tea powder, gelatin, peppermint extract, and sweetened with monk fruit sweetener AND vanilla protein powder, these Keto Shamrock Shake Bites are simple to make and taste just like their commercial sugary counterparts!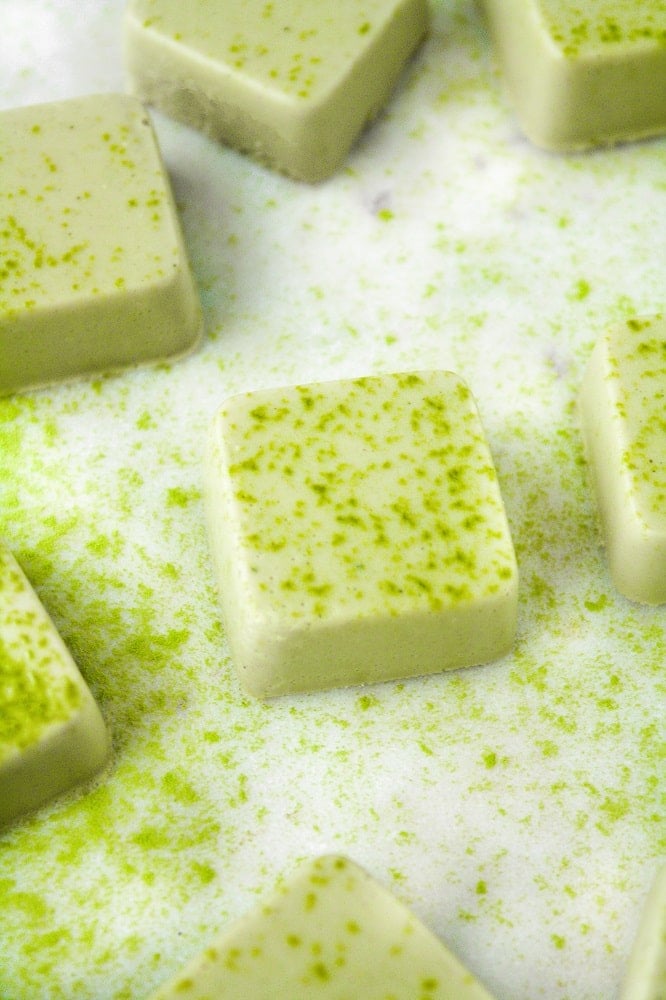 I don't know about you but I LOVE SHAMROCK SHAKES. So much.
When I was in college, I would anxiously await their return to the McDonald's menu and then, before I had any care about ingredients, would purchase at least one a week until they were again removed from the menu almost a month later… YIKES.
Now that I have more knowledge about nutrition, I would never again purchase a McDonald's Shamrock Shake, but that doesn't mean I can't have a nutritious, tasty alternative! These Keto Shamrock Shake Bites are not only virtually carb-free, they are dairy-free, paleo-compliant, and SO DELICIOUS!
Clean Ingredients For Shamrock Shake Bites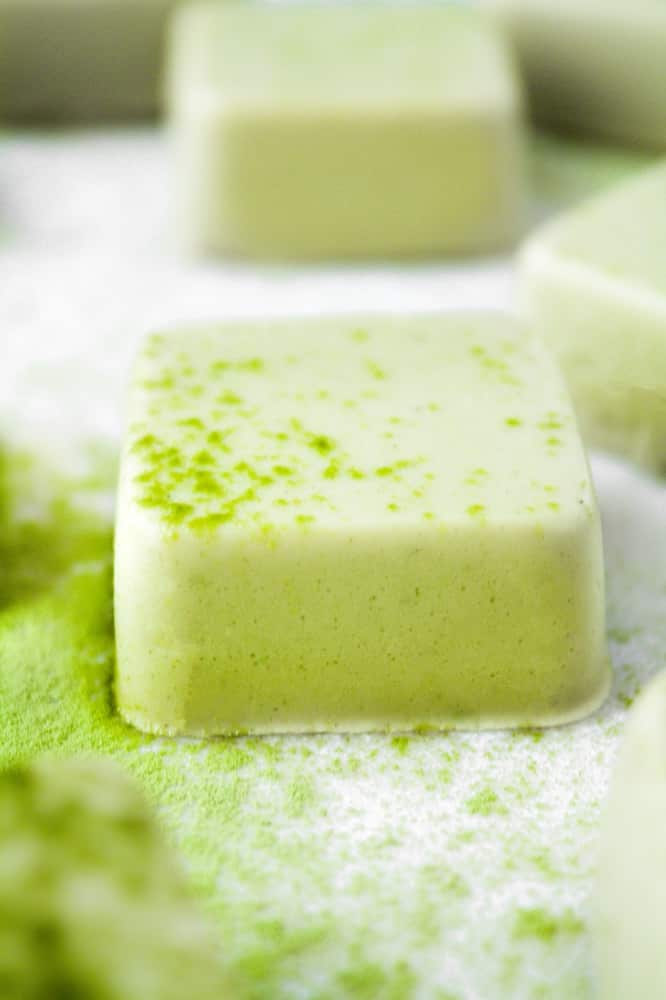 In this recipe, I use unflavored gelatin to give the Bites their shape. The gelatin is completely flavorless and allows for the Shamrock Shake Bites to solidify into bite-sized gummies. This is a required ingredient in this recipe.
Diet-Friendly Shamrock Shake Bites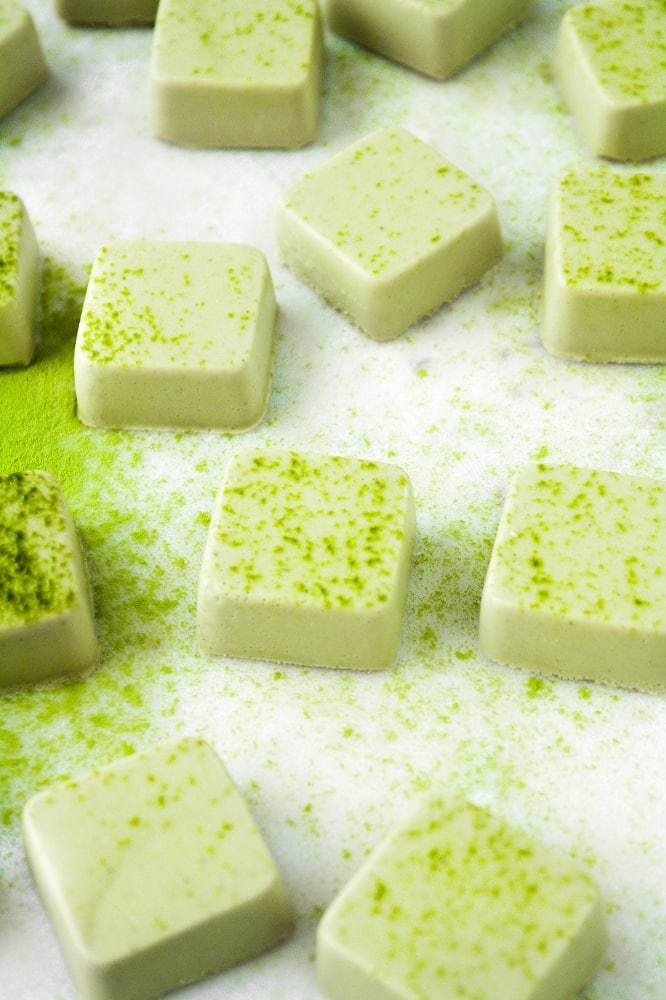 Low-Carb/Keto: Minimal carbs in these Shamrock Shake Bites (0.2g net carbs per serving), unlike that of a McDonald's Shamrock Shake. Even a small-sized McDonald's Shamrock Shake has a whopping 74g carbs!
Paleo: Contains only paleo-compliant ingredients (free from gluten, grains, dairy, or soy).
Dairy-Free: This recipe used almond milk instead of traditional 'dairy' milk. To make this recipe nut-free, coconut milk can be substituted for almond milk.
Refined Sugar-Free: This recipe incorporates monk fruit sweetener and does not contain traditional sugar or high glycemic sweeteners.
Looking for more information on monk fruit sweetener? I wrote a post answering all of your most frequently asked questions… check it out here!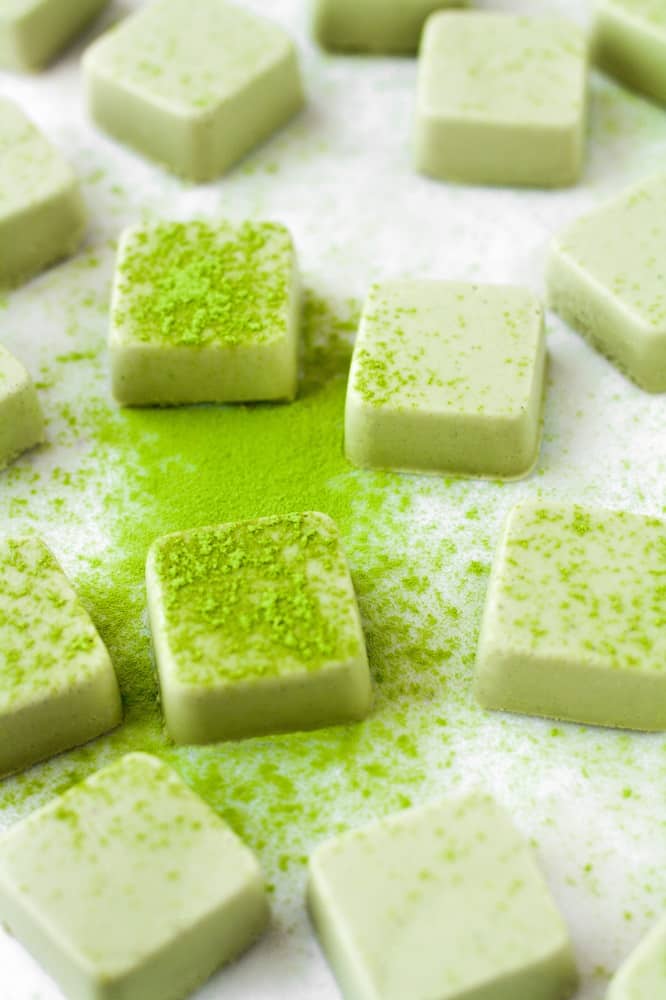 Net Carbs In This Recipe
One Keto Shamrock Shake Bite is only 0.2 grams net carbs!
OTHER KETO RECIPES YOU MIGHT BE INTERESTED IN
Lemon Bar Fat Bombs
Fudge Fat Bombs
Blueberry Bliss Fat Bombs
Key Lime Pie Fat Bombs
PBJ Fat Bombs
Strawberries & Cream Fat Bombs
Pumpkin Spice Fat Bombs
Berries & Cream Fat Bombs
Dark Chocolate Peppermint Patty Fat Bombs

ORDER YOUR COPY OF "FAT BOMB FAVORITES"
Take a look inside and place your order for "Fat Bomb Favorites," a digital cookbook including 50 keto-friendly and low-carb fat bomb recipes!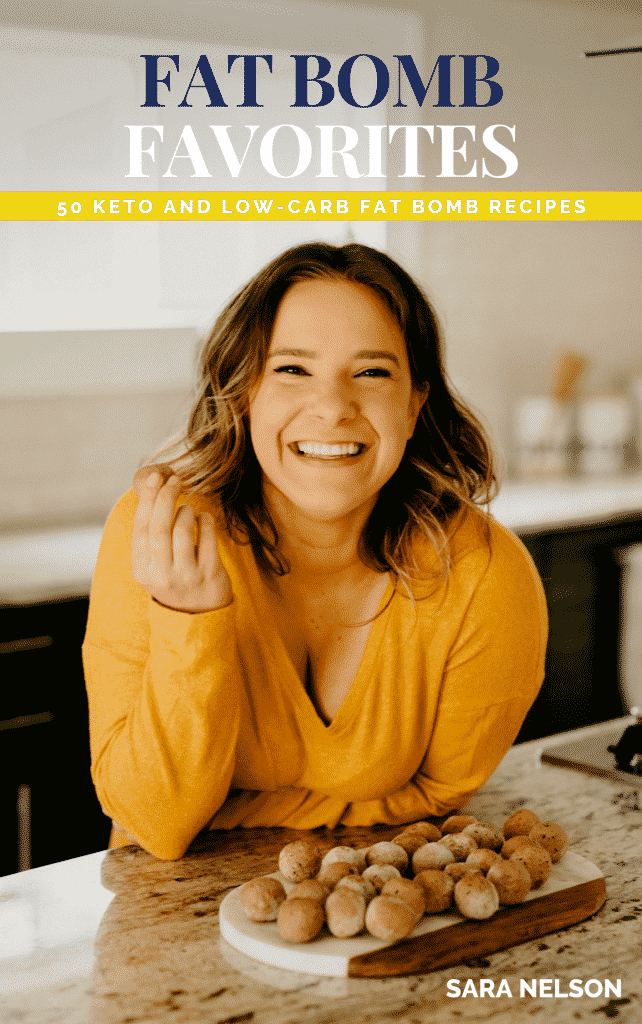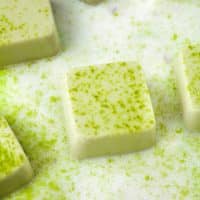 Shamrock Shake Bites
---
Author: Sara Nelson
Prep Time: 15 minutes
Total Time: 2 hours, 15 minutes
Yield: 24 bites 1x
Category: Dessert
Method: Freeze
Cuisine: American
Description
These Keto Shamrock Shake Bites are simple, delicious, and keto-friendly! This recipe is low-carb, keto, paleo, dairy-free, nut-free, gluten-free, grain-free, refined-sugar-free, and only 0.2g net carbs!
---
---
Instructions
To mixing bowl, add 1 cup almond milk and sprinkle gelatin on top. Set aside to set for 5 minutes.
In a small pot over medium-low heat, heat remaining 1 cup coconut or almond milk until steaming. Remove pot from heat and pour heated milk into gelatin mixture and whisk until well-incorporated.
To a blender, add gelatin mixture, coconut butter, protein powder, golden monk fruit sweetener, matcha, peppermint extract, and vanilla extract. Blend on high speed until all ingredients are thoroughly mixed. Pour mixture into a silicone mold and transfer to the refrigerator to chill until solidified, about 2 hours, before popping bites out of silicone mold.
Recipe Notes:
Store in airtight container in refrigerator.
Keywords: keto shamrock shake, low-carb shamrock shake, paleo shamrock shake, fat bomb, fat bombs, keto dessert, low-carb dessert, dairy-free keto dessert
Reader Interactions