What's better than having all of your favorite keto products stocked in your pantry? Getting a discount on them! During Black Friday 2019, spend less and get more with these great keto sales!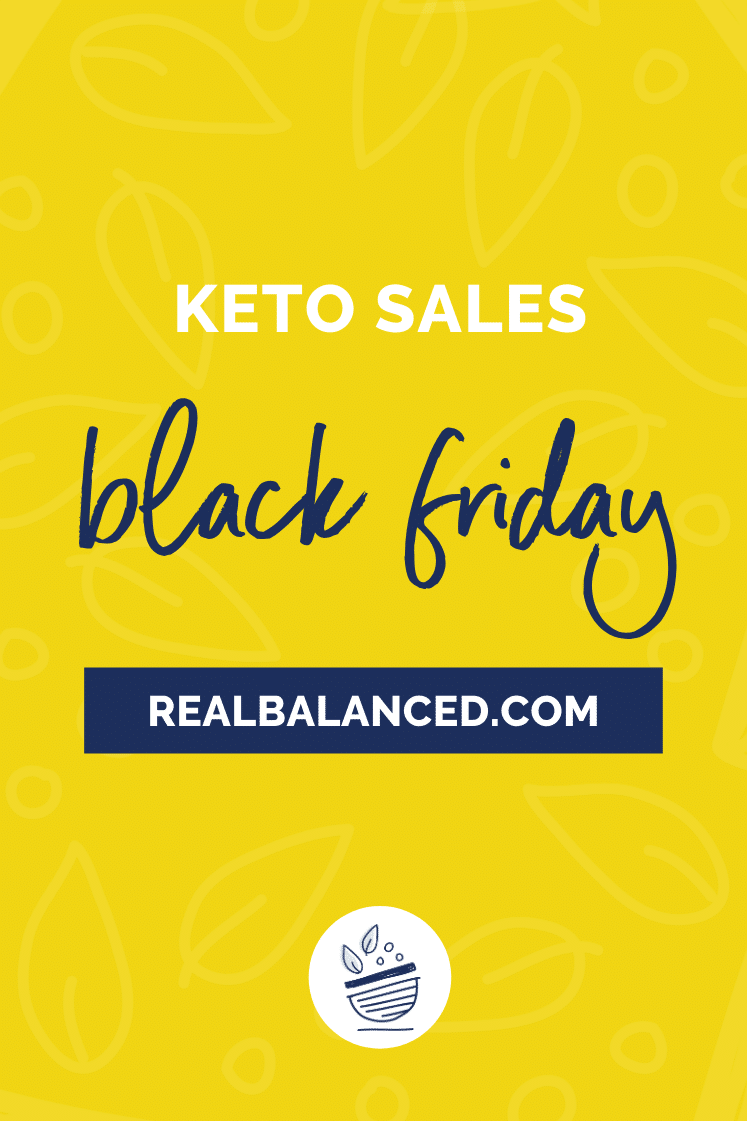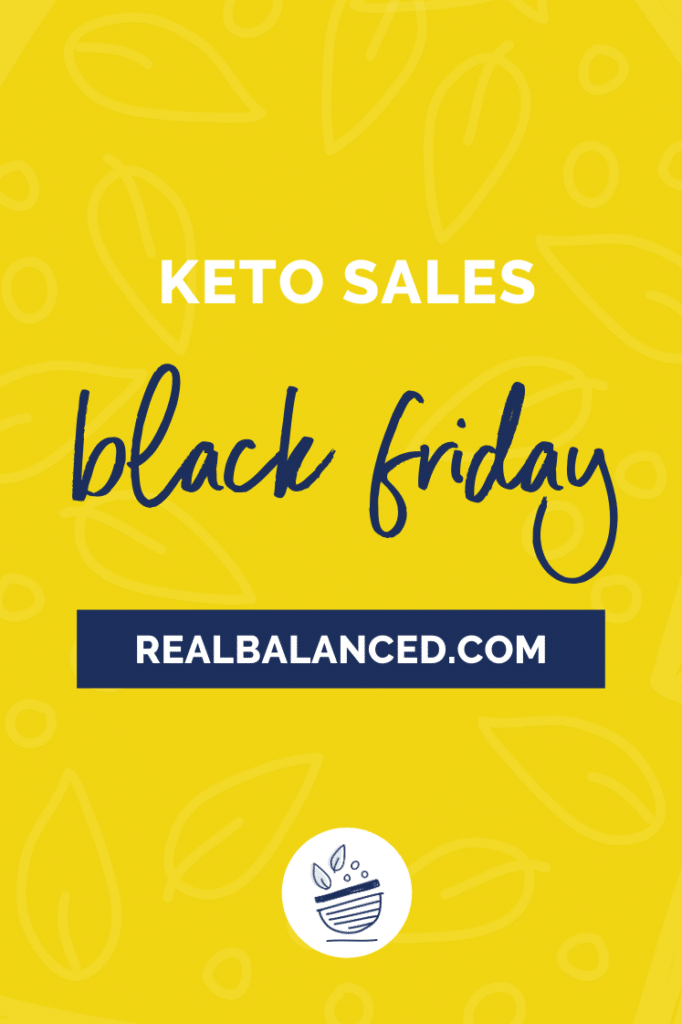 I love finding a good sale on keto-friendly products, cookbooks, and anything else to make eating this way just a little easier and more convenient! Luckily, there are SO MANY deals that are happening during Black Friday 2019 that I wanted to share with you!
I will be updating this post as often as I can as I find more keto sales!
If there are any Black Friday (or Cyber Monday!) sales that you have seen while shopping around online that I don't have included below, be sure to leave a comment on this post so I can take a look!
If you're looking for other sales, be sure to look at my other Black Friday shopping guides:
---
Fat Bomb Favorites Recipe eBook
40% OFF
My signature eCookbook containing 50 delicious, keto-friendly, and nut-free fat bomb recipes is on sale for Black Friday! Inside this recipe book, you'll find tasty fat bomb recipes that are made with the novice chef in mind. Whip together some fat bombs as a snack or after-dinner treat and remain happily in ketosis!
Sale ends December 2 at 11:59 PM CST.
MINI Fat Bomb Favorites Recipe eBook
40% OFF
Like its 50-recipe counterpart, this mini version of my popular recipe eBook is on sale for 40% off! This digital cookbook contains 25 nut-free and keto-friendly fat bomb recipes, which are all easy to prepare and a delicious way to satiate your hunger and provide you a boost of energy!
Sale ends December 2 at 11:59 PM CST.
Keto Dinner Favorites Recipe eBook
40% OFF
If you're in need of some keto dinner recipe inspiration, look no further than this digital cookbook! Printable recipes that are all delicious, nut-free, keto-friendly, and easy to prepare. You will love having this on-hand, especially on nights you want to cook a fun and filling meal for the family!
Sale ends December 2 at 11:59 PM CST.
"The Keto Snacks Cookbook"
77% OFF
Containing more than 75 keto-friendly snack recipes, this cookbook is a "must have" for those of you who enjoy a quick bite between meals!
Lakanto
30%-50% OFF entire store + free shipping on orders of $75 or more
I use Lakanto products in all of my keto dessert recipes and every single day in my personal life. I love this sweetener as it's a perfect keto-friendly sweetener that substitutes in at a 1:1 ratio for traditional sugar.
My favorite Lakanto products:
Sale ends December 2 at 11:59 PM CST.
Kettle & Fire
Up to 30% OFF + free mystery gift
My favorite bone broth and, most importantly, my FAVORITE keto soups. Really. I am so obsessed with Kettle & Fire's Keto Soup. I will be purchasing these in bulk to stock-up in advance of taking maternity leave. They are the easiest meals to prep, taste amazing, and are low in carbs. This is easily one of the keto sales I am most excited about this Black Friday!
My favorite Kettle & Fire products:
Broccoli Cheddar Keto Soup
Mushroom Bisque Keto Soup
Butter Curry Keto Soup
Mushroom Chicken Bone Broth
Sale ends December 2.
Perfect Keto
Up to 55% OFF
The keto supplements that I've been using for years are on sale this Black Friday! Perfect Keto is doing a "Buy More, Save More" deal that will get you 20% off any 1 item, 30% off any 2 items, 40% off any 3 items, and 50% off any 5+ items! PLUS, you can get 55% off their Daily Collection (see their site for what today's daily collection includes!)!
My favorite Perfect Keto products:
Sale ends December 2.
Keto Krate Subscription Box
50% OFF first subscription box

Keto Krate is my favorite keto subscription box service! With each order, you will receive a box filled with sweet and savory snacks, as well as $20+ worth of coupons. If you enjoy trying new keto products or you simply don't know what keto products you'll like, this sample box is a great option to order to test out some new goodies!
Sale ends December 3.
Catalina Crunch
20% OFF with code BLKFRIDAY20

Catalina Crunch cereal is keto-friendly and so, so good! We love their products SO MUCH. Their cereal is made with all-natural ingredients and provides a low-carb alternative to high-carb cereals.
Sale ends December 2.
Equip
40% OFF

We've been longtime customers of Equip and we always look forward to their annual Black Friday sale! Their protein powders are extremely high-quality and actually taste really, really good, unlike a lot of low-carb protein powders.
ButcherBox
"Bacon For Life" for new members
Always a popular purchase during the holiday season, ButcherBox is offering a great Black Friday into Cyber Monday sale! ButcherBox is running their "Bacon For Life" deal right now, which means that new members will receive 1 free pack of bacon in their box for the life of their membership! ButcherBox delivers grass-fed and grass-finished beef and heritage breed pork directly to your door!
Sale ends December 3.
Proleve
Up to 45% OFF
25% off orders $75+ with code Cyber25
35% off orders $150+ with code Cyber35
40% off orders $250+ with codes Cyber40
45% off orders $500 with code Cyber45
We purchase CBD tinctures from Proleve and really have grown to LOVE their products. They are affordable and of the highest quality. This is the biggest sale I've ever seen them offer, so don't miss this if you're interested in stocking up on CBD products!
Sale ends December 8.
Thrive Market
30% Thrive Cash back on all Thrive Market goods when you purchase a membership
Thrive Market is our "one-stop-shop" for keto products. We buy everything from nut-free SunButter, to tomato sauce, to chocolate bars here. The prices there are almost always cheaper than the grocery store or Amazon. If you are looking for ongoing discounts on your favorite low-carb items, I would highly, highly suggest signing up for a membership and scoring some Black Friday deals! Need some inspiration on what to order? Check out this post all about my favorite keto products from Thrive Market!
Sale ends December 1.
Amazon Finds
As an Amazon associate, I earn from qualifying purchases.
There are SO MANY great Amazon Black Friday deals to make your keto cooking experience better! Take a look at the items below and, for the most updated list, check out this Amazon Keto Black Friday Shop Page!
Instant Pot
50% OFF
Gifting an Instant Pot (for yourself or someone else!) is such a great gift! One of the most convenient methods of cooking, pressure cooking is a fantastic way to quickly make delicious and keto-friendly meals. Right now, Instant Pots are on MAJOR SALE on Amazon!
Stand Mixer
7% OFF
This KitchenAid Stand Mixer is on sale for 20% off right now and is a deal I would not want to miss out on! Use this kitchen appliance to easily and efficiently mix dough for keto baked goods! I love that I can have the mixer mixing while I'm multi-tasking and working on something else, like washing up a few dishes before moving on to the next step of a recipe!
Food Processor
22% OFF
Make your cooking experience THAT much easier with a high-speed and high-powered food processor like this one! Snag it on sale and use it to cook all of your favorite keto dishes!
Chaffle Maker
38% OFF
Do you love making chaffles? SAME. I make a batch every morning for breakfast and it's my favorite part of the morning (aside from my keto lattes, of course!). This waffle maker is on sale on Amazon now and is a great option for making keto-friendly chaffles!
Air Fryer
16% OFF
An air fryer is a great appliance to add to your kitchen to speed up your keto cooking! This air fryer is currently on sale on Amazon and it would make a great gift for yourself or someone else who loves to cook! This air fryer is an especially good choice as it's bigger than most other air fryers on the market, which means you can cook more food at once to speed up your cooking and meal prep process!
Milk Frother
36% OFF
I am so obsessed with this milk frother! If you know me personally, I've probably mentioned it to you 10x. It makes a great gift for the coffee lover in your life, or purchase it for yourself and save A TON OF MONEY on not having to buy expensive lattes from a coffee shop!
Egg Cooker
20% OFF
In a rush in the morning with minimal time to whip together breakfast? SAME. This rapid egg cooker is a game-changer and is currently on sale on Amazon! It's perfect for quickly making a keto-friendly breakfast!
Food Scale
32% OFF
I have had this food scale for several years and it still works "good as new!" It's easy to use and even easier to clean. If you follow a ketogenic diet, you know the importance of weighing out ingredients in your cooking (especially if you track your macros), and this food scale will be able to do all of the work for you! Switch between multiple weighing methods, like grams, ounces, pounds, and more.
Electrolyte Packets
19% OFF
We pour a packet of these electrolytes into our water every single day. They are a great supplement to add to your keto diet (of course, ask your doc first!) and we especially love that they are sweetened with stevia and genuinely taste like juice!
---
What keto Black Friday sales are you shopping? Let me know in the comments!
Reader Interactions