Shortly before Lucy turned 6 months old, we were given the "go ahead" by her pediatrician to introduce her to solid foods. If you are interested in learning about our experience with introducing baby to solid foods, this post outlines the process we followed.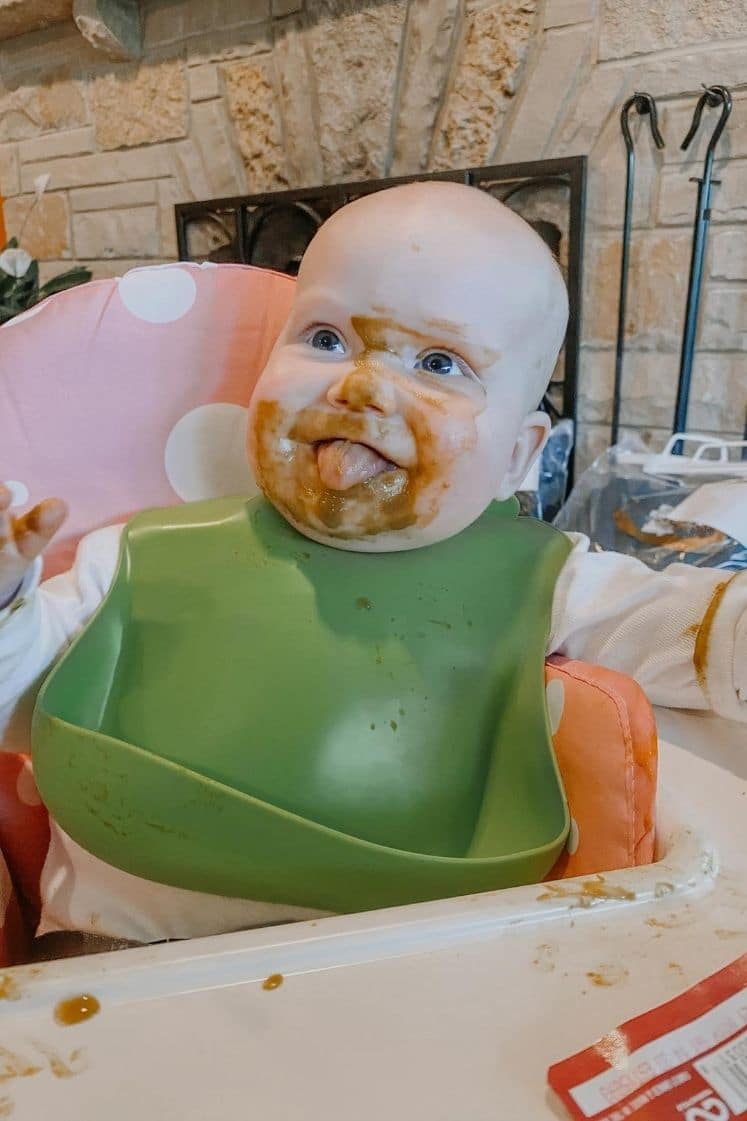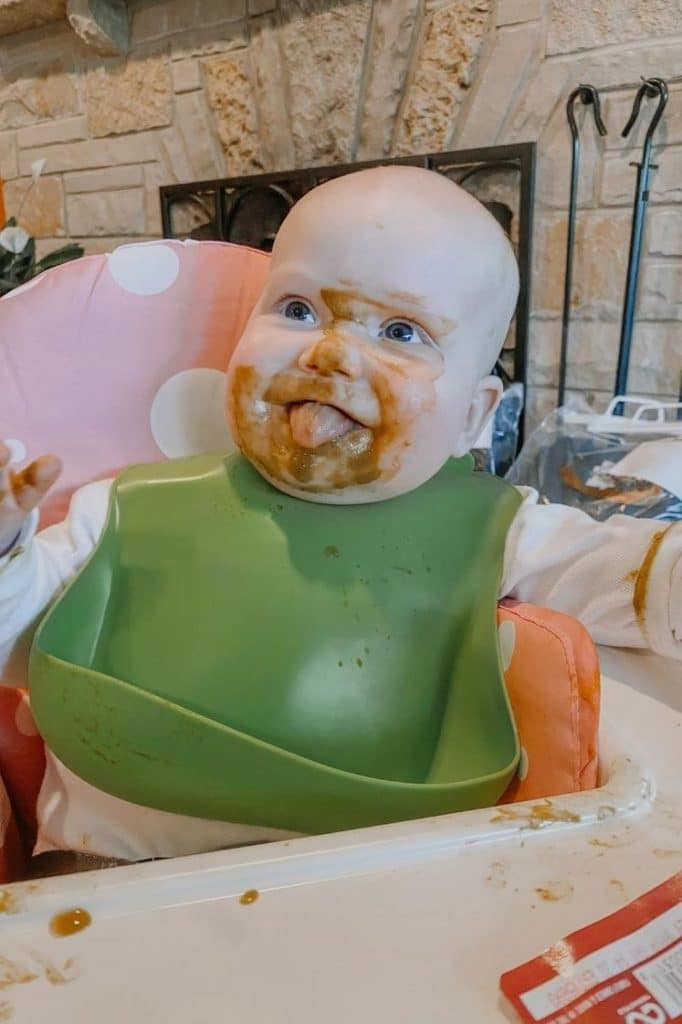 How we knew she was ready
Before we were given approval, we discussed the following items with Lucy's pediatrician:
Is she able to sit up unassisted? Yes. We purchased a highchair insert from IKEA, which helped her to fit more snuggly in her highchair; although, we probably didn't even necessarily need this because she has been able to sit up for a couple of months.
Is she showing interest in food? Very much so! She would watch us like a hawk at every mealtime.
Is she opening up her mouth when she sees us eat food? This started happening about 2 weeks before we introduced food to her. Every time we would take a bite of something, she would open her mouth as though she was ready to take a bite.
After it was decided that she was ready, Lucy's doctor advised to start with puréed foods rather than having her feed herself with whole foods (sometimes referred to as "Baby Led Weaning" or "BLW"). She said she doesn't recommend BLW at this age because of the risk of choking. We plan to start giving her whole foods where she will feed herself in the near future.
Food we started with
It was really important to me that we start Lucy off with food that was nutrient-dense. I wanted her to be eating protein, healthy fats, and veggies as often as possible.
Since we were in the midst of a major move when she was going to turn 6 months old, we decided it would be easiest to purchase baby food rather than make her food ourselves. I did A LOT of searching on this and, ultimately, decided on My Serenity Kids.
I ordered 4 different flavors of puréed baby food from My Serenity Kids:
She honestly LOVES this stuff and we couldn't be happier with the straightforward ingredients. Her personal favorite seems to be the Bison, followed closely by the Salmon.
Where to purchase pre-made puréed baby food
Interested in trying My Serenity Kids? They were kind enough to create a discount code to offer all of you. You can get 15% OFF your My Serenity Kids baby food order with code REALBALANCED.
Alternatively, I have seen that Thrive Market sells My Serenity Kids pouches for an even more affordable price. You just have to have a membership there to get that price, so that's the only caveat to that. You can take a look at Thrive Market and, if you decide to sign up, read this post that I wrote about all of the items I personally purchase from Thrive Market. (Honestly, you can pay off the membership in 2-3 orders. We save A LOT of money every year by ordering from them once per month.)
Since we knew she wouldn't eat a whole pack in one sitting, we wanted to ensure we weren't introducing the food pack to bacteria by having her suck on it, so we squeezed small portions into a small bowl and then spoon-fed her from there. The extra food that she didn't eat from the packet was then placed in the refrigerator to be eaten the next day.
How many solid food feedings per day
At 6 months old, we started with feeding her solid food 1 time per day. Once she was 7 months old, we increased this to 2 times per day. The rest of her calories come from breastmilk.
Introducing peanut butter
We also were very purposeful in introducing her to peanut butter, which we did with specific instruction from my allergist and her pediatrician (if you don't already know, I have life-threatening peanut and tree nut allergies). I talk a lot more about introducing her to peanut butter in this post.
In addition to adding peanut butter to her food, we also have added No-Sugar-Added SunButter, which is the same consistency as peanut butter but is made from sunflower seeds rather than peanuts.
Products we have on-hand at her mealtime to make everything easier
Practices we have learned to make the process easier
Since this is still something relatively new for us, we are learning each day about how to best feed Lucy her solid food.
Feed her solid food at night, a few hours before bedtime. We've found that when she has solid food in her stomach, she tends to sleep better and longer. We typically feed her solid food around 5:00 pm and her bedtime routine typically starts right at 6:00. Her last meal of the day is breastmilk when she's fed after her nightly bath. (Now that she's 7 months old, we have transitioned to feeding her solid food twice a day; at 6 months old, it was only once per day.)
Don't wait to feed her until she's too tired. Since we want to feed her at night, we need to plan as to when after her last nap of the day do we want to feed her. Several times, we've waited too long and she's pretty tired by that point. This leads to her rubbing her eyes, which are usually covered in food… So, she basically rubs a ton of food into her eyes. Probably doesn't feel too great! Lesson learned on our part!
Let her hold the spoon (with assistance from us). This is just something that Lucy personally loves. We hand her the spoon and help her hold it while she puts it into her mouth. We're not entirely sure why, but she seems to keep the food in her mouth rather than spitting it out when we give it to her.
Keep the amount of food in each bite small. Really small. When we first started solid food, anytime we'd try to give her a little more in each bite, she would instantly use her tongue to push it out of her mouth. Giving her small portions on each spoonful seems to be the one thing that works to keep her from spitting every bite of food out. Her time required for eating takes AWHILE, but doing it this way at least makes sure she is eating the food we're giving her! Now that she's been eating solid foods for over a month, I will say that she does do better with bigger bites than when she originally started.
Don't serve the food too chilled. We found out that Lucy doesn't like food that comes straight from the refrigerator. So, we warm her food up for about 5-10 seconds in a ceramic bowl so that it's room temperature. After heating, we always stir the mixture first, and then check the temperature with a finger in multiple places throughout the bowl to ensure that it isn't too hot.
Foods we will not be introducing in the near future
While we have every intention in feeding her a wide variety of foods, there are some that we will not be giving her for the foreseeable future. These foods include:
Added Sugar: We don't want Lucy having any added sugar (of any kind) until she's at least 12 months old.
Added Salt: Babies should not consume added salt until they are at least 12 months old.
Honey: Due to the risk of botulism, we won't be offering Lucy honey until she's at least 12 months old. Granted, we don't ever have honey in the house, so it may be even later than that.
Cow's Milk: Since I still breastfeed her, and because it doesn't provide the nutrients she needs on its own, we won't be giving Lucy cow's milk for a while.
Continuing to introduce new foods in the future
This post was published shortly after Lucy turned 7 months old. Now that she's this age, we plan to start introducing finger foods to her, like scrambled eggs, pieces of cooked meat, avocado, and more.
More than anything, I want to ensure that Lucy has a healthy relationship with food. I eat a certain way because it makes me feel my best, but I didn't always need to eat a low-carb diet. I especially don't want her to believe that any foods are "bad" or that dieting is something she needs to worry about.
So, when we begin to introduce new foods, I absolutely want her to try anything and everything. I had been raised in a household that was very adventurous with food options, and I have always been very grateful for that because I'm never "grossed out" by anything. I hope we can do the same for Lucy by encouraging her to try everything at least once.
Reader Interactions