Growing your email list as a blogger can feel like an impossible, uphill battle, but it doesn't have to be! It simply takes time and consistency! Did you know that you can grow your email list with giveaways? This strategy is one of the BEST and QUICKEST ways to speed up the process of growing your blog email list!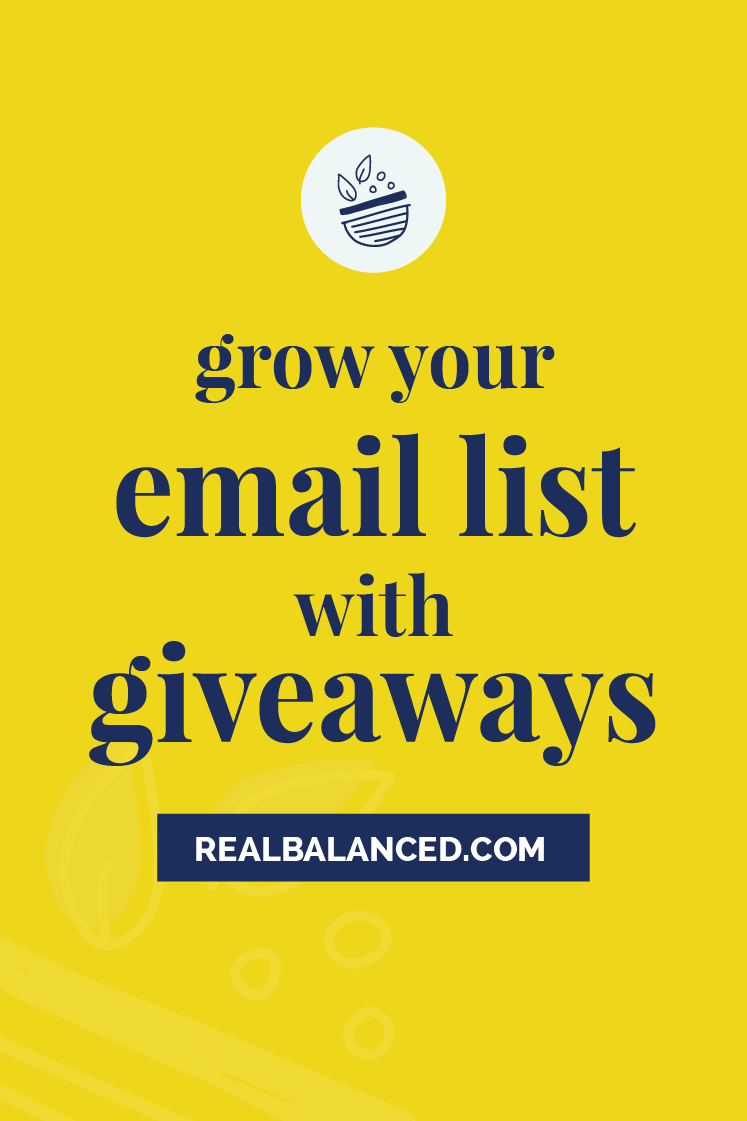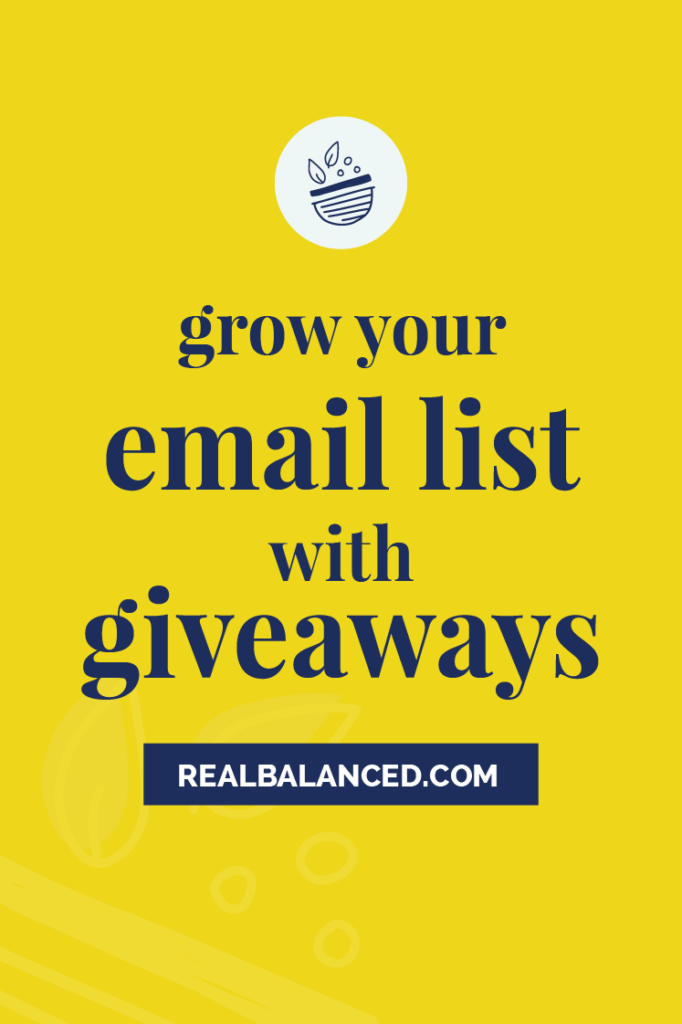 If you've ever wondered how to build an email list with social giveaways, you've come to the right place! Viral giveaways are a fantastic way to drum up the excitement while simultaneously exploding the size of your blog's email list.
Why you NEED to grow your email list for blogging
Email marketing is one of the best ways to stay in touch with your blog's audience.
Email marketing is…
Direct.
Relatively inexpensive.
Completely controlled by YOU.
With email marketing, you're able to share information with your audience on your own terms on your own schedule. You are never subject to algorithm changes, site outages, or other roadblocks that most other platforms experience.
When you have an email list for your blog, you can share important information with your audience and keep them updated on new content, products, and promotions.
The email list I have grown for Real Balanced is, by far, the most lucrative aspect of my business. I have worked hard to nurture this list by providing value to my subscribers constantly. Then, when I'm ready to sell or promote something, people are very interested in buying because they trust me and know me!
I especially love email marketing for my blog because, with minimal work, I can show up in my audience's inbox, which leads to more traffic, affiliate sales, partnerships, and more! It really is the best marketing strategy a blogger can implement.
Ultimately, email marketing allows you to make more money and turn your blog into a more profitable business!
Not convinced about why you need to grow your email list as a blogger? Check out these tips on How (and Why) to Grow an Email List as a Blogger!
So, all in all, you should be doing everything in your power to consistently add members to your email list.
In this post, we will dig into exactly how I've rapidly skyrocketed the size of my blog's email list with viral giveaways and how you can implement this strategy immediately in your own blogging business.
Growing your email list with giveaways with KingSumo
I use KingSumo for my giveaways, and I truly love it and recommend it to any blogger looking to grow their email list (which is ALL of them! 😊).
The best (and most viral) giveaways I've ever done have all taken place through this platform with very little work with MASSIVE results.
I genuinely can't believe more people aren't using this platform.
When I began to run monthly KingSumo giveaways, my email sign-ups started to multiply before my eyes.
I'm talking multiplying by the hundreds, then the THOUSANDS.
(Yes, you read that right. I've used giveaways to grow my list by the thousands with giveaways that run for a few days with prizes that cost me $100 or less.)
If you don't believe me, look at this screenshot from my ConvertKit account: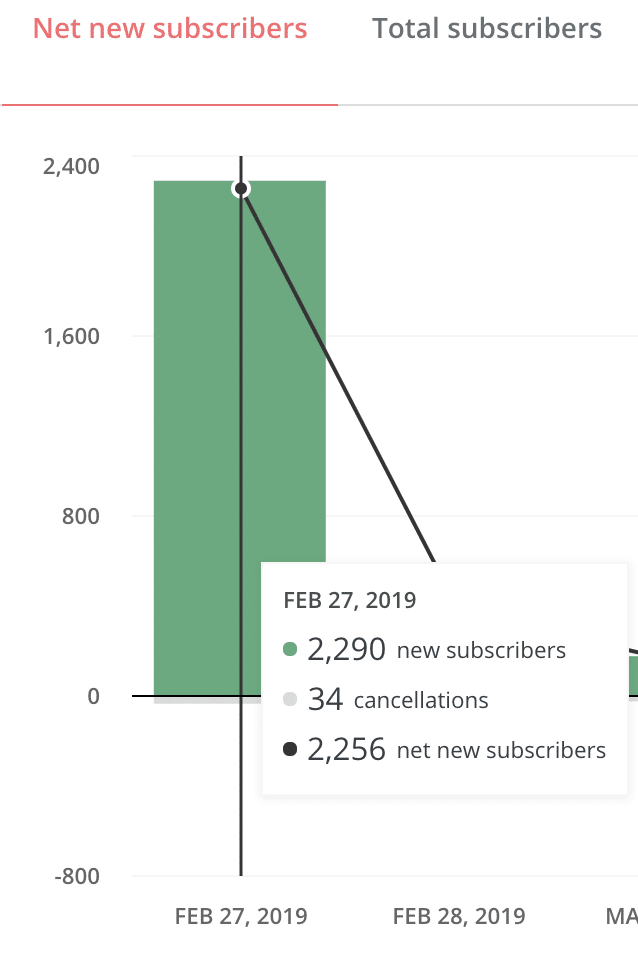 In one day from one giveaway, I grew my list by over 2,250 subscribers.
From ONE GIVEAWAY.
Pretty cool, right?!
So, yeah, I think EVERY blogger should be implementing this marketing strategy right away so they can also grow their email list with giveaways.
What is a blogging giveaway?
A blogging giveaway is a contest run by a blogger that people are incentivized to enter through the offer of potentially winning a prize.
The blogging giveaways that have yielded the highest return on investment for me are the ones that have been run through a platform called KingSumo.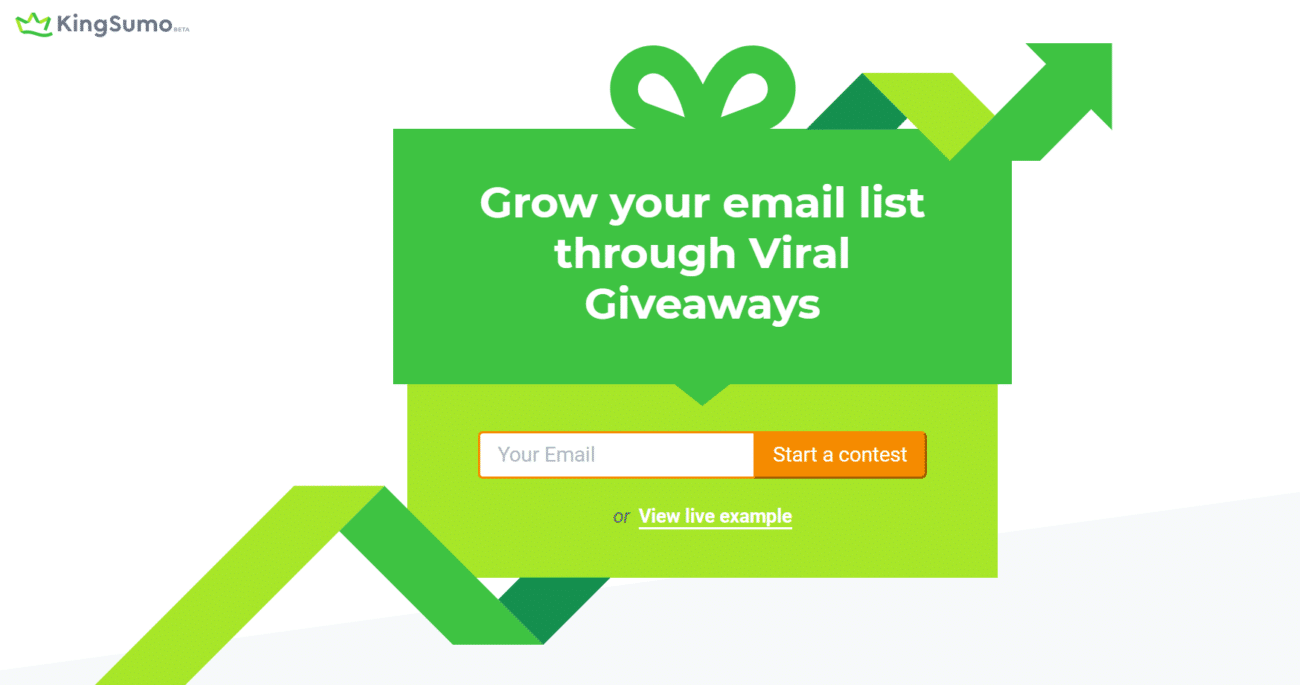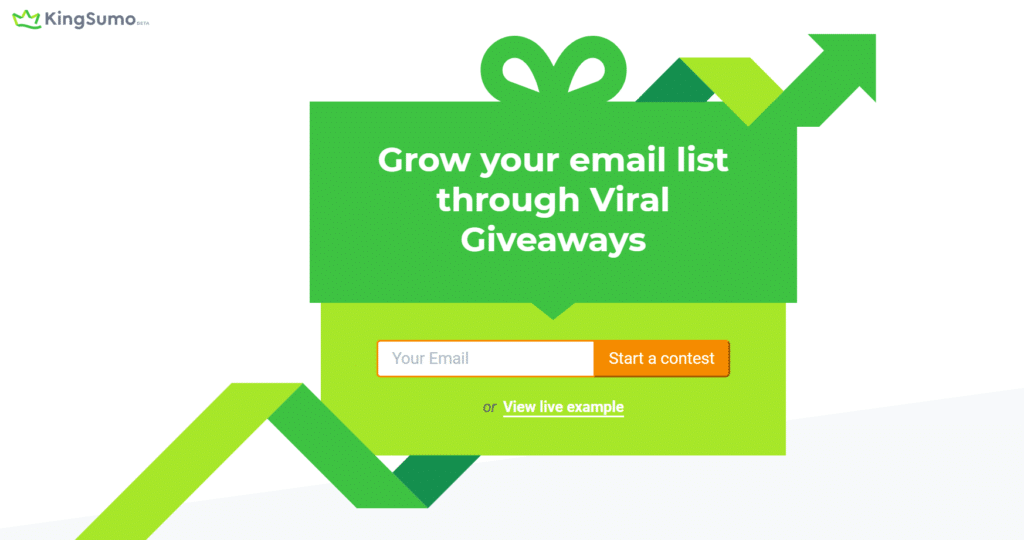 If you're wondering how to start and grow an email list for your blog, running a KingSumo giveaway is a fool-proof way. Because blog giveaways can be so successful, bloggers and other business owners use giveaways as an opportunity to start and build their email lists!
In many cases, in addition to building email lists, giveaways are an opportunity to further bond with your readers, increase site traffic, and boost affiliate sales. You can even pitch the idea of a sponsored giveaway to a brand to ensure you make all of your money back that you spend on giveaway-related expenses (and then some!).
Sponsored giveaways
Once you get familiarized with giveaways, you may consider growing your email list with giveaways that are sponsored by your favorite brands.
Pitching sponsored giveaways to brands
If there's a brand out there that you really admire or use frequently in your life, simply reach out! Even better? Reach out to brands you've worked within the past through a sponsored or affiliate relationship to pitch the idea of working together again by running a sponsored giveaway!
I've personally had a lot of success with pitching sponsored giveaways as an "upsell" as part of the brand's investment in working with me. If a brand reaches out to me to potentially work on a campaign with them, I almost always pitch the idea of a sponsored giveaway and they are typically very interested in this. Brands are trying to extend their reach and grow their list just like you are, and they know that viral giveaways are a great way to do so.
If a brand emails me and asks about my rates to work together, I send them my Media Kit, which always includes the rate for a sponsored KingSumo giveaway. I highly suggest adding this type of work to your Media and Rate Kit and including a thorough explanation about what that work entails and why the brand should consider investing in that offer.
With a great proposal and a well-prepared pitch (complete with previous giveaway details and statistics, if you have them), at the very least, they'll be very intrigued by the idea!
KingSumo Sponsored Giveaways with Brands
When offering a sponsored giveaway opportunity, a great selling point is to emphasize your use of the KingSumo platform. KingSumo provides MUCH better ROI than simply hosting a giveaway via Instagram or another social channel.
I typically explain what KingSumo is to the brand and how it works: entrants submit their email address as their form of entry then, for bonus entries, they can follow both my blog and their brand on all social channels, visit their website, subscribe to their podcast, etc. Brands are always very excited about this because they know the power of email marketing and know that it's typically a way better use of their money to invest in growing their email list than solely growing their Instagram following.
Collaborative giveaways with other bloggers
This is a strategy that has proven to be extremely powerful for my blog: collaborative giveaways. When working to grow your email list with giveaways, there is power in numbers!
What I'm saying is… for viral giveaways that lead to thousands of new subscribers, collaboration is key.
When you choose to collaborate with other bloggers for a giveaway, you're working with a much larger audience of people that will potentially enter. All parties benefit by being exposed to a larger pool of people, which usually results in a much, much higher number of entries.
And, in the case of a KingSumo giveaway, more giveaway entries means more email subscribers for your blog.
Pitching collaborative giveaways to other bloggers
To take part in a collaborative giveaway, I simply pitch the idea I have come up with for the giveaway to other bloggers.
I ask them if they would be interested in participating in a collaborative giveaway and am sure to tell them how it will benefit everyone involved (i.e. growing their email list and social following).
Of course, like most everything in blogging, it's best to collaborate with bloggers and brands that are within your niche.
In my pitch email, I make sure to mention that my team and I will handle writing the giveaway page and email copy, creating graphics for social media, and setting up the giveaway on KingSumo.
I also stress that bloggers who participate in the giveaway must commit to sending at least one email and posting one time on social media to promote the giveaway.
What prizes to offer for collaborative KingSumo giveaways
When setting up the collaboration, from the beginning, be sure to determine whether the prizes will be physical or strictly digital.
If physical products are allowed, be sure you find out where the prizes can be shipped. If you work with a brand and they can only ship within the U.S., be sure to promote the giveaway only to people in the U.S. and make it clear that only U.S. entries are allowed.
If all of the prizes included in the giveaway are digital, keep the giveaway open to worldwide entries.
Personally, I always prefer collaborative giveaways with other bloggers that solely include digital products, like recipe eBooks, eCourses, or meal plans. By offering a digital product and allowing worldwide entries, more people will enter and all bloggers involved in the giveaway will be able to grow your email list with giveaways at a much quicker rate.
What to ask the other bloggers for that are involved in the collaborative KingSumo giveaway
Once the other blogger or bloggers confirm they plan to participate, I am very communicative about the process of getting the giveaway up and running. I ask for specific information that I know we will need to run the giveaway, such as:
Their prize name written out exactly as they want it included in the giveaway copy
The value of their prize
A brief description of their prize
A .png file of their prize for the giveaway graphic
Links to all of their social channels that they want to be included as bonus entry opportunities in the giveaway
Once the giveaway has started, I email them every few days to give them an updated report on how the giveaway is going by taking screenshots of the KingSumo dashboard that contains statistics on numbers of entrants and entries.
Coming up with topic and prize ideas for your blogging giveaway
As far as giveaway contest topics and prizes go, it's important that you only offer prizes directly related to the content you plan to share with the audience you acquire through the giveaway after the giveaway has ended. What kind of sense does it make for a food blog to give away prizes like clothing items or home decor knick-knacks? Keep it within your niche, and don't stray!
The great thing about giveaways is that the prize doesn't have to be big or expensive. People love free stuff, love winning things, and, most often, they will enter pretty much any contest, no matter the monetary value of the prize.
To make things easier on YOU prize-wise, I highly suggest giving away something that isn't physical. Digital products are WAY easier, faster, and cheaper to deliver, and you don't have to deal with the headache of shipping!
How to do a giveaway on KingSumo to grow your email list for your blog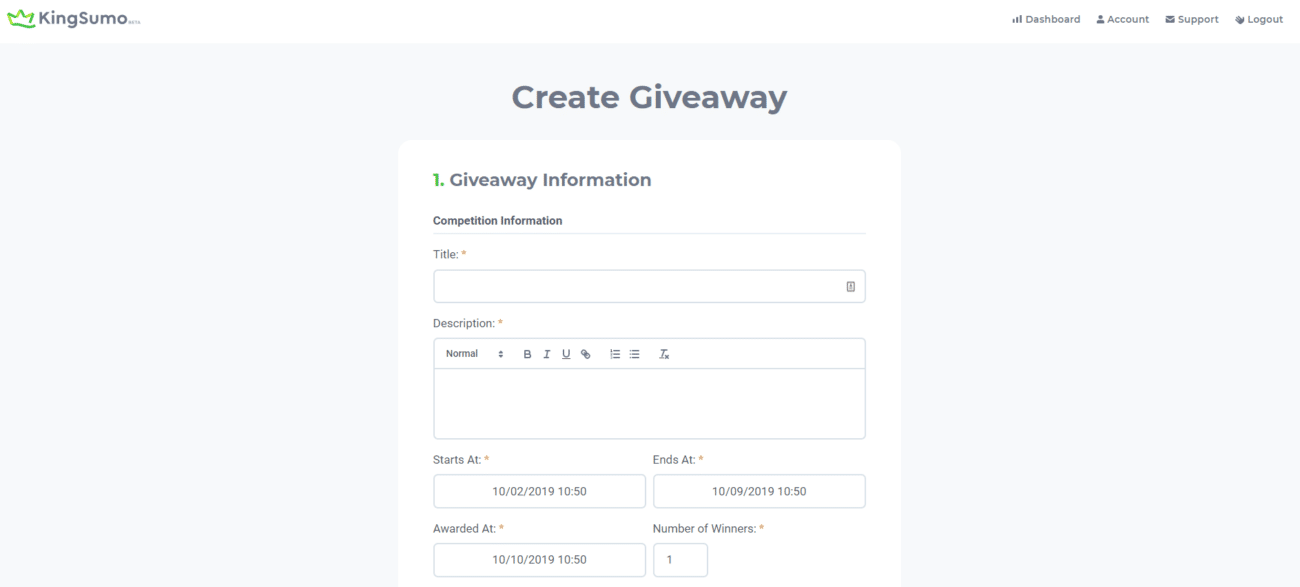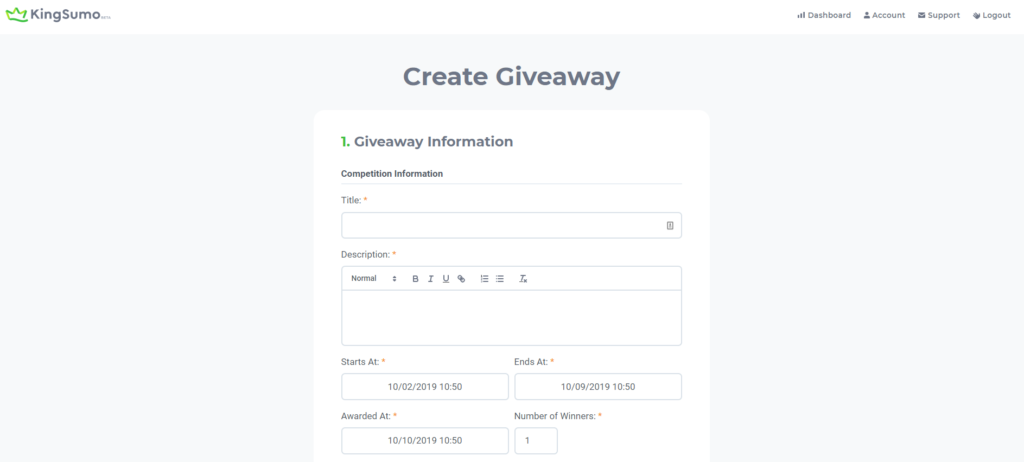 Before you handle getting the giveaway set-up on KingSumo, you'll want to determine your giveaway prize(s). If you're trying to collaborate with other bloggers or potentially land a sponsored giveaway with a brand, now is the time that you'll want to reach out to those parties and solidify the prize you want to offer.
Once you've finalized those details, you're ready to set everything up within KingSumo and begin sharing your giveaway!
Here are the steps to follow to create and promote an email list-building KingSumo giveaway!
Set up your giveaway! Purchase KingSumo and create an account. You'll be prompted to fill out fields regarding the details of your giveaway, and then you'll have the opportunity to set up a landing page. The landing page serves as the "home" for your giveaway and provides all of the fun details and information. These pages can be as simple or complex as you'd like. Don't worry, the platform will walk you through the process step-by-step.
Optimize your giveaway! With KingSumo, this involves creating custom share links, giveaway hashtags, and more. You can (and 100% should) add a variety of options for "bonus entries" to encourage people to follow you across social media platforms and to share your giveaway even further on their own social media channels. After all of this is done, KingSumo essentially does everything for you. However, to extend your reach, you should…
Email your list and post about the giveaway on your social channels! If you already have a list (even if it's small!), email them about your giveaway! Then, share the giveaway on your social media channels by posting a link to enter the giveaway anywhere your target audience hangs out.
After sharing your giveaway on your own channels, consider reaching out to others with similar audiences who may be interested in sharing the giveaway. You could offer them something in return, such as a blog feature or shout-out on one of your social media channels, or offer to share something they're promoting on one of your social channels.
If you are running a collaborative giveaway, ensure you send email copy and social media graphics to everyone involved so they can promote the giveaway through their own email lists and social media channels.
Extra KingSumo tips and tricks
How to see the winner of a KingSumo contest
KingSumo handles the winner selection for you! You can, of course, select a winner manually, but we can all agree that randomly selecting it through the KingSumo platform is much easier!
From the KingSumo dashboard, hover over "Status"
Click "Ready to Award"
Ta-da! It's that simple.
Purchasing KingSumo to grow your email list with giveaways

I recommend purchasing KingSumo's Pro version.
Though the free version allows for unlimited giveaways, integration, and site embedding, the features end there.
The Pro version provides extra features, including Facebook Pixel tracking. With this feature, you're able to monitor ads, view audience segments, and so much more. That feature alone is reason enough to go Pro!
Aside from that though, the Pro version doesn't send out an unnecessary email out after the giveaway ends, which is honestly the reason I went with Pro. I didn't want people to receive a promotional email from KingSumo saying "Run your own giveaway!" since a majority of my audience are NOT business owners and would never run their own giveaway.
Often, AppSumo, who owns KingSumo, runs promotions where KingSumo is significantly discounted. Keep an eye out for when these promotions are run and, when a sale is active, be sure to purchase then!
So long as you run regular giveaways, I am 100% sure you'll get a full ROI at the expense of paying for the Pro version.
General Review of KingSumo for growing your blog email list

KingSumo really is great. This isn't a sponsored post whatsoever; I just truly have found that paying for the Pro version of this marketing platform to be one of the best investments I've made since starting my blogging business.
KingSumo makes the giveaway process a simple and smooth one and takes the headache out of planning and organizing.
If you've been looking to grow your blog, I highly suggest using these tips to grow your email list with giveaways!
Reader Interactions