The Ergobaby Embrace is a structured baby carrier that is perfect for newborns and infants. The Embrace carrier can easily be put on and taken off, all while allowing you to keep your baby close and have the ability to be hands-free. If you are looking for an honest review of the Ergobaby Embrace, I would give it 11 out of 10 stars. I REALLY like it.
This post is sponsored by Ergobaby. All opinions are entirely my own. I truly use and LOVE this carrier.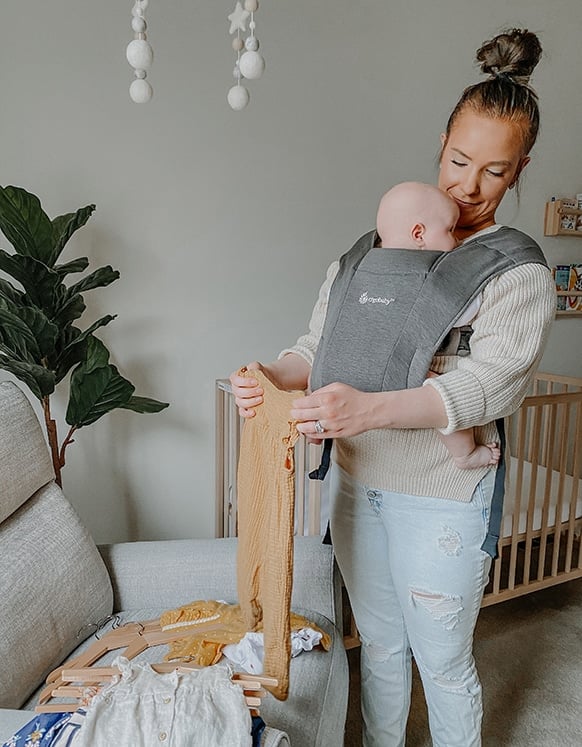 Being a new Mom while running an online business is, in a word, challenging; in more words, it's exciting, stressful, tiring, and so, so much more.
Caring for Lucy on busy workdays was beginning to feel quite overwhelming, especially considering that we're currently unable to hire an in-home babysitter for a few hours a week, which we had originally planned to do.
In knowing that I needed a solution to be able to care for her AND clear out my ever-growing email inbox, I was eager, to say the least, to find a suitable baby carrier.
Now, if you've tried baby carriers before, you may know all too well how complicated some of them can be to put on by yourself.
I got an Ergobaby Embrace carrier to try, and I truly could not be happier to now have one. Wowowow. This thing is remarkable.
Immediate takeaways after trying out this carrier
To start off telling you about my Ergobaby Embrace carrier experience, the first thing I noticed was the actual quality of the carrier.
Not only is the fabric of this carrier as soft and as smooth as butter, putting the Ergobaby Embrace on while I'm at home alone with Lucy during the week is SO EASY. Simply buckle the waist belt, put baby in, buckle the side buckles, tighten straps, adjust baby as needed, and…. THAT'S ALL.
The first time I tried the Ergobaby Embrace, I was home alone with Lucy and, within 1 minute, had her in the carrier and was able to comfortably fold and hang up her clothes in her nursery.
The best part? Lucy LOVES it. So much.
She spent the initial few minutes of being in the carrier smiling and laughing at me and then fell asleep and slept the remaining time I had her in there. AMAZING. I was able to accomplish more tasks with her in that carrier than I EVER have since she was born.
So, aside from the ease of putting the carrier on, it was so nice to be able to have Lucy close to me and be so comfortable that she fell asleep and stayed asleep while I cleaned up and got some work done.
And, aside from cleaning and working, if you've been anything like us these past few months, you have likely spent hours upon hours video calling family and friends. My mom and I can spend hourssss on the phone and, since I call her 200x per day to show her every little thing Lucy and I are up to, being able to put Lucy in the Embrace carrier and have a video call with her has been amazing.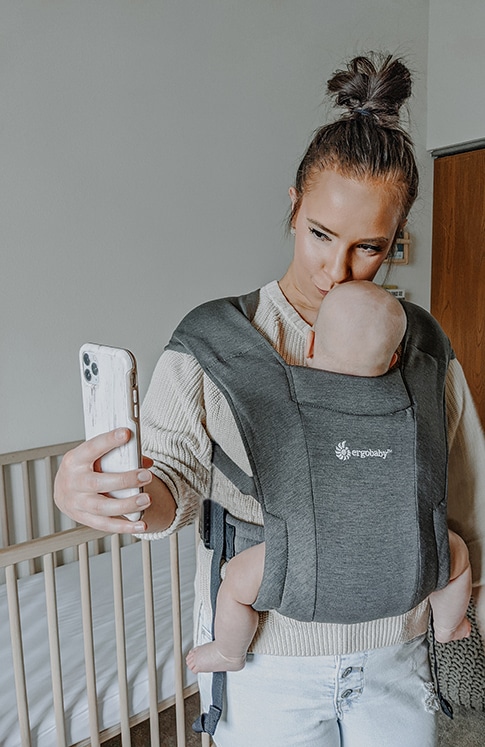 My favorite components of the Embrace
Design
The actual design of the carrier is phenomenal and the first thing you'll likely notice when you try it. These were my key design takeaways:
Minimal Time To Put On: I have tried other structured carriers and, by the time I have every buckle snapped and strap tightened, I'm dripping in sweat and feel like I dislocated a shoulder blade. This one… NOT AT ALL. The minimalist-style of it not only looks aesthetically very nice, but it honestly only requires minimal effort to get baby into snugly and safely.
Soft And Breathable Fabric: The fabric of the carrier feels extremely high-quality and is SO soft. I especially like that the shoulder straps are thin and stretchy rather than thick and bulky. I really love how breathable it is and that I could wear it on a hot summer day without both of us being uncomfortably warm.
Compact: Many other structured carriers are pretty bulky. Not this one. It folds down easily and I was able to fit it into our diaper bag backpack.
Velcro-Free: I have another carrier that I've used in the past that has velcro, which I didn't personally love since the velcro was so strong that, when pulling it apart, I would usually wake Lucy up. The Ergobaby Embrace solely has buckles, which can be unbuckled very quietly and make for an easy transition from carrier to crib when she's fallen asleep.
Ability to be hands-free
I will not lie. To this day, I am still flabbergasted by how many clothes an infant can dirty in a day.
SO. MUCH. LAUNDRY.
As you can imagine, it's altogether impossible to hold a baby with one arm, switch the clothes from the washer and dryer, and then fold clothes.
Now, THIS is the time that the Ergobaby Embrace realllllly shines.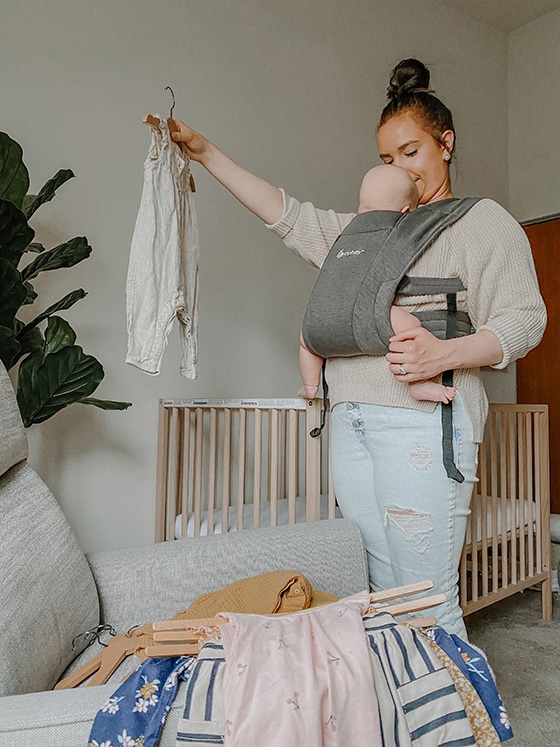 I can hold Lucy and fold AND hang up clothes simultaneously.
GAME-CHANGING.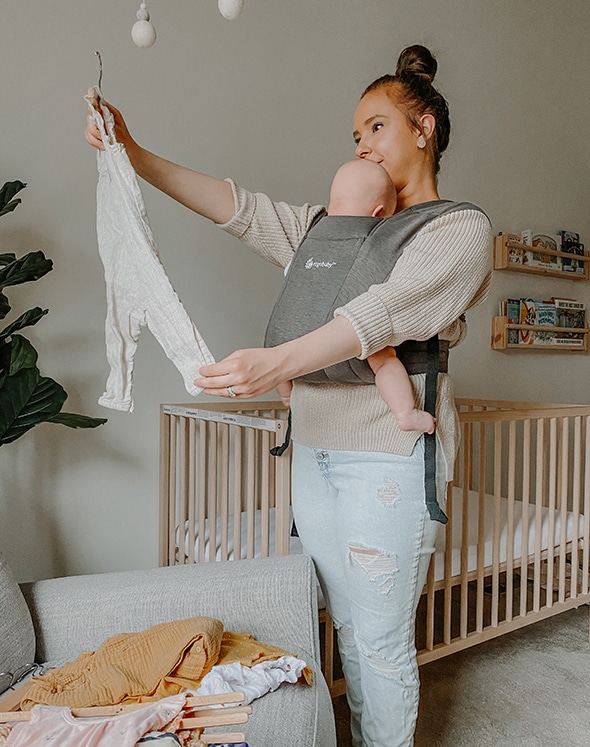 Tutorials
Lastly, if you are at all nervous to use a baby carrier (I know I was!), Ergobaby has amazing video tutorials on their YouTube channel (this is the tutorial I watched). I watched the tutorial for the Embrace a few times before testing it out and, in just one attempt, I was able to confidently and safely get Lucy strapped in.
Honestly, after trying out the Embrace, I cannot imagine being without it. I carry Lucy in it every day and (finally) am starting to be able to clean my disaster of a house! 🤪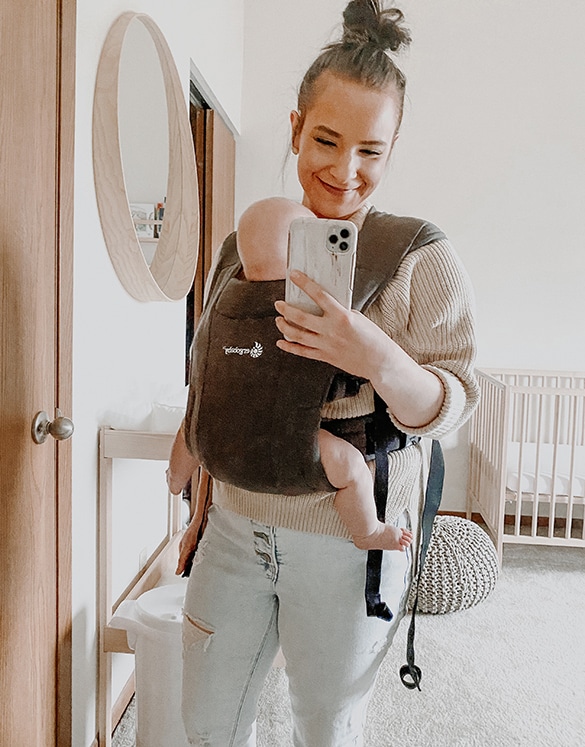 I hope this look at the Ergobaby Embrace carrier was helpful. I genuinely love this thing and wear it alllll the time. I think you'll really love it, too!
This post was sponsored by Ergobaby. All aspects are entirely my own.
Reader Interactions