My pressure cooker is my baby; I love that thing as much as I love Rowsdower. What would normally take 8+ hours to cook in a crock pot, only takes 1 hours in the pressure cooker. Plus, it seems that just recently, pressure cookers are all the rage so there's plenty of recipes all over Pinterest for quick, delicious, and healthy meal options that can be whipped up in an hour flat. What's more to love?!
Don't have a pressure cooker? I highly suggest the Instant Pot, which is the one I own. It regularly goes on sale on Amazon. It may seem like a splurge but, trust me, it will make weeknight cooking 100 times easier.
Not ready to purchase another kitchen appliance? Totally understand. This recipe can be cooked in a crock pot and taste just as delicious! Just be sure to allow enough time for the short ribs to fully cook (the meat should be falling off the bone). I would suggest 9-10 hours on low to get the most flavor!
Diets This Pressure Cooker Short Ribs With Cherry Balsamic Reduction Recipe Is Compliant With
This recipe is paleo, Whole30 compliant, gluten-free, grain-free, dairy-free, and sugar-free!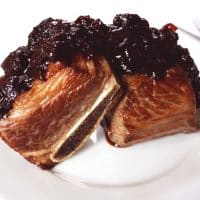 Pressure Cooker Short Ribs With Cherry Balsamic Reduction
---
Author:
Prep Time: 10 minutes
Cook Time: 1 hour
Total Time: 1 hour, 15 minutes
Yield: 4 servings
Category: Dinner
Method: Instant Pot
Cuisine: American
Description
These Pressure Cooker Short Ribs With Cherry Balsamic Reduction are a delicious and Whole30-compliant weeknight dinner option!
---
---
Instructions
Pour beef bone broth into pressure cooker.
Liberally salt short ribs (3/4 tsp per 1 lb. meat) and place evenly in one layer in broth in pressure cooker.
Set pressure cooker to 60 minutes on manual setting.
For the cherry balsamic reduction, add cherries, dates, balsamic vinegar, water, and orange zest to pan on stove top over medium heat.
Once cherry mixture begins to boil, reduce heat to low and cover, stirring and breaking apart fruit with spatula occasionally.
After short ribs have finished cooking in pressure cooker, allow pressure cooker to naturally depressurize for 15 minutes.
After 15 minutes, release pressure.
Plate cherry balsamic reduction over short ribs and serve with steamed vegetables and mashed sweet potatoes.
Recipe Notes:
I prefer the cherry balsamic reduction to cook over low heat the entire 60 minutes that the short ribs are cooking but this is not necessary. If you cook the short ribs in advance, the glaze can be put together in about 15 minutes. Just make sure the cherries and dates cook down and the water has evaporated.
Tip: To speed up natural depressurization in pressure cooker, place damp, cold towel on lid of pressure cooker. Be careful to not move the nozzle when doing this though! Always keep your face and any body parts away from the steam hole!
Keywords: instant pot, whole30 instant pot, paleo instant pot, instant pot dinner, whole30 dinner, paleo dinner