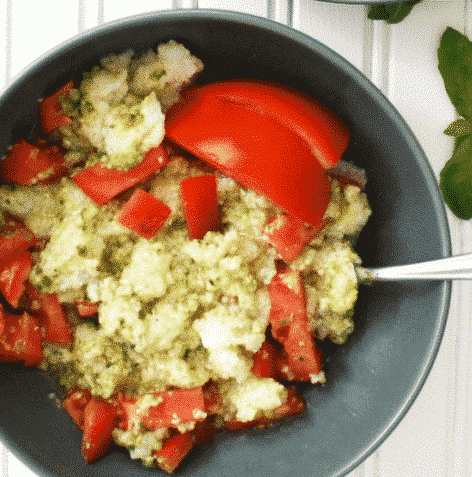 This recipe couldn't possibly get any simpler! 3 ingredients that can be thrown together in 5 minutes flat! The grits are rich and filling and the tomatoes and pesto add so much flavor that this meal will become one of your favorites! We can't take credit for this recipe as my Grandma is the one that turned us onto it. It's a dish she often makes for breakfast, but could be eaten at any time of the day!
This recipe is gluten-free, vegetarian, and, of course, sugar-free!
Nutritional Value Of Grits In Tomato And Pesto Grits Recipe
The only ingredient you'll find in grits is corn, so they are a great source of natural, real food carbohydrates while also providing as a source for iron, B vitamins, vitamin C, and vitamin A. The iron content of one serving of grits is 14%. Iron is imperative to maintain adequate oxygen level in your blood.
Nutritional Value Of Tomatoes In Tomato And Pesto Grits Recipe
Tomatoes are rich in lycopene, which are known to have a variety of antioxidant benefits. In studies, tomatoes have been found to reduce the risk of prostate and pancreatic cancers and are rich in potassium and contain vitamin E and vitamin C. When paired with healthy fats, like those present in the pesto of this dish, lycopene and other carotenoids are better absorbed by the body.
Nutritional Value Of Pesto In Tomato And Pesto Grits Recipe
Pesto is a deliciously tasty, garlic-y way to add flavor to any dish and is stock full of healthy unsaturated fats, which will keep you full for hours. Most store-bought pesto is a great source of vitamin A, vitamin C, calcium, iron, and a variety of flavonoids, which have been found to fight disease and provide important antioxidant benefits.
In this dish, we used store-bought pesto to save on time, but you can easily throw together your own with some basil, olive oil, minced garlic, parmesan (if you eat dairy), and pine nuts (we also like to sub pine nuts with milled flax seeds).
Total time: 5 mins
Serves: 2
Ingredients
1/2 cup quick 5-minute corn grits
1/2 medium tomato, diced
1 tbsp pesto
Instructions
Cook grits according to instructions.
Stir in tomato and pesto.
Enjoy!