This post shares the birth story of our sweet baby girl, Lucy Jane Nelson, who was born on January 10, 2020.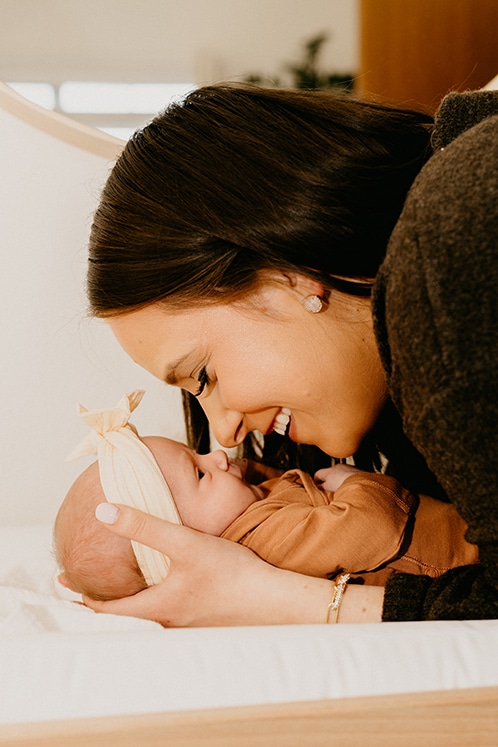 I'm finally sitting down to write this post after 6 weeks of having Lucy in our lives. Honestly, it took me awhile to do this for a variety of reasons, but the main one being that newborns need A LOT of attention and we have been severely sleep deprived. Now that Lucy is sleeping a bit more each night, I have finally found the energy to write this experience down to share with you all.
The Weeks Leading Up To Lucy's Birth
As with most very-pregnant women, around 36 weeks, I started to think every. little. symptom. I had was a sign of labor.
Insomnia? Labor.
Headache? Labor.
Braxton Hicks contractions? DEFINITELY LABOR. AND SOON.
Unfortunately, I was always wrong.
I started experiencing lightening pains around 35 weeks; this is when the baby starts moving down into position and WOAH does it hurt!! I could tell that, by this point, Lucy had dropped (meaning that I was carrying her lower in my belly than I had been previously), which would explain the lightening sensations.
Around 37 weeks, I lost my mucus plug and was cautiously optimistic that it "meant something." It didn't. I went on to lose more of it over the next 3 weeks. Still nothing.
Between weeks 38 and 40, I was sleeping for only a few hours every night and, in the middle of the night, constantly felt like my water had broken. Nope. Peed myself again. (Pregnancy is fun. 🙃)
At exactly 39 weeks, which fell on New Year's Day, I woke up in the middle of the night in a pure panic. My chest was tight, I was dripping in sweat, and swore I was having contractions. We headed to the hospital and I was hooked up to a monitor so they could check on Lucy and on me. She was totally fine, thank goodness. I wasn't having contractions though.
I wasn't in labor, but had an anxiety attack, in my sleep of all places. Weird, but not totally out of the norm with my history of night terrors.
In retrospect, I think I had forgotten to take electrolytes for a few days and, when I forget, anxiety is my first major symptom of depleted potassium, sodium, and magnesium levels.
I was released from the hospital after monitoring Lucy for about an hour. Her heartbeat was perfectly in range and I was feeling totally back to normal.
(Side note: OF COURSE this had to happen literally right after midnight on January 1, which means it fell to our 2020 insurance. Ugh.)
So, I had many of the signs of labor between weeks 36-40, but nothing ever came of it.
I tried alllll of the things to naturally (and safely!!) induce labor: walking, climbing stairs, bouncing on a yoga ball, raspberry leaf tea, pedicure, eating spicy foods, etc etc etc.
NOTHING.
The Days Leading Up To Lucy's Birth
My due date was January 8, 2020 and I was scheduled to have my final prenatal appointment with my OB on January 6. At that appointment, I had a cervical check done and wasn't far along. At all. Half a centimeter dilated and 50% effaced (I had been 50% effaced for two weeks at that point).
Lucy was proving to be VERY comfortable in there.
At this same appointment, my blood pressure was taken, as it is at every prenatal appointment, and it was a little high, especially considering my blood pressure throughout my entire pregnancy (and throughout my entire life) was always well within normal range; my doctor took note of it, but said she wasn't too concerned as it wasn't dangerously high.
At this appointment, it was decided that if Lucy didn't come naturally by January 11, we would go to the hospital and I would be medically induced. I can't lie, I was pretty excited, as was Ryan.
I, of course, so desperately wanted her to come naturally on her own, but my excitement got the best of me, so we were pretty pumped to have some insight as to when Lucy would be born. Plus, I fully trusted my doctor and since the induction scheduling was based on her recommendation, we agreed to it.
On my due date, January 8, I started noticing that my eyesight was changing. I was seeing bright flashing lights every so often, which I thought was a little odd and may be cause for concern (this can be a sign of preeclampsia, which is high blood pressure during pregnancy and can be quite dangerous if ignored), but I wanted to wait it out slightly. Shortly thereafter, I started seeing what I can only describe as "gray-colored ash" in my vision; I knew that wasn't right.
Since my OB's office is almost 30 minutes from where we live, I decided it would be easiest to just drive to the closest Walgreen's location and have my blood pressure checked there. I had it checked by the pharmacist and I was shocked when she said just how high it was: 148/94.
I called my OB's office, spoke to her nurse, and she said to go to the hospital to be induced.
Woah. That escalated QUICKLY. I called Ryan and we packed up a few things and headed straight to the hospital.
When we arrived at the Labor & Delivery Department, we were sent to triage, which I thought was sort of odd as I was under the impression that I was going to be admitted for an induction, but they said they just wanted to watch my blood pressure for a little before making any decisions. Totally understandable.
At first check, my blood pressure had already lowered slightly from the Walgreen's check, but was still too high. Ryan and I were both a little irritated throughout this period as it felt like they didn't believe my blood pressure reading from Walgreen's and it kept being mentioned that it was "only checked at Walgreen's," as if there machines were faulty or their staff was unable to properly monitor the test. Anyways.
They continued to monitor me in triage and my blood pressure continued to decrease. At that point, it was decided that I would be released from the hospital and sent home. We were surprised since we both definitely thought we were getting prepped to have a baby, but we both also were excited to be able to head home, get some food (we were SO hungry), and come back to the hospital in a few days, as scheduled, in a lot less hurried of a fashion.
The following day, January 9, I continued to notice that gray ash in my vision. I was frustrated since I had been released from the hospital the previous day as my blood pressure lowered to a normal level, but as my vision progressively worsened (it started to become quite blurry), I decided to ask Ryan to drive me to Walgreen's so I could have my blood pressure checked. Again.
High. Again. This time it was 160/92.
By this time, it was close to 4:00 pm. Since we live quite a ways away from my OB's office and because the hospital staff didn't seem to fully believe my blood pressure reading the previous day, we hurried to get to my OB's office so THEY could check it; that way, if it was high based on their reading, it would be added to my chart and the hospital would see it.
The nurse checked my blood pressure, two times actually, and confirmed it was, in fact, too high and I was now for sure being sent to the hospital to begin induction.
We arrived at the hospital and, again, were triaged. Gah. I truly felt like everyone thought I was lying about these blood pressure readings! Thankfully, though, my doctor called just as we sat down in the triage room and advised hospital staff to begin induction.
I was officially admitted to the hospital and roomed in the Labor & Delivery Department.
It was go time!
My Induction
I was admitted at about 5:30 pm on January 9 and the induction process began at 6:00 pm that same day. Ryan and I both were thinking that January 9 could absolutely be the day that we'd meet our baby girl!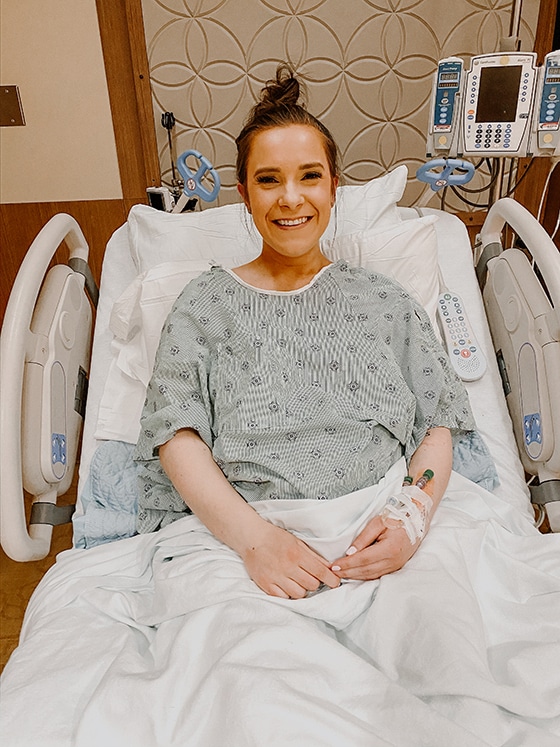 Once admitted, I had a cervical check and had only slightly progressed since my appointment earlier that week: 1 centimeter dilated and 50% effaced.
The doctor said we would move forward with inserting a Foley bulb, which would be inserted and would dilate me to about 4 centimeters. This was inserted at 6:00 pm and for the next 12 hours… omg. The discomfort. I couldn't sit still, yet alone sleep. The ONLY place I had minor comfort was sitting across the toilet so as to not place any additional pressure on where the bulb was inserted.
Throughout my pregnancy, I planned to handle my labor pains minute-by-minute and make decisions based on the pain as we went. I didn't want to feel like I disappointed myself by saying I'd do it fully naturally and then "give up" and get the epidural.
The nurse asked me every so often if I wanted the epidural and I continued to deny it. I did, however, agree to multiple (I think 5?) doses of a pain medication called fentanyl, which didn't reduce the pain, but DID take the edge off. Every time I was given a dose of this (they always asked me first), I was able to relax. It was WONDERFUL.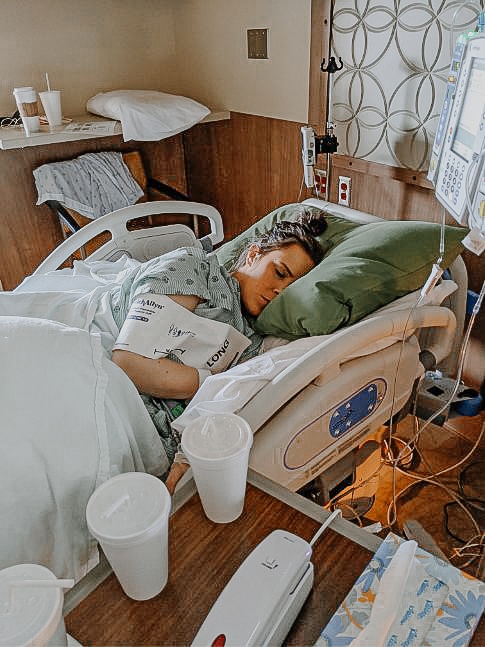 By the time it was 6:00 am on January 10, though, I was in so much pain and didn't think it was a good plan to continue asking for fentanyl. I knew that if I was going to get an epidural, I needed to do it now, before they broke my water. I had Ryan call the nurse and tell her I was ready for the epidural and, the second after I asked for it, I felt an immense amount of mental relief knowing that I would shortly be getting physical relief.
I was set-up with the epidural, which, in and of itself, was a rough process. Holding still through contractions was ROUGH. I was so, so, so grateful to have the most amazing nurse during this. She held my hands and kept me calm. Goodness, she was SO awesome.
After the epidural kicked in, I was finally able to RELAX. It was so needed and I felt like I would actually be able to enjoy the process of labor.
The thing that no one told me about epidurals is that you are not (at all) numb from the waist down. In fact, I could easily move my legs, my feet, my toes. It's just that the sensation in your lower extremities is different and lessened. This was actually really amazing news and I loved that I was able to maneuver my own body when I felt the need to switch the side I was laying on.
Plus, obviously the fact that I also could barely feel my contractions was AMAZING. By this time, they were a minute long and 4 minutes apart.
Around 10:00 am on January 10, the doctor came in and I had another cervical check. I was barely 4 centimeters dilated and they had to manually remove the Foley bulb (it typically falls out on its own once you've dilated enough).
It was decided that, at this point, they would break my water. Based on what I had heard from others' labor experiences, your water breaking could mean that your baby will be here SOON. I was PUMPED.
The doctor broke my water and I felt a gush of liquid come out. The nurse told me that I had also had my bloody show (another surefire sign of things moving along).
It was also at this time that they began to administer Pitocin, a hormonal injection that induces and moves along the process of labor.
A couple of hours later, I had another cervical check. I was still at 4 centimeters dilation. Ugh.
Another few hours after that, I had yet another cervical check. I was STILL 4 centimeters dilated. I was feeling so defeated, tired, and altogether exhausted. I remember starting to cry and emotionally asking the nurse what else we could possibly do to move things along. She reassured me that we just needed to remain patient.
Hours went by and I had another cervical check. FINALLY, I reached 6 centimeters, where I remained for way. too. long.
At this point, it was after 6:00 pm, over 8 hours after my water had been broken and 24 hours from the time my induction began.
Thankfully, I went from 6 centimeters to 8 centimeters within an hour and a half.
It was at this point that they started to transition the room to prepare for me to give birth!
Lucy's Birth
I remained at 8 centimeters for another two hours. It was after 9:30 pm on January 10, over 27 hours after the labor process began.
Once I (finally!!) reached 9.5 centimeters, I had the intense urge to push. I told Ryan to call the nurse to tell her that I was ready to start pushing. They checked me again and I was still only at 9.5 centimeters and they said I needed to wait another 5-7 minutes and then they would check me again. I begged the nurse to let me start pushing.
To help me, the nurse tried to push my cervix back the remaining half centimeter, but she was unsuccessful and said I needed to continue waiting until I reached the full 10 centimeters. UGH.
After what seemed like an hour (it was probably closer to 10 minutes), I was 10 centimeters dilated and ready to start pushing.
Pushing felt AMAZING. It was the only way I had any sense of relief.
I pushed 3 times for 10 seconds each at every contraction, which were coming around 2 minutes apart.
For 2 hours, I pushed at every. single. contraction. It was so, so tiring. It was so, so painful.
I'm not sure what happened with the epidural, but I could feel everything. I could feel the contractions beginning before they displayed on the monitor. They hurt badly.
I asked for them to pull the ceiling mirror above my bed down so I could better see how I was pushing. Once I was able to see Lucy crowning, I felt SO motivated and thought she would be pushed out at any minute.
Boy, was I wrong.
Every time she came down after I pushed through a contraction, she would go right back up. I was honestly devastated every time I saw this happen. I was so tired and truly wanted to give up. I never thought I'd want to give up during labor, but the feeling of quitting was so overwhelming. I have never felt so hopeless.
After 2 hours, the pain become unbearable. And, when I say "unbearable," I mean that I was legitimately screaming that my back was broken and that I thought I was going to die. It sounds so dramatic in hindsight to say that, but I genuinely didn't think I would be able to bear another second of the pain.
I thought my back was completely broken.
I kept screaming and trying to tell them I had broken my back and that I needed help. The nurses said I could rotate my body to move the pressure off my back, but I tried telling them that it didn't matter how I rotated; if my back was broken, it was going to hurt no matter what.
It was at this point that the nurse went to get the anesthesiologist to discuss this pain with me. We decided it was best to give me an extra "boost" of pain meds (I'm not entirely sure what they gave me, but it was administered through my epidural).
Unfortunately, the pain was still extremely apparent and VERY bad. The nurse went to get the doctor and she explained to the doctor that I was experiencing immense back pain.
The doctor came in and, during the next contraction, noticed that Lucy was "sunny side up," meaning she was facing the wrong way and I was experiencing back labor.
She told me that during the following contraction, she was going to try and flip Lucy. She did this and was successful and omg I could not have been more thankful.
Back labor is worse than anything I could ever explain. Wow. It was awful and I wouldn't wish it upon ANYONE.
After Lucy was flipped the correct way, she immediately started making her way further down the birth canal. In the mirror, I could finally see more and more of her head at every push. With every contraction, I thought it was the last one, but it was still another 30 minutes until Lucy made an entrance into the world.
At 11:36 pm on January 10, 2020, Lucy Jane Nelson was born. She weighed 7 pounds, 2 ounces and measured 18 1/2 inches long. She was so perfect.
They handed her to me, Ryan cut her umbilical chord, and all three of us sobbed. A lot.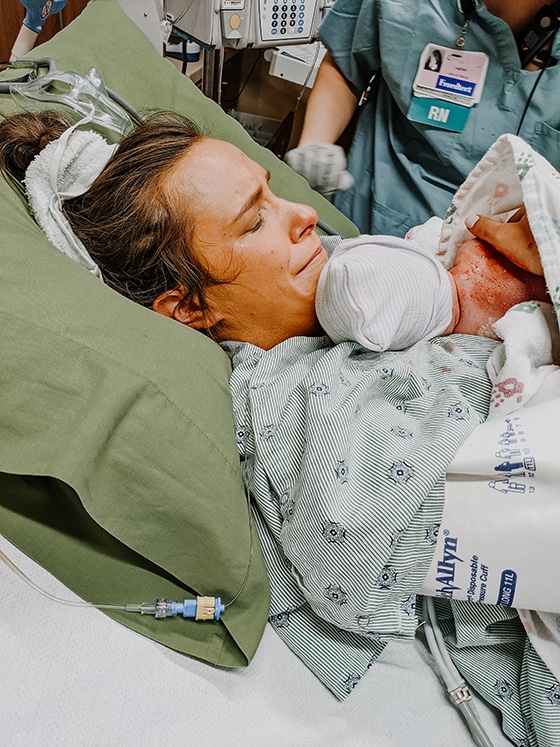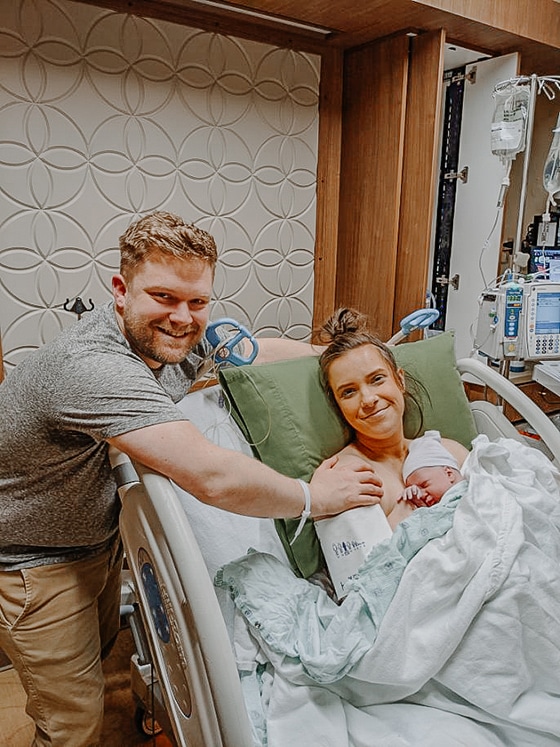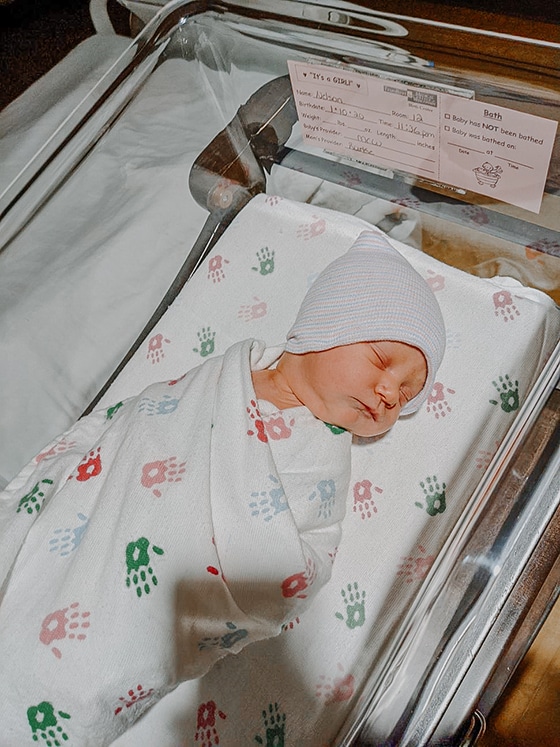 After Lucy's Birth
While holding Lucy, we noticed a pretty substantial bruise and several cuts on her head. This was because, with every push, she was hitting my pelvis, but wasn't moving down. Her head just kept hitting my bone. This completely broke my heart knowing that she may be in pain and it was my fault.
While Lucy and I did skin-to-skin and we bonded as a family, the medical team worked to deliver my placenta and stitch me up (I had a second degree internal tear).
The ceiling mirror was still pulled down and I saw what I can only describe as a scene from a horror movie. I started to become extremely weak and nauseous and asked if they could put the mirror away so I didn't see all of the blood. They quickly put the mirror away, but unfortunately my queasiness did not dissipate.
The doctor told me that I lost more blood than what women typically do, but thankfully it wasn't enough to require a transfusion. It explained why I felt so weak.
Sadly, I was so weak that I didn't feel safe holding Lucy any longer. I felt like I was going to drop her, so we felt it was best to have Ryan do skin-to-skin with her while the nurses prepared me to transfer from the Labor & Delivery Department to a recovery room on a different floor.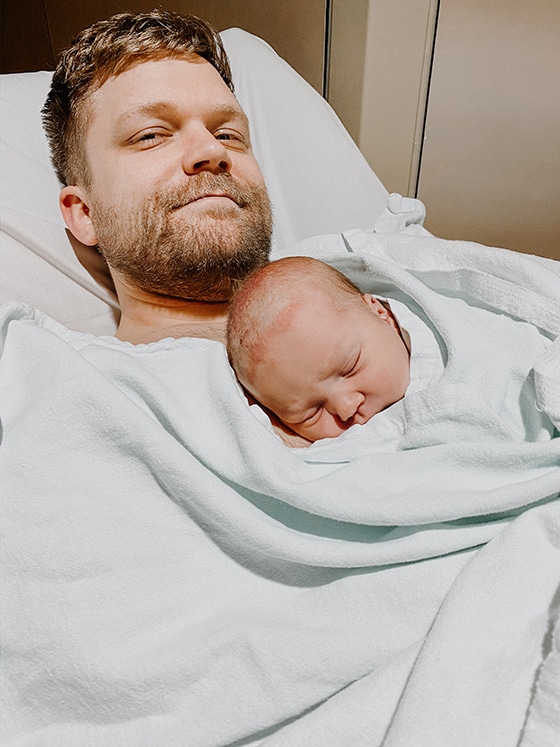 We transferred rooms and then met with the nurse who would be with us overnight. At this point, they need to see that you are able to empty your bladder, which I struggled with for about 2 hours. The nurse had to come back to my room every 20 minutes or so to have me get up and try to urinate. Getting out of bed this often after an almost 30 hours of labor was ROUGH.
FINALLY I had the sensation to urinate, which allowed me to lay down for more than 30 minutes at a time.
The next 36 hours were full of nurses checking on me, checking on Lucy, learning how to breastfeed, and just purely staring at our beautiful, new daughter.
Thinking back to all of this 6 weeks later feels like a total blur.
My Postpartum Experience
Woof. Much harder than I imagined.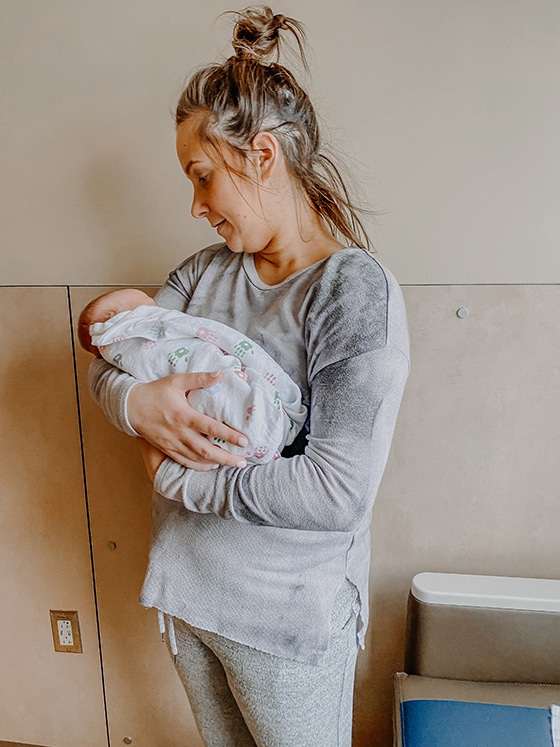 I don't feel like this time is talked about much amongst Moms. The overwhelming amount of intense feelings, both mental and physical, you have during this time are unbelievable.
I won't get into the "nitty gritty" of the physical things I experienced, so I will just say that it's a very humbling experience to come home from the hospital with TWO people who need diapers: your newborn baby and YOU.
For the four weeks following Lucy's birth, I went through dozens of pairs of mesh underwear, adult diapers, pads that could be dual-purposed as parachutes, cooling spray, etc etc etc. Peeing required warm water from a peri bottle being sprayed.
The first two weeks, it felt like my internal organs were going to fall out of me. Thankfully, bodies are so resilient and after about a month, I was starting to feel more and more "back to normal," although, even today, after 6 weeks, I still experience a variety of post-labor issues.
Aside from the physical pain after labor, there is, of course, the sleep deprivation, the raging hormones, the anxiety of caring for a newborn baby (before leaving the hospital, I joked with many of the nurses that they needed to come home with me as I wasn't qualified for "this job" 🤪), and so much more.
But, when it comes down to it, everyone was (mostly) right; the memory of the pain and discomfort from both pregnancy and labor is mostly immediately forgotten. I do think about my labor often, though, so it definitely doesn't completely go away. Of course, the fact that Lucy is here and that she's healthy is the most important thing x 1,000,000, but I cannot ignore the fact that my labor was extremely traumatic for me (I dreamt about it often the first few weeks).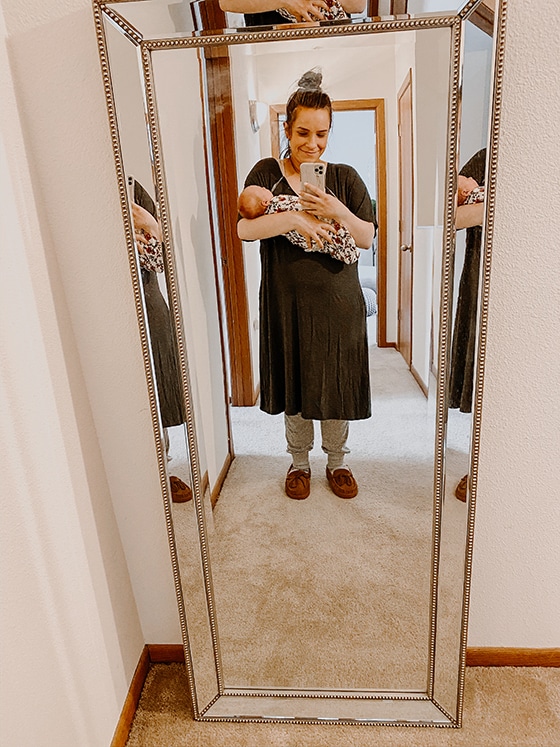 Thankfully, I did have a lot of family, friends, and readers who checked in on me, which I honestly appreciated more than I can ever describe. I realized (and regretted) that when I had family members and friends who had babies, I never really asked how Mom was doing, yet alone check in on her days and weeks later. I feel terrible about that in retrospect. I just had no idea how hard the postpartum period is.
If you know a Mom who has given birth recently, ask her how she's doing. You don't even need to offer help. Simply just checking in on her can make a world of difference; it did for me, at least.
Thank You
If you made it this far, thank you for reading. I am so lucky to have an outlet to write about Lucy and the experience of her birth.
I love you all! And, more than anything, I love being a Mom to this little girl. Goodness. I love it so, so much.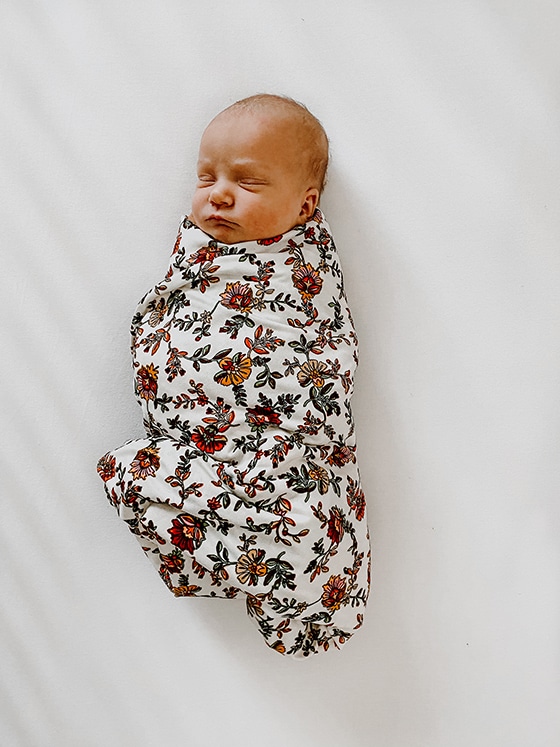 Professional photography courtesy of Studio 29 Photography.
Reader Interactions