Our sweet little Lucy is already 4 months old. HOW?! They are NOT kidding when they say that "time flies" after you've had a kid. I feel like I blinked and 17+ weeks have flown by.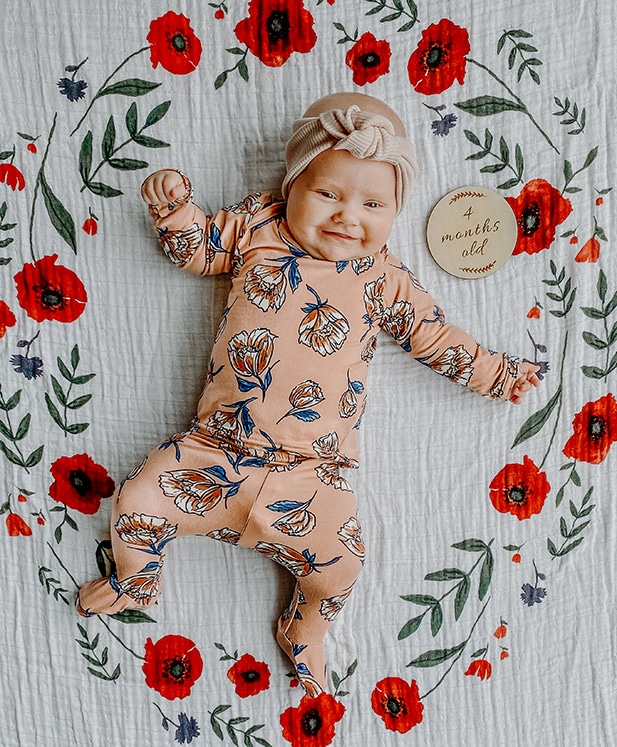 Lucy is just about the happiest baby we could ever dream up. For most of the last 8 weeks (this last week notwithstanding), she sleeps for 10-12 hours per night, naps allllll day long, and, during her awake time, is smiling and talking away 99% of the time.
This is how much she's grown from 1 month to 4 months:
The first 7-8 weeks were tough, as to be expected. I cover a lot of how we were all doing postpartum in this post about Lucy's Birth Story.
Her favorite place to hang out is atop her changing table. She is the biggest ham in the world and puts on the cheesiest grin and talks up a storm every time I have my phone out, which is likely my fault since I genuinely record every waking moment of her life LOL.
Lucy's Development
In 4 months, babies change and develop A LOT. Wow. She is like an entirely new baby every couple of weeks and I honestly find it hard to even remember how different she was just a few months ago.
In the last 4 months, Lucy has begun to smile, laugh, stick her tongue out, talk constantly, hold her head up and rotate it while being held upright, reach out to grab things (including my hair, which she has started to pull out in the process – ouch), and love tummy time.
Most recently, she has begun to legitimately SHRIEK with excitement. It is truly the cutest thing ever, even when she does it at 10:00 pm at night after 2 hours of attempting to get her to fall asleep. 😅 We call her a "squeaky cheese curd" because of how literally squeaky she is!
She hasn't rolled yet, but maybe soon? Like I mentioned above, she enjoys tummy time A LOT, but doesn't really even attempt to roll over. She just chills with her head up until she gets tired after about 15 minutes and then just lays there, head down, waiting to be rolled over.
Her last weight was taken when she was 14 weeks old and she weighed in at 15 lbs 7 oz. She's a little baby boulder! Because of COVID-19, her 4-month appointment turned into a telehealth appointment, so we're unsure of her weight and height at this time.
Lucy's Sleep
At first, she didn't sleep well AT ALL, which, I mean, I can't say I'm surprised, considering she was a newborn baby and all. 🙃
If you've been following along on Instagram, you have likely noticed that I mention "safe sleep" quite often. I am a staunch advocate of it. I note this here because those first weeks with Lucy were obviously exhaustion-inducing, but we made sure to never, ever fall asleep while holding her. If one of us was with her, we were awake. If either of us ever felt the need to go to sleep, we would switch and start a new "shift."
Ryan has always been someone who enjoys staying up late while I go to bed early and wake up early, which worked in our favor with having a newborn baby home. Ryan would take the 8:00 pm – 3:00 am shift and I would take the 3:00 am – onward shift.
The first few days home, Lucy slept in her Guava Bassinet, but we realized pretty quickly that she didn't like it so we transitioned the bassinet into the Guava Lotus Travel Crib. We have two of these travel cribs, one in our bedroom and one on our main level in the living room.
She slept swaddled with "arms in" for the first 7 weeks, then we did one week of "arms out" swaddling, then, at 8 weeks, we went "cold turkey" and transitioned her into a sleep sack, which she has been sleeping in ever since. Babies are much more likely to start rolling at 8 weeks, which is why it's recommended to completely eliminate swaddling at that point.
(If you're curious, below, I've included all of the sleep-related products we've been using.)
Within the last week or so, Lucy's sleep hasn't been great… At all. But, we're making it through! Taking it day-by-day and assuming it's just a slight regression.
Major Events That Have Happened Since Lucy Was Born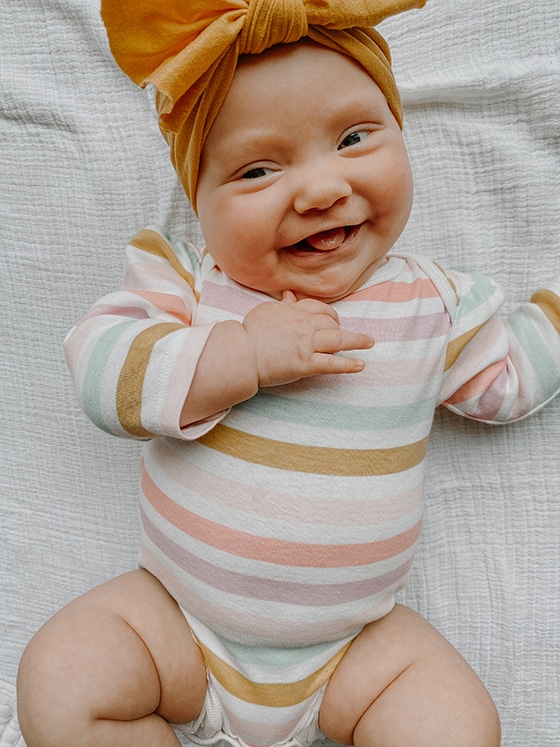 Quarantine Began: Mid-March began the need to stay at home due to COVID-19. This has been really tough. Before Lucy was even born, Ryan and I were staying home because I was really pregnant. We haven't really gone anywhere since December, over 5 months ago. In January and February, we did have family and a few friends over, but since the quarantine began, Lucy and I haven't gone anywhere. Ryan still does go to work every day because his workplace is considered an essential business. Since quarantine began, she has solely seen people via Google Duo and FaceTime. Not going to lie, it's been rough. We are very ready to see family… and to get a babysitter.
Easter: I dressed Lucy up in a cute little outfit that made her look like an Easter egg, soooo that was pretty great (photo above). She looked so adorable!
Urgent Care and ER Visit: We had a scare in April that sent us to Urgent Care and then Children's Hospital. We noticed that Lucy was having some breathing irregularities. Super scary, but all is good. The hospital wrote a small article about it, which you can read on Children's Facebook page. She did fantastic there and was so sweet. Every time the nurses and doctors took her vitals, she held on to their fingers or to their stethoscope. Honestly… cutest thing ever.
Mother's Day: I celebrated my first Mother's Day and it was so, so special. Ryan got me a custom-made picture, Lucy took a long nap, and we cleaned up around the house.
Baby Products We Have Loved
As an Amazon associate, I earn from qualifying purchases.
Sleep Products
Like I mentioned earlier, safe sleep is truly of the utmost concern of ours. We do not, have not, and will never bed share with a baby. I know this is a touchy subject, but safe sleep is my "hill to die on" topic and it's really important to me to share that. Before I was pregnant, I never knew about safe sleep and I try my best to share about it when I can.
Cribs
Guava Lotus Travel Crib: We have 2 of these and they are SO GREAT. Highly, highly recommend, especially if you are a family who travels often. We actually didn't even buy it for travel purposes though. I just loved that the mattress sits on the floor so there is no weight limit unlike other cribs which need to be phased out once baby reaches a certain weight.
IKEA Crib: This is the crib in Lucy's nursery that she sleeps in during daytime naps.
Sleep Clothing
The swaddles we loved and would recommend:
Love To Dream Swaddle: These were soooo great and Lucy really loved this brand of swaddle because she liked to have her hands by her face. I personally loved these ones too because they only required one quick zip up or down, rather than having to deal with a traditional swaddle blanket or a velcro swaddle.
Swaddle Me Swaddle: Ryan preferred these ones and I think Lucy really, really liked them when she was a newborn baby. The ability to just quickly swaddle her like a burrito with just a few pieces of velcro was great. These swaddles were also really great because, with her arms tucked in tightly, her startle reflex didn't wake her up as often.
Swaddling stopped at 8 weeks and we transitioned Lucy to sleep sacks, which we have used since. Sleep sacks are essentially wearable blankets. These are great because they keep baby warm, but because they have arm and neck holes, the fabric cannot go above their mouth and nose. Blankets should never be put in a baby's crib.
The sleep sacks we love and use constantly:
Halo Fleece Sleep Sack: We have like 10 of these and have really liked them since we keep our house quite cold at night and, since we had chilly weather, we want to ensure Lucy doesn't get too chilly. I should note that if you have a swaddle sleep sack and your baby is older than 8 weeks, you can simply use scissors to cut the wings off to remove the swaddle. We did that with multiple of these types of Halo swaddles.
Halo Cotton Sleep Sack: During nap time when our house is warmer, I typically put her in this with a long-sleeved sleeper on underneath.
Burt's Bees Sleep Sacks: We've really liked these, especially now that it's warming up. We originally bought just one, but liked that one so much that we bought a second.
Sleepers that we love:
Pacifiers
Activities And Toys
Tummy And Floor Time
Teethers
Bouncer and Swing
Reading
Amazon Kindle: Every night, Ryan reads Harry Potter while I feed Lucy. Being able to have dim lights in the room while still being able to read is really, really great. We never thought we'd want/need a Kindle, but it's been a really awesome product to have.
Rebel Girls: This book was gifted to us and it was the first book we read to Lucy over the course of multiple weeks.
Miscellaneous Products
Nespresso Coffee Maker: Necessary? No, probably not. One of the best things we've ever bought since becoming parents? YUP.
Water Jug: I don't know what it is about nursing that makes you thirsty, but WOW. Having a water jug like this on-hand that holds 50 oz is amazing. Hiiiiighly recommend.
My Brest Friend Pillow: Easily my most used item. Invest in a good breast feeding pillow like this one.
Baby Products We Thought We'd Use But Never Have
Guava Bassinet: This product, like their travel crib, is really great, but Lucy just didn't sleep well in it so we only ended up using it for a few days.
My Postpartum Expierence
Honestly, I really struggled physically for the first 10 weeks or so and, even now, still am dealing with some postpartum health problems, mostly related to my blood pressure.
I will say, though, that I am extremely grateful to be feeling really mentally well. I was pretty concerned that I may develop postpartum depression, considering how bad of a place I was in during my first trimester of pregnancy.
Thankfully, I am feeling really great and am truly enjoying every minute with Lucy, even on the days where we get minimal sleep!
She's the best. Wow. I love being a Mom SO MUCH.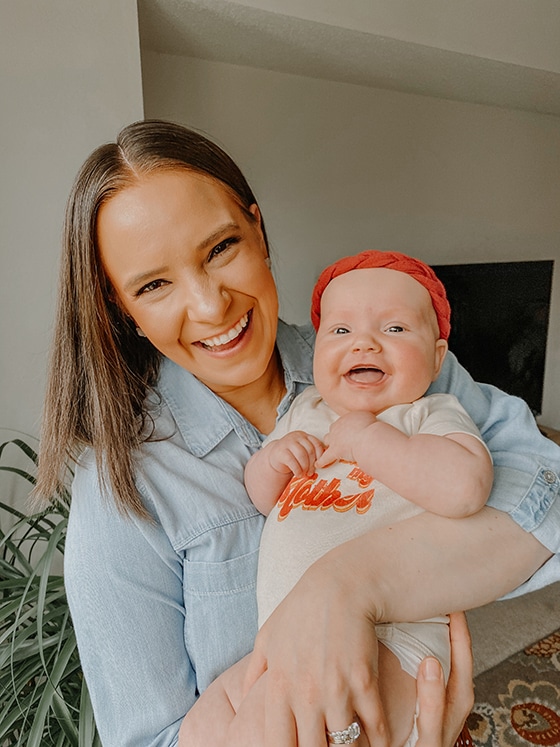 Thanks so much for following along with how Lucy is doing. As a family, we feel truly lucky to have connected with you all!
If you want to keep up-to-date on the most recent updates of Lucy and our family, be sure to follow along on Instagram and follow along on TikTok!
Reader Interactions