This year, there's no need to rack your brain trying to figure out what gifts to give your keto friends and loved ones! Dive into this list for all of the best gifts for keto dieters!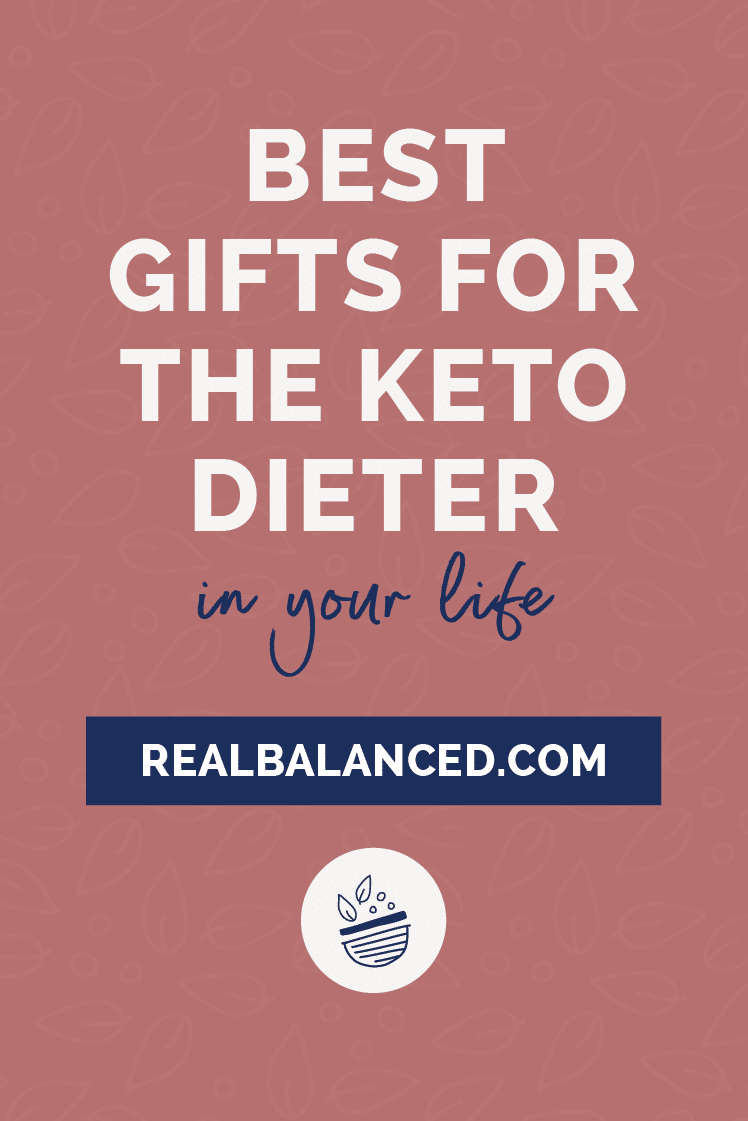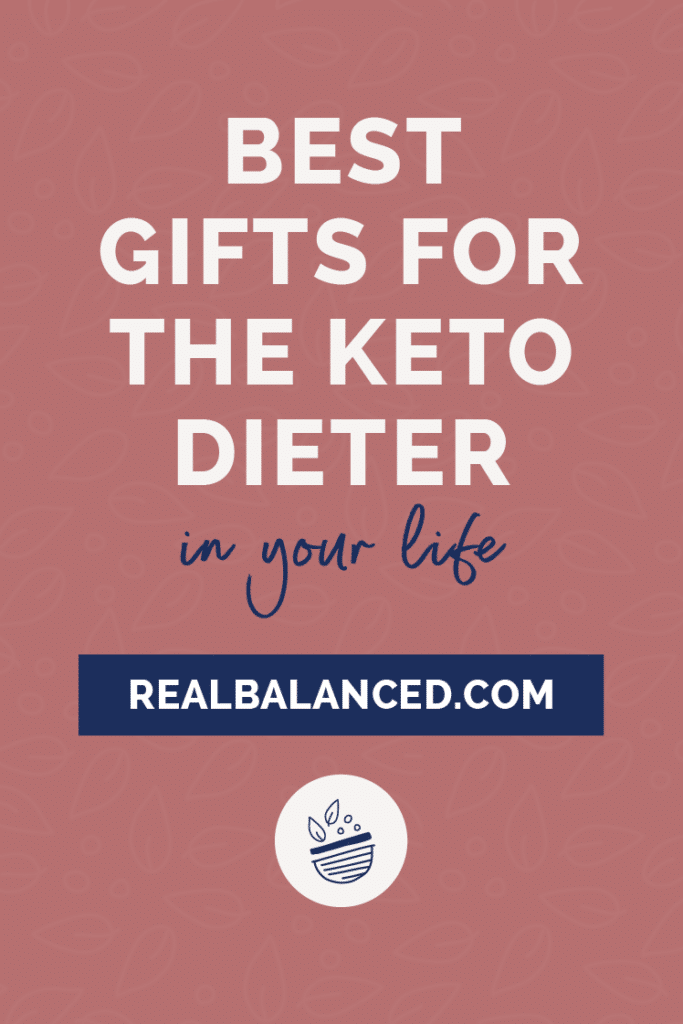 From baking and cooking essentials to kitchen appliances and super cute tees, there is something on this list for every keto dieter in your life!
Whether you are shopping for someone who is a veteran keto dieter, has been following keto for just a few weeks or months, or maybe they are a total keto novice who is interested in following a low-carb diet but has no idea where to start, this gift guide includes all of the best keto products to make their keto experience an easy one!
Be sure to check if there is a coupon code available for you for each of the products to get the item for as cheap as possible to save money! And, to make sure you don't lose this post and so you can refer to it later, save this gift guide!
If you are looking for gifts for the keto dessert lover in your life, you'll love this handy keto dessert gift guide!
As an Amazon associate, I earn from qualifying purchases.
Baking and Cooking Essentials
Lakanto Monk Fruit Sweetener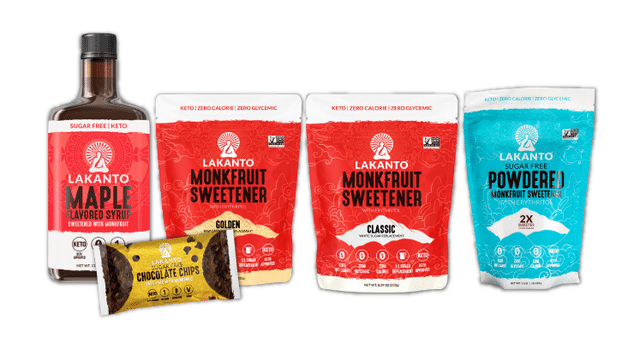 If you've been following Real Balanced for any period of time, you already know that I would consider Lakanto products one of the best gifts for keto dieters, especially those who enjoy sweets! I use Lakanto products in all of my sweet keto recipes and desserts. Their granulated monk fruit sweeteners and powdered keto sweetener are a staple ingredient that every keto dieter needs in their pantry. Plus, you can't go wrong with their Maple-Flavored Syrup and monk fruit-sweetened chocolate chips! You can use code REALBALANCED for 20% off your Lakanto order!
Perfect Keto Keto Collagen
Keto Collagen from Perfect Keto is an all-natural, low-carb protein powder that's perfect for keto dieters. It's totally delicious and mixes easily with drinks and desserts. It comes in four different flavors including an unflavored variety. The unflavored option is perfect for mixing into smoothies for extra protein! Use code REALBALANCED for 15% off your Perfect Keto Keto Collagen order!
MCT Oil Powder
I use Perfect Keto's MCT Oil Powder every single day in my coffee. In a blender, I mix together hot or cold coffee with a scoop of MCT Oil Powder and it results in a frothy and delicious latte-like drink! It's also a perfect addition to smoothies, fat bombs, and so much more to add a boost of energizing fat to your keto meals!
Catalina Crunch Cereal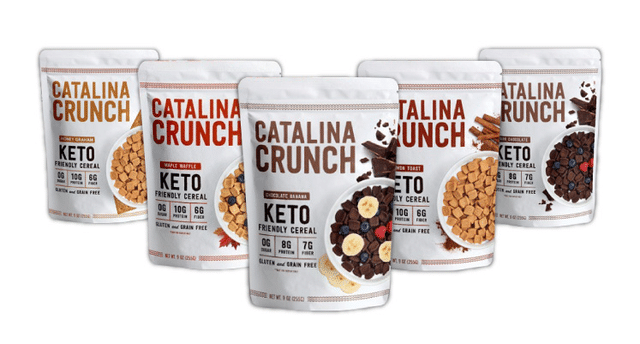 Who says you can't have cereal on a keto diet?! Catalina Crunch cereal is made with all-natural ingredients and provides a keto-friendly alternative to sugary, carb-filled cereals. They're gluten-free and grain-free, too! Use code REALBALANCED to get 10% off on your Catalina Crunch order!
Keto Krate Subscription Box
Keto Krate is one of my favorite subscription box services! They send keto goodies to your front door each month. With each order, you receive a box filled with sweet and savory snacks, as well as $20+ worth of coupons. The ketoer in your life is sure to LOVE this! Use code REALBALANCED to get $10 off your first Keto Krate box!
Kettle & Fire Keto Soups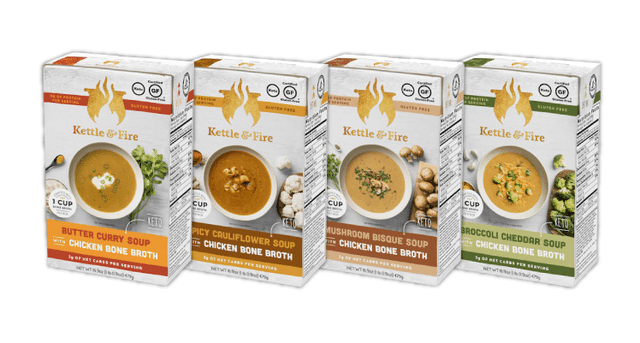 I plan to gift several gift boxes of Kettle & Fire Keto Soups to my Mom-To-Be and Busy Mom friends! I've shared my love of these soups on Instagram before and, honestly, they are AMAZING. They take only minutes to heat up, are low in carbs, and taste SO GOOD. This is undoubtedly one of the best gifts for the keto dieter in your life (or just anyone who either doesn't enjoy to or doesn't have time to cook), because everyone loves a cozy bowl of soup that is ready-to-eat in minutes! Use code REALBALANCED to get 15% off your Kettle & Fire order!
Keto Tools
Keto Mojo Ketone Monitor Test Kit
To monitor ketone levels, this ketone monitor starter kit from Keto-Mojo is a great tool to have on-hand for those who follow a keto diet. (If you are curious about why testing ketones is so important, we cover that in this post about testing ketones.) If you go through the link above, 15% off of the order price will be automatically deducted at checkout. A blood ketone monitor is one of the best gifts for keto dieters who want to ensure they are properly following this low-carb diet and is especially great for people who are motivated by numbers.
Kitchen Appliances
Instant Pot
I had to include the beloved Instant Pot on this list because my IP is 100% my "most used" kitchen appliance! I can't even begin to express how this thing has changed my life. It's SO convenient and has transformed my cooking. It does the work of so many appliances in one: it serves as a pressure cooker, slow cooker, and so much more! And, while you're at it, be sure to tell your keto loved one about all of these Instant Pot keto recipes and keto freezer meal recipes that they can make in their new IP!
Slow Cooker
I love love LOVE my slow cooker! This one from Crock Pot is a great option. Meals made in this appliance can feed 8+ people, making it a great option for gatherings! I love using the low setting to let my meals cook all day long. If you are looking for slow cooker recipes to suggest to your keto friends, take a look at all of these keto recipes made in a slow cooker!
Ninja Blender
Whether you're trying to make a smoothie, salsa, icy drink, or anything else, this Ninja Blender can do it all. I love this thing! I've owned mine for over 3 years and it still works as well as it did the day I bought it. It blends 72oz and comes with two 16oz cups with lids.
Waffle Maker
Do you have a keto chaffle lover in your life? (If you've never heard of a chaffle before, it's a low-carb waffle made with eggs and cheese and it's basically the best thing ever!) We make chaffles every single weekend day in our house and they are such a treat! If you know someone who loves making chaffles, they will LOVE this waffle maker! Based on what I've heard from my readers, this waffle maker is one of the best gifts for keto dieters this year!
Immersion Blender
This immersion blender is one of my favorite kitchen tools. These hand-held blenders are the ultimate choice for making homemade mayo and for blending things like soups, bisques, and other tasty keto dishes.
KitchenAid Stand Mixer
A kitchen mixer is such a beneficial appliance to have in your kitchen. This kitchen mixer from KitchenAid is a "higher-end" product in terms of price, but once you own one, you'll likely never need to replace it as they last forever! This KitchenAid Stand Mixer is a fantastic gift option for the keto loved one in your life!
Food Processor
Whether your keto loved one needs to make guac, chop onions, or dice up some tomatoes, they will love this food processor! This will speed up the cooking process exponentially! This particular food processor can hold up to 10 cups of food. That's a lot of guac!
Kitchen Tools and Materials
Vacuum Sealer
For those that find themselves with a lot of leftovers, or those that like to prep meals in advance (like keto freezer meals!), a vacuum sealer is AMAZING. With this one, most food can be preserved for up to three years! This sealer has a lock and latch system and is really simple to use. Any keto dieter will love this.
Silicone Molds
When you shape fat bombs by hand, they tend to melt and can create a mess. With silicone molds, shaping fat bombs is much simpler, faster, and less of a mess. These molds are a must-have for shaping fat bombs and is truly one of the best gifts for keto dieters who love to enjoy fat bombs! The keto dieter in your life is sure to love this silicone mold for fat bombs!
Food Scale
Many keto dieters track their macros by measuring the weight of their food. With this food scale, weighing ingredients of meals and recipes is made easy! This stainless steel scale weighs up to 11 pounds of food. It's easy to transport and runs on AAA batteries.
Splatter Guard
Cooking meat can result in a lot of grease splatter. For that reason, I use this splatter guard! Less mess means less time spent cleaning, and more time spent enjoying your delicious keto dinner! I definitely recommend this little tool for the keto eater in your life.
Hamburger Meat Chopper
This hamburger meat chopper makes cooking ground beef so much easier! I didn't even realize I needed this tool until I stumbled upon it. Instead of tediously breaking up ground meat with a spoon, this ground beef chopper breaks up the beef evenly and efficiently.
Avocado Saver
Nobody likes rotten avocados! To help prevent waste, this avocado saver works so well! They come in two sizes to fit any avocado that may need saving. They're one of my kitchen staples!
Avocado Slicer
I'm sure we can all agree: slicing avocados isn't fun. They're a pretty tricky food to neatly cut, but this avocado slicer makes it so much easier! Consider this simple but totally useful item for the keto dieter and avocado lover in your life. They'll love it!
Vegetable Slicer
This vegetable slicer makes the cooking process SO much easier! This kitchen tool helps the chef attain thin, delicate slices of veggies perfect for any meal without the hassle of finely chopping with a knife on a cutting board. This slicer comes with 4 thickness options and is dishwasher safe!
Whisk Set
This whisk set of 3 features 5, 7, and 10-inch whisks. Perfect for eggs, desserts, and more! Having a variety of whisks on-hand makes keto cooking much easier!
Microwave Egg Cooker
Do you know someone that loves to cook omelettes but hates the cooking process? They will love this microwave egg cooker! This fun device allows the user to microwave perfect omelettes, and even works for omelets that are veggie-packed and/or coated in cheese! Best part? It's dishwasher safe so even washing this tool is made easy!
​Silicone Muffin Pan
Perfect for cooking up delicious keto muffins, this silicone muffin pan makes the baking process so much easier. Since it's flexible, you can easily remove your treats from the pan. Plus, it's non-stick, easy to clean (dishwasher-approved!), and can be used for any type of food. Keto dieters will love one (or multiple) of these!
Cookbooks
Fat Bomb Favorites eBook
Fat bombs are a keto MIRACLE. They're perfect for sweet and savory cravings, supply a dose of lasting energy, provide healthy fats, and they're perfect for on-the-go snacking. Plus, they taste SOOO good. Filled with 50 delicious recipes, the keto dieters in your life need this Fat Bomb Favorites digital cookbook! These easy-to-follow recipes in this eBook make this cookbook one of the best gifts for keto dieters!
Keto Dinner Favorites eBook
Looking for simple, keto dinners that the entire family can enjoy? Look no further! Keto Dinner Favorites is a resource that makes dinner SO MUCH simpler. Filled with 25 mouthwatering recipes, there's something for everyone to enjoy! If Lemon Pepper Chicken Wings, Keto Meatza, and Sheet Pan Steak Fajitas sound good, grab a copy of Keto Dinner Favorites!

The Wholesome Yum Easy Keto Cookbook
This cookbook from Maya of Wholesome Yum is a fantastic resource that I've loved cooking from recently and is one of the best gifts for keto dieters who love to spend time in the kitchen! Anyone who is new to keto (or even veteran ketoers) will love the recipes in this book! Easy to follow recipes that require minimal ingredients make this a great gift for anyone who is an experienced keto dieter or thinking of starting a low-carb diet!
Made Whole Cookbook
Made Whole from Cristina Curp of The Castaway Kitchen has been a kitchen cookbook favorite of mine for a long time! This keto cookbook is full of nut-free keto recipes, perfect for those, like me, who have nut allergies. The recipes inside this book are creative, easy to make, and SO delicious! This cookbook would make a great gift for anyone in your life who follows or wants to start following a keto diet that is full of whole foods!
Craveable Keto Cookbook
Craveable Keto is a fantastic keto recipe resource to share with your keto friends! This 5-star cookbook was created with a focus on making food and cooking fun. Creating recipes should be liberating and exciting, not stressful and time-consuming!
Easy Keto For Busy People Cookbook
For the extra busy keto eaters that don't want the trouble of preparing complex and time-consuming meals, this cookbook is perfect. Easy Keto for Busy People by Jennifer Garza is the answer to the busy keto eater's woes!
Keto Reset Diet Book
Keto Reset Diet by Mark Sisson puts a halt to weight gain with his 21-day ketogenic diet plan. This plan resets the body and kickstarts the fat burn journey! It helps the reader break carbohydrate cravings and resets the body to burn fat for fuel. This is a perfect gift for anyone you know who is interested in losing weight and is looking for a step-by-step plan to reach their goals!
Keto Apparel
"Bacon Butter Keto" T-Shirt
Bacon. Butter. Keto. How fun is this cute top?! This T-Shirt is perfect for anyone that's on a ketogenic journey and wants the world to know! This top is unisex and is such a fun gift for the keto dieter in your life!
"Recovering Carboholic" T-Shirt
This shirt is great for all keto dieters, but especially those that are a bit newer to the diet! This "Recovering Carboholic" T-Shirt features sketches of three high-carb staples: fries, doughnuts, and pizza! Pick it up for your keto BFF!
"Everyday I'm Chafflin'" T-Shirt
Most ketogenic people will agree: chaffles are THE BEST! For those that don't know, chaffles are keto-approved waffles (I make two chaffles every single morning and it's the best part of my day!)! They're so delicious and super easy to make. Grab this fun keto shirt for your favorite chaffle enthusiast!
"Steak Over Cake" T-Shirt
It's simple: steak over cake! This keto shirt is a great gift idea for the keto carnivore in your life!
"Keto Mama" T-Shirt
Have any ketogenic mamas in your life? If so, they'll love this keto mama tee! This shirt is so cute and is perfect for your keto mom friends. It's long-sleeved, making it extra cozy and perfect for all seasons.
"Beef, Bacon, Butter, & Cheese" T-Shirt
A few of the keto eater's favorite things: beef, bacon, butter, cheese… and THIS tee! Found on Etsy, this awesome keto tee is perfect for the keto-er in your life. It's got 280+ 5 star ratings, so I'm sure it's equally as soft and cozy as it is cute! It comes in both black and white.
"Keto Vibes" T-Shirt
Keto vibes all around! This CUTE tee is one of the best gifts for keto dieters! There are more than 10 different colors to choose from, and each color features a pink and red rainbow. Your keto pals will love this one.
"Bacon, Butter, Avocado, Coffee" T-Shirt
Bacon, butter, avocado, and coffee? Check, check, check, and CHECK. This cute checklist tee is perfect for the keto dieter in your life. It's soft, trendy, and comes in 8 sizes and over twenty different colors!
"If Cauliflower Can Be Pizza, You Can Be Anything" T-Shirt
For the friend in your life that has a deep love for anything cauliflower, you've got to gift them this shirt! This tee comes in a variety of heathered colors as well as solid options and is so cute!
"Is This Keto" Taco T-Shirt
This is probably my favorite of the keto tees. Gift this to that keto eater that can't say no to Taco Tuesday! This super cute tee asks the question that we all want to know… is this taco keto? If so, we'll take five!
This holiday season, use this list to pick out the best gifts for the keto dieter in your life
I truly hope this list including the best gifts for keto dieters makes your gift shopping as easy as possible! I am confident that any item that you gift your loved ones from this list will be so appreciated!
So… which gift are you most excited to pick up for the keto dieter in your life this holiday season?!
Let us know in the comments below!
Need more amazing holiday gift ideas?
Surprising your loved ones this holiday is made easier with these gift guides:
Reader Interactions