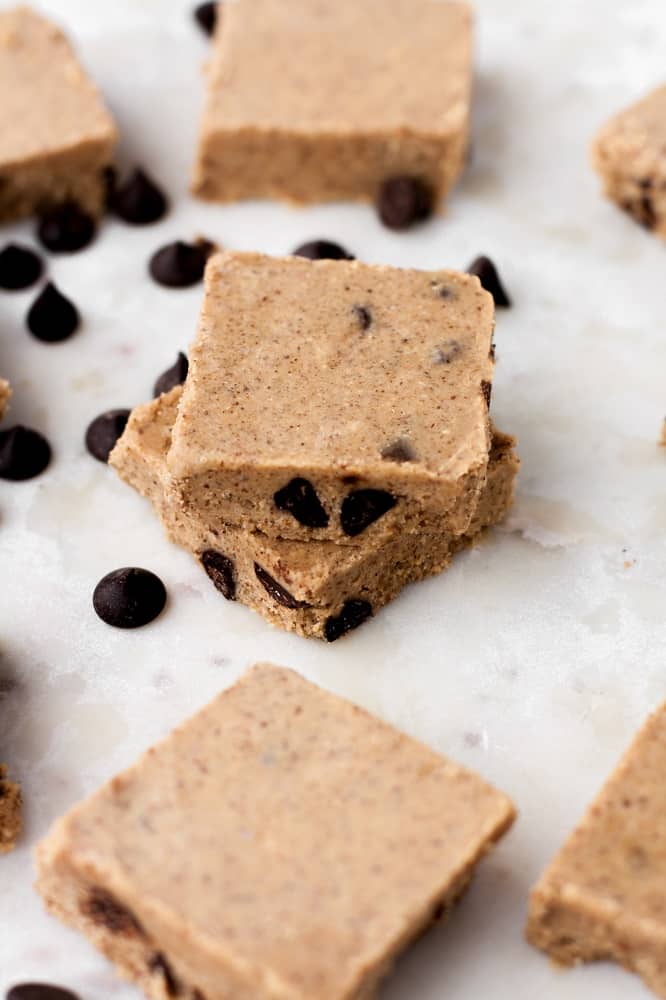 These No-Bake Chocolate Chip Almond Butter Fat Bomb Bars are about to become your new favorite dessert!
Because, let's be real here, when chocolate and nut butter comes together, GREAT things happen.
You guys know I love playing around with high-fat, low-carb dessert recipes, especially fat bombs! There are so many delicious ways to create a dessert recipe that is healthy, satiating, AND isn't loaded with refined-sugar or other inflammatory ingredients.
Personally, I could eat almond butter for every meal for the rest of my life and would likely never tire of it. The stuff is just SO GOOD and so filling! With that in mind, I knew an almond butter fat bomb bar recipe needed to be developed!
An even better way to enjoy almond butter? ADD CHOCOLATE. Behold, these delicious goodies…

This recipe is incredibly easy to make with simple, wholesome ingredients. I specifically love the addition of these chocolate chips that are made with only one ingredient: 100% organic cacao. It can be difficult to find chocolate chips that are free from sugar, dairy, and soy, so I was very excited when I came across this product!
Diet-Friendly Dessert Recipe
Low-Carb and Keto: One bar contains 2.1g net carbs per serving.
Paleo: This recipe is free from grains, gluten, soy, and dairy.
Dairy-Free: The chocolate chips used in this recipe are entirely dairy-free. Additionally, coconut oil is used in this recipe, making these bars both dairy-free and lactose-free.
Vegetarian and Vegan: These fat bomb bars are both vegetarian and vegan as they do not contain any animal products.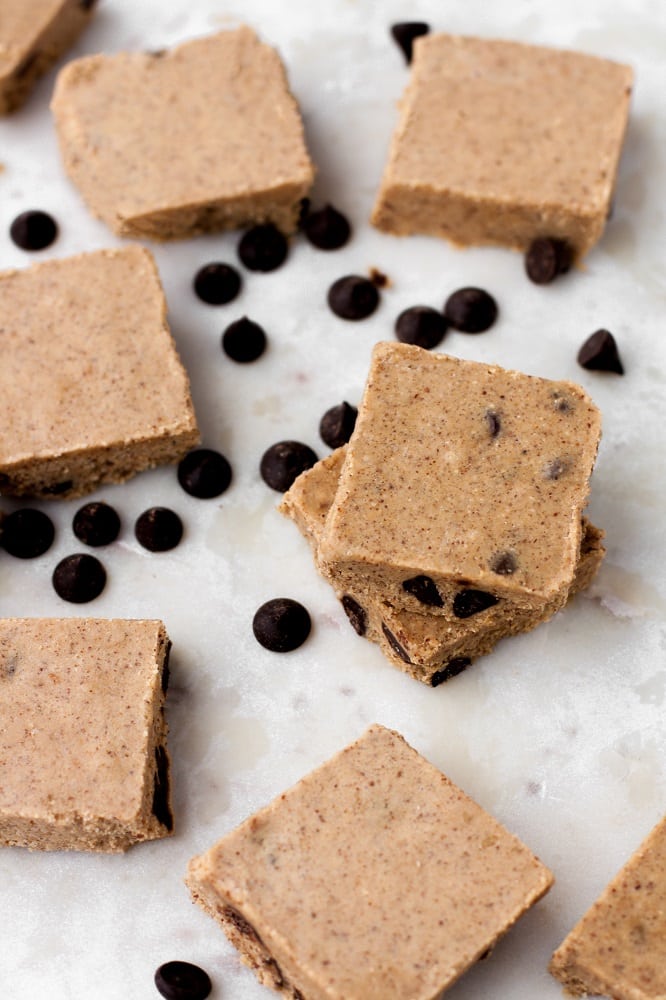 Net Carbs
One bar contains 2.1 grams net carbs.
Diets This Recipe Is Compliant With
This recipe is keto, low-carb, paleo, dairy-free, egg-free, gluten-free, grain-free, vegetarian, vegan, and refined-sugar-free.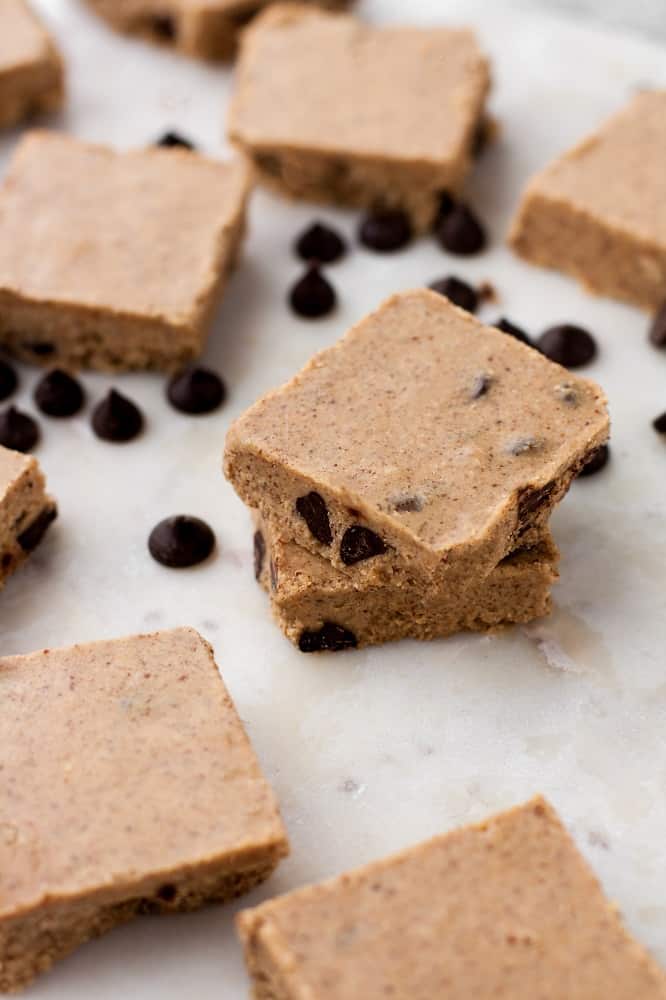 OTHER FAT BOMB RECIPES YOU SHOULD TRY
Lemon Bar Fat Bombs
Fudge Fat Bombs
Blueberry Bliss Fat Bombs
Key Lime Pie Fat Bombs
PBJ Fat Bombs
Strawberries & Cream Fat Bombs
Pumpkin Spice Fat Bombs
Berries & Cream Fat Bombs
Dark Chocolate Peppermint Patty Fat Bombs
Chocolate Chip Cookie Dough Fat Bombs
Cinnamon Roll Fat Bombs
French Toast Fat Bombs
You can find all Real Balanced fat bomb recipes here!
Print
No-Bake Chocolate Chip Almond Butter Fat Bomb Bars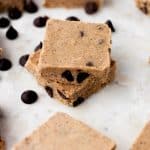 These No-Bake Chocolate Chip Almond Butter Fat Bomb Bars are a delicious, low-carb way to satisfy your sweet tooth! This recipe is keto, low-carb, paleo, dairy-free, egg-free, gluten-free, grain-free, vegetarian, vegan, refined-sugar-free, and only 2.1g net carbs per serving!
Author:
Prep Time:

15 minutes

Total Time:

2 hours, 15 minutes

Yield:

Approximately 20 bars, depending on size
Instructions
Line 8×8 baking pan with parchment or wax paper.
To a medium microwave-safe bowl, add almond butter and microwave until soft, about 15-20 seconds.
To bowl of softened almond butter, add almond flour, coconut oil, monk fruit sweetener, and vanilla extract. Using an electric mixer, mix all ingredients together until well-combined. (If the almond butter or coconut oil is not incorporating well, place bowl in microwave for 10-15 seconds to slightly soften the mixture.)
To mixture, gently fold in chocolate chips until fully incorporated.
To prepared baking pan, pour in mixture and spread using a spatula until mixture sits in an even layer.
Transfer pan to refrigerator and refrigerate for 2 hours.
Remove from refrigerator, cut bars into desired size (*see note below), and enjoy!
Notes
* I cut my bars about 1 1/2 inches x 2 inches.
Store bars in airtight container in the refrigerator.